Part 1: Restore iPhone from iTunes Backup
Part 2: Restore iPhone from iCloud Backup
Part 3: What to do if iPhone cannot be restored from backup?
Part 4: How to Restore iPhone from Backup with dr.Fone
The only one problem is that to restore iTunes backup to iPhone, the data already existing on your iPhone will be overwritten. Therefore, it is recommended to restore iPhone from backup via iTunes if you have no data on your phone. Or if you already have data on your phone that you don't want to lose, we recommend using solution # 4 described below.
Before restoring iPhone from iTunes backup, make sure you have done the backup. To make a backup of your iOS device, launch iTunes on your computer and connect your iPhone to it. Select your device, go to its tab Summary and click the "Back up now". Make sure you back up your data to "This Computer" instead of iCloud.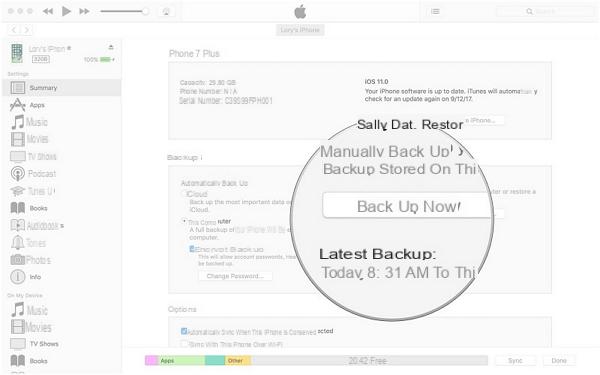 How to restore iTunes backup to iPhone
Once the backup is done, you can easily restore the data to your iPhone. Here are the steps to restore iPhone from iTunes backup.
Open an updated version of iTunes on your PC or Mac
Connect your iPhone to the computer and once detected, select the device. Then go to the tab Summary.
In the "Backup"You will find an option"Restore backup". Just click on it.
When the following window opens, choose the backup from the list and click the "Restore".
Wait a few moments while the phone will restart with the data extracted from the selected backup.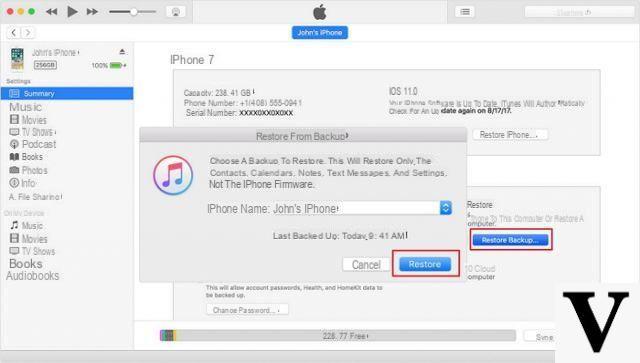 I have an iPhone backup made with iTunes but I can't restore it to iPhone because it is password protected. I don't remember in the least setting a password for that backup… I tried to enter all possible passwords but nothing to do. How can I do? Is there any way to bypass this problem?
You can recover the password of that backup using a program like this: https://www.iphonexpertise.it/recuperare-password-backup-iphone-mac/