LinkedIn remains the main service for sharing your curriculum vitae and expanding your professional network. Here are some tips for optimizing your profile. If you are looking for a new job, each of your contacts is a potential gateway to another company. Problem: You are currently in the job and your manager might not be very happy with your approach. This could also affect any internal opportunities.
So how do you stay as discreet as possible on LinkedIn? Here are some key steps to follow:
Check privacy settings
Whether you've been on LinkedIn for a week or five years, the first thing to do, of course, is to change your privacy settings. The idea is to be able to optimize the profile as much as possible without alerting your contacts to each change.
In order to attract potential HR managers, it is a good idea to add keywords to gain maximum visibility within search results. To prevent this activity from being broadcast to all of your contacts, go to the settings by clicking on the avatar at the top right then select "
Preferences and confidentiality
". Then choose the option "
Activate / Deactivate your news broadcasts
»Then uncheck the box in the pop-up.

Stay discreet in research
While it can be a little exciting looking for a new job, discretion is in order, even with his closest colleagues. Of course, it will also be inappropriate to carry out research on his lunch break, or to ask for a recommendation from his superior ...
If your LinkedIn profile is currently a working tool for finding partners, it's time to change the contact information to include only personal data. This will avoid receiving sensitive exchanges on his professional box. Moreover, it is also advisable to configure a personal default email address for connection to the network. It is indeed to the latter that all communications relating to your research will be sent.
Over the course of your journey, you will most likely be required to add new connections to your address book, for example to get in touch with certain managers. However, if you want to integrate a competing company, adding these contacts could once again appear a little suspect in the eyes of your current employers. It may therefore be good to hide your contacts. In the privacy settings, then choose the option "
Select who can see your connections
»

Stay strategically visible
However, it remains necessary to make your profile completely visible to everyone. By activating this option, the CV will be better indexed within search engines. To do this, go back to the "
Preferences and confidentiality
", Then in the Profile section, choose"
Edit your public profile
". In the right column it is then necessary to ensure that the option "
Public profile visible to everyone
Is checked.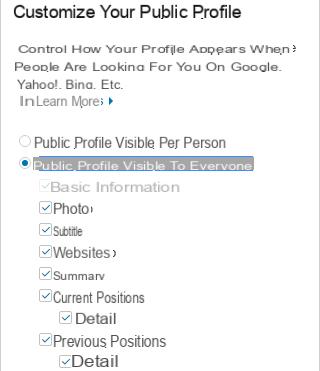 If the change of position is sensitive enough, it is possible to further refine its degree of anonymity. Concretely, certain preferences allow you to hide your name or also the current company when you consult files. Still in the confidentiality options, it will be necessary to turn to the option "
What others see when you view their profile
". Note that anonymity is not very engaging, however, and will not invite a user to visit your profile in return.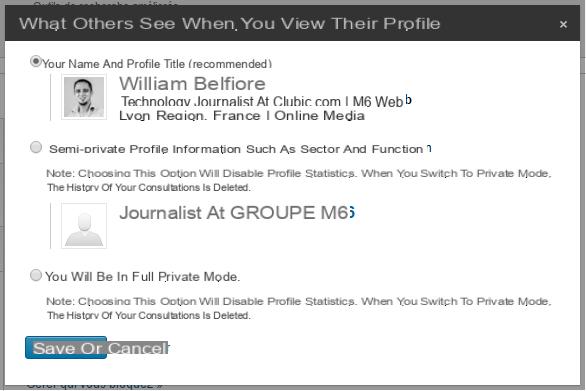 Create opportunities through groups
To promote discussion, LinkedIn has discussion groups. These will allow you to learn more about a particular sector of activity but also to meet professionals in the field. It is in these forums that it will be necessary to cut a few cards, expand its network and arouse the interest of potential recruiters.

However, joining a large number of groups could immediately attract the attention of colleagues or the manager. It is therefore necessary to hide this activity on
His profile
. Below each group listed on its personal page, it is thus possible to hide the badge.
To consult also:
LinkedIn: essential tips to improve your CV