Summary
Your emails can follow you
Use the POP3 protocol
Use a webmail
Use IMAP or an Exchange server
Take your emails on a USB key
Conclusion
Your emails can follow you
By multiplying email accounts (professional, personal), as well as computers and other electronic devices, the puzzle quickly appears: how to keep the same emails everywhere? Carrying your professional emails at home, accessing your personal emails on the move, having the same emails on your desktop computer and laptop are all cases that can pose a problem.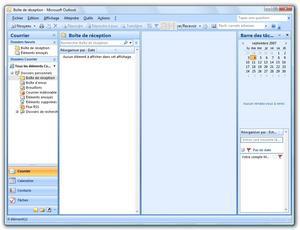 However, the solutions are multiple: synchronization with a server, conservation of a copy of the messages, use of software "to go" on USB key or webmails all provide an alternative to the local account, anchored on your computer. Let's try to see more clearly!
Before going any further, we must make a warning: certain methods that we describe later in the article, and in particular the use of a POP3 server, do not guarantee the confidentiality of the messages exchanged in the professional framework, and some companies prohibit the use of webmails like Gmail, in particular for this reason. Therefore, do not apply the advice described in this article without being sure that you can use it in your company, organization or university. Contact the appropriate people if you have any doubts.
Use the POP3 protocol
Let's start with a basic case: the use of a POP3 server. Here, the operation is simple: the computer connects to a server and retrieves all the mails on the machine, then deletes them from the server. The problem quickly arises: you usually get your professional mail on your office machine. You can configure your home mail client to retrieve your professional mailbox but, of course, mail downloaded to you will be unavailable back to your workplace, since they will no longer be on the server. However, there is a workaround offered by all available mail clients: leave a copy of the messages on the server.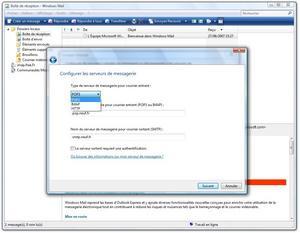 POP3 protocol downloads messages from the server to your computer

This is quite sufficient solution if all you are looking to do is intercept your emails while you are away from the office. On your home PC, configure the POP3 account according to the information provided by your network administrator (login, password, incoming and outgoing servers), and don't forget to check the famous box allowing you to leave a copy on the server . You can then retrieve your emails, but they will not be lost when you return to the office! In Windows Mail, this checkbox is located in the Advanced tab of the properties of your POP3 account. In Thunderbird, you'll find it in the Server Settings subsection, again by opening your account properties.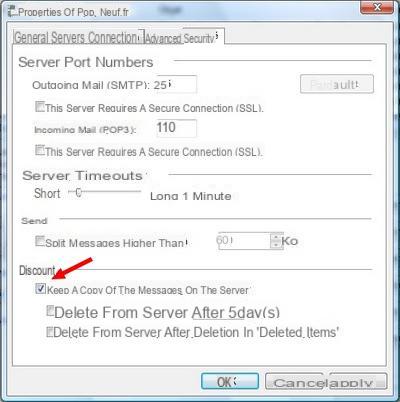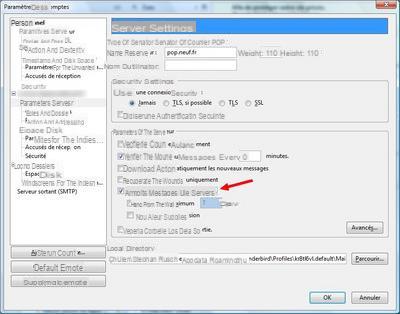 Don't forget to leave a copy of the messages on the server

Another solution may be to use software such as POP Peeper, which allows you to preview the mails on a POP3 server before downloading them permanently with your mail client. The interest of the software is to display the messages in their entirety and to allow the response to the mails since it is also possible to configure an SMTP server for sending. As the messages are not downloaded from the server, you can find them on your usual client. POP Peeper, if it does not offer the comfort of use of a real mail client, still offers an interface that is sufficiently well designed to be able to be used as a troubleshooting solution: you can read the messages in their entirety and there answer, which will certainly be of service to you in the event of an urgent request.


Download POP Peeper for Windows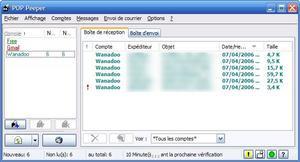 Use a webmail
It's a safe bet that on its "back office", your company has set up a webmail, similar to the one offered by your Internet service provider. Again, this is a very practical solution to retrieve professional mail remotely, but if your company does not offer one, or if you want to have advanced features comparable to what a customer offers. local, you might as well go through one of the best of them: Gmail, if this possibility is allowed, Gmail being rather frowned upon in the professional field, because of the security problems it poses. But again, the method described here can be applied to any POP3 account you use, and which you would like to access remotely.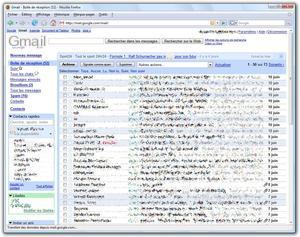 So, rather than having to connect to two different interfaces, you can retrieve your professional and personal mail from the same interface, and benefit from the possibilities offered by the service that we have already mentioned in our guide for a better use of Gmail. .
Among these possibilities, the one that interests us allows you to add a POP3 account in addition to your main Gmail account, and to manage it with the same ease. To add a POP3 account, go to settings, then to the Accounts tab. Locate the "Retrieve Mail from Another Account" section, then select "Add Another Mail Account."
A pop-up window should appear. If not, check that your browser is not configured to block this window (a message should appear when you try to display it). In this box, several steps allow you to enter your e-mail address and the various server parameters (name of the POP account, password, etc.). As we have seen previously, it is important to check the option allowing you to keep a copy of the mails on the server. Gmail also offers you to send your messages with the address of your POP3 account.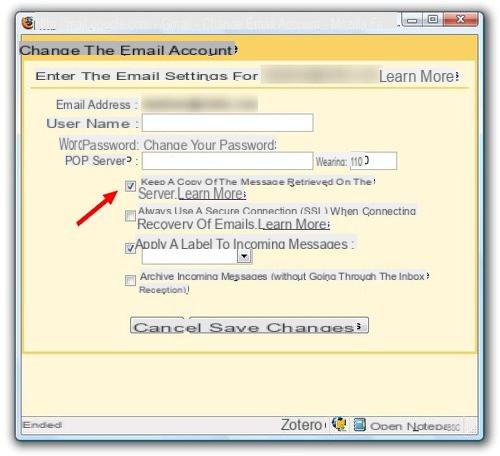 Once the account has been added, you will need to validate it via an email that you will receive on your POP account. This email contains a link to activate the account on Gmail. Once this has been done, you can freely use your POP3 account with the online service.
Use IMAP or an Exchange server
We have seen that the POP3 protocol, using the copy to server functionality, can be an efficient way to retrieve mail on the move, or from home. However, this solution remains confined to troubleshooting and does not allow you to access all of your mailboxes remotely and manage them completely. To do this, you have to go through the IMAP protocol or, if your company or your university allows it, through a Microsoft Exchange server, managed in particular by "the essential" Outlook.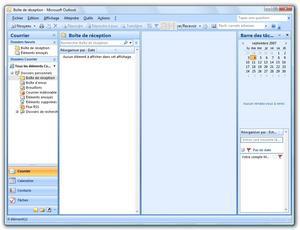 The IMAP protocol allows you to manage your mail directly from the server. The messages are retrieved by your local client but they remain present, and any modification (deleting a message for example) is done directly at the server level, without prior downloading to your computer. Interesting detail to know: the IMAP protocol is managed by the majority of Spanish access providers and allows you, for example, to manage your emails from several computers (your office machine and your laptop, for example).
This method thus combines the advantages of webmail (no need to permanently download the mails) with the convenience of your favorite application, since all major clients manage the IMAP protocol. Again, for professional use, check with your network administrator to find out if the protocol is managed by the company infrastructure, which is not guaranteed, and to obtain the relative information. to the server if necessary. The configuration of an IMAP account is absolutely not rocket science since the process is in all points similar to that of a POP3 account: all the software managing IMAP offer this type of server in the account creation wizards, you just have to choose it instead of POP3, then fill in the usual fields (server, username, password ...).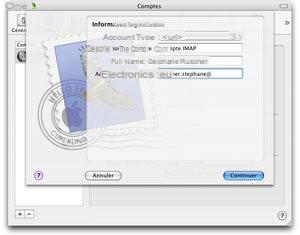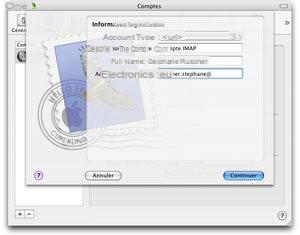 Access an Exchange server
Obviously, if your company has an Exchange server, all of these tips discussed so far may seem unnecessary. Microsoft's solution is widely used in the corporate world and allows advanced collaborative features if you use a compatible application, i.e. Microsoft Outlook (Windows) or Microsoft Entourage (Mac), integrated into the suite Office. In this case, everything is planned to access your server, provided you have the necessary information. However, if Exchange support is complete in Microsoft Outlook or Entourage, the configuration, to access the Exchange server through the firewall, is a bit more complex, and will require the assistance of a person skilled in the art. 'business.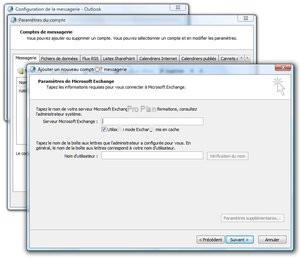 Accessing an Exchange server is naturally very easy with Outlook
However, you might not be using Office at home. In this case, you can access your Exchange mail through Thunderbird, Outlook Express or Eudora. For this, it is sufficient that the Exchange server is configured to allow the connection via the IMAP protocol (for reception) and SMTP (for sending). Here again, this information must be checked with the competent person because for security reasons, this is not necessarily the case in a company. The configuration is similar to that of a traditional IMAP account, but you will still need to obtain the addresses of the incoming and outgoing servers from your company or university. You will then be able to access your mail with all the advantages of IMAP expressed above.
Note, if you are using Linux, that the very good Evolution de manages the connection to an Exchange 2000 or 2003 server completely. The software offers a credible alternative to Outlook, with a similar interface and functionality.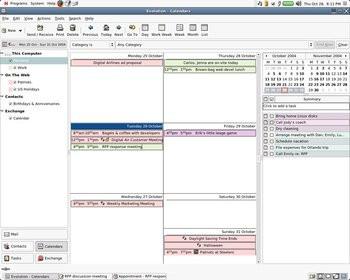 Take your emails on a USB key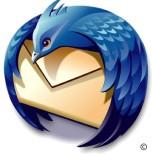 Besides the solutions we have presented to you so far, which rely on synchronization between two computers, another option can be very practical: why not just take your entire message base with you? This is entirely possible with Thunderbird Portable or Opera USB.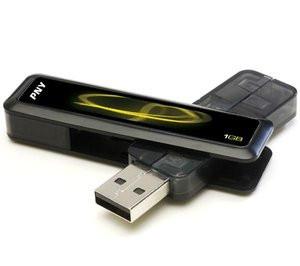 The portable versions of software (often free) were initiated, for the most part, by an independent developer, John T. Haller, and taken since in many compilations of software on USB key, like the excellent Framakey. These are the full versions of software such as Mozilla Firefox or OpenOffice, with the same functionality, but requiring no installation. The software is therefore completely autonomous and can be copied to a USB key and launched from any PC. Be careful though: the versions we offer are only available for Windows.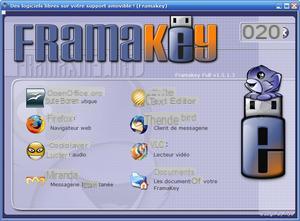 Thunderbird Portable
It is easy to understand the usefulness of a portable version of Thunderbird: all software parameters, including mailboxes, are stored on the USB key and not on the PC running the software. You no longer have to worry about synchronizing your messages between home and office: the messages are in your pocket, and all changes are made on the USB key and not on the PC running the software.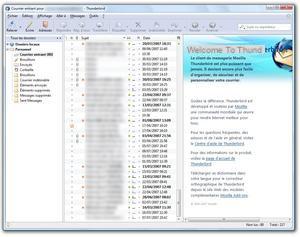 Thunderbird Portable
is in all points comparable with its "fixed" version. However, it should be noted that the lifespan of a USB key is not infinite and its performance diminishes in particular over successive accesses to the data contained on the key. However, Thunderbird is particularly greedy at this level. One solution to reduce this access is to deactivate the AntiSpam filter integrated into the software, which is largely responsible for the phenomenon.
Download Thunderbird Portable
Opera USB
If Thunderbird gives you buttons, another solution is to go through , the unofficial version of Opera for USB stick. Opera is above all a web browser renowned for its speed and its many features available without downloading any extensions, but it also includes a relatively complete email client, which is sufficient to consult your messages occasionally.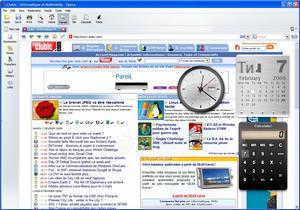 Conclusion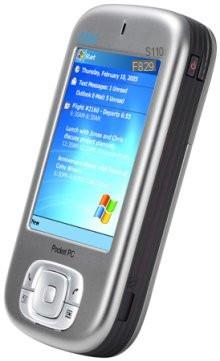 The few solutions that we have presented to you here are not exhaustive and we have obviously not gone into the details of the possibilities offered by an Exchange server. However, these few tips do not necessarily come to mind and can be useful to keep contact, even partial, with your company mailbox, your university or any other box, including at your home or in travel, and thus be reachable in case of emergency. Not all companies have an Exchange server, far from it, and an alternative solution as simple as leaving a copy of messages on a POP server can do the trick, in particular when coupled with the use of Gmail whose interface offers real ease of use.
We did not discuss mobile solutions either, which are obviously very practical, but which open up a range of possibilities which, on their own, deserve to be looked at in a specific way. However, in the age of Smartphones and "push mail", these are obviously preferred solutions for staying in constant contact and retrieving your professional mail. Beyond just smartphones, Google recently unveiled a mobile version of its Gmail service allowing any Java compatible phone to have the WAP service. In short, the borders between the office and the home are increasingly blurring, with all the advantages (reactivity, easy access to information) and the disadvantages (intrusion into private life) that this entails.
We must also recall the problem of security in the professional field: knowing that the POP3 protocol, if it allows troubleshooting, is not the best solution, far from it, to guarantee the confidentiality of the information that passes through. The same goes for Gmail, which some companies ban use for the same reasons, especially since the search giant doesn't always inspire trust. Here again, it is difficult to generalize and it will depend essentially on the policy of your company at this level, but this caveat is nevertheless necessary: ​​if your exchanges include information "at risk", the use of the methods described here does not. can be done without first consulting the security officials in your company or university. Likewise, these tips are not necessarily usable in a professional context, some companies using much more complex methods to access their messages.