Google has decided to insert a time dimension in the new version of its software for viewing the Earth. This is the most significant update to the tool in four years.
The latest Google Earth update promises to be as fascinating as it is disturbing. On Thursday, Google rolled out the new version of its software, with a new mode, Timelapse, which should revolutionize the tool as well as 3D had done. With this new version, the Mountain View firm gives, in addition to a well-known spatial dimension, a temporal dimension to the tool, with a vision of nearly 40 years, on the whole planet.
Read also:
Google Maps will soon show you the less polluting route
Google Earth lets you go back in time!
With this new update, the most important since 2017, it is now possible to observe our planet and its evolution, through the prism of time. We can thus admire certain parts or regions of the world, as they could evolve since the beginning of the Eighties, until today, over nearly four decades thus.
And sometimes, the observation is startling, not to say alarming, if you put your attention for a few moments on certain parts of the globe, snowy for example, and thus observe a melting each year a little more important.
Conversely, you will be edified to see how the natural desert and the Dubai Sea have been, over the past 40 years, eaten away by Man and gigantic constructions, on and off the water; or how the Chinese metropolis of Qingdao (more than 9 million inhabitants) had to evolve there too on and off water to control its demographic explosion.
Read also:
Google Earth now wants you to travel through time (well, into the past)
The equivalent of 530 000K videos uploaded!
To try Google Earth Timelapse, just follow g.co/Timelapse, and use the search bar to choose the place on the planet you want to observe in time. It is also possible to access it from the Google Earth application, by clicking on the icon in the shape of a ship's wheel.
If you are lacking inspiration, Google has uploaded more than 800 videos in 2D and 3D, or directly viewable on YouTube, listed in alphabetical order.
To set up this colossal Timelapse feature, Google gathered 24 million satellite images taken since 1984, images which then required 2 million hours of processing carried out on thousands of machines in Google Cloud. You had to be able to digest the modest 20 petabytes of satellite images, and then convert them into a 4,4 terapixel video mosaic, which is equivalent, hold on tight, to 530 videos in 000K.
The American giant was also able to unveil this update thanks to data, photos and expertise from NASA, the American and European Landsat and Copernicus programs, the ESA and the European Commission. The various parties and Google have said that Google Earth will be updated every year, including new satellite images, which become more numerous and precise over time.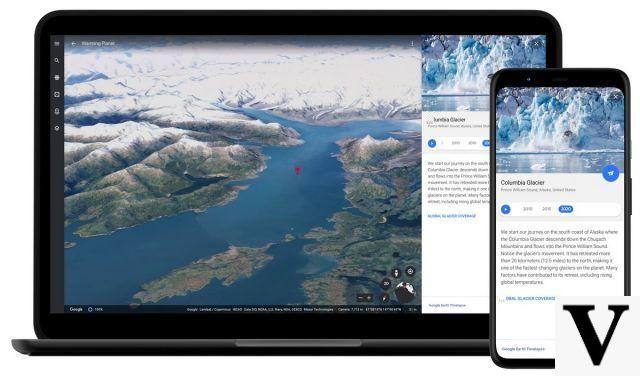 Timelapse in Google Earth shows the rapid change on our planet through five thematic stories, for example the retreat of the Columbia Glacier in Alaska (© Google)