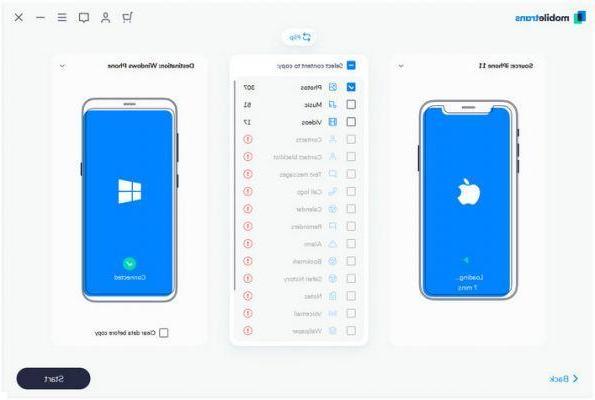 According to the association "International Data Corporation" (IDC), Android and iOS devices dominate the smartphone market worldwide, with approximately 96% of all smartphone sales (in 2015 alone). Devices with operating system Windows Phone however, they had the fastest growth this year with a growth rate of 34,1%. That platform has a 3,2% slice of the smartphone pie with approximately 46,8 million Windows Phone phones sold in the past year.
Many phone users like to switch between phones often, for example from Windows Phone to iPhone / Android, or vice versa from iPhone / Android to Windows Phone, or from iPhone to Android etc…. In these circumstances it is necessary to rely on a program such as MobileTrans able to effectively transfer phone data between iPhone, Android and Windows Phone. We have already seen in detail what are the methods to transfer contacts from Nokia Lumia to iPhone, both manually and with the help of a software.
Below we want to propose the simplest method to switch Contacts from Windows Phone to iPhone and vice versa using Mobiletrans.
Download the free demo version of MobileTrans:
> Mobiletrans supports Windows 10, 8.1, 8, 7, Vista, and XP
> Supports Mac OS X Snow Leopard - OS X El Capitan
> Compatible with Windows Phone phones with Windows Phone 8, Windows Phone 8.1
What can you transfer from Windows Phone to iPhone / Andoid
How to Switch Contacts from Windows Phone to iPhone?
Step 1: Download and install Mobiletrans
Step 2: Access the data transfer section
Step 3: Connect your Windows Phone and iPhone to computer via USB.
Step 4: Select the data to transfer (eg Contacts).
Step 5: Click START COPY eg transfer contacts from Windows Phone to iPhone.
Alternative Solution: dr Fone Switch
If you have problems transferring data via Mobiletrans from Windows Phone to iPhone (or vice versa) we recommend that you also try the program dr.Fone Switch. You can download the free demo version from the links below:
Operation is very simple. Here is a short video tutorial:
Switch Contacts from Windows Phone to iPhone and vice versa -