The need often arises restore your iPhone even in the absence of the Apple ID, or because you have forgotten the Apple ID, or if you have bought an iPhone outside the Apple store.
If you want to recover your Apple ID first you can use this service offered by Apple itself: https://iforgot.apple.com/password/verify/appleid#!§ion=password
You will be asked for your name, surname and email address. Then click on Continue to proceed with the recovery of your Apple ID.
If you are unable to recover the Apple ID with the service just reported, you may try to do a reset as indicated below in the article. But this procedure is feasible only if the "Find My iPhone" service is not active on that device. If the "Find my iphone" function is activated, it will not even be possible to restore the phone to its factory settings.
The function "Find My iPhone"Is a very important feature that protects your private data in case you lose your device.
However, below we show the instructions to reset your iPhone without an Apple ID. One thing that needs to be remembered is to make sure you make a backup for your iPhone's content storage. The reset can in fact delete all the necessary data. So beware of this risk.
NB: If you want to avoid losing important data, try also to take a look at this article: how to delete Apple ID without password with 4uKey
How to reset iPhone without Apple ID if Find My iPhone is disabled
Method #1. dr.phone
First download and install dr.fone on your computer (PC or Mac)

Upon startup you will see this splash screen: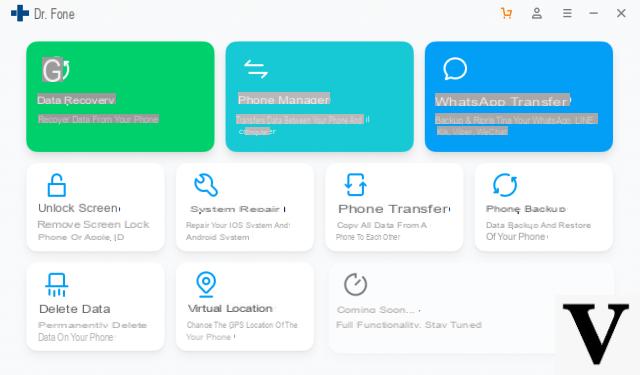 Click on the box "UNLOCK SCREEN"And this new window will appear: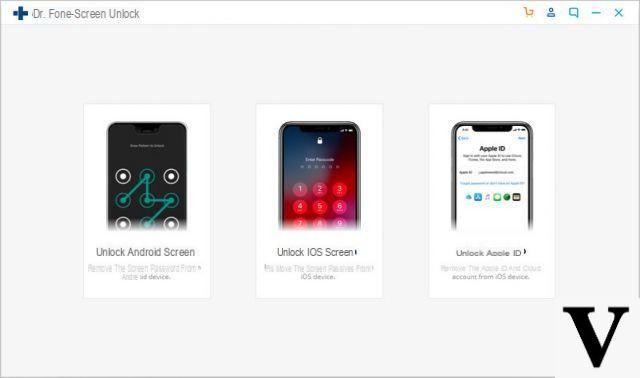 Select the function "Unlock Apple ID"And connect your iPhone to the computer via USB. If this is your first time connecting your iPhone to your computer, dr.Fone will ask you to click "Authorize" on the device screen.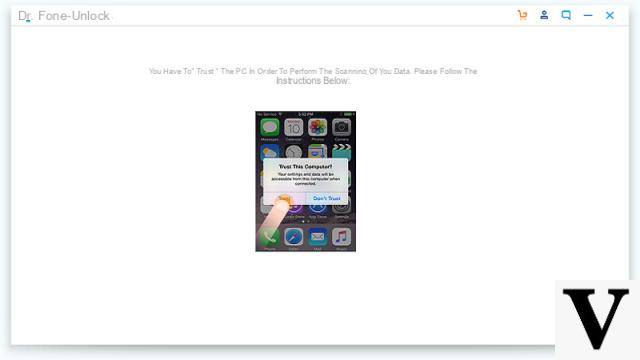 As the operation will erase the existing data on your iPhone, you will get the following warning. You must enter the code displayed (000000) to confirm your choice.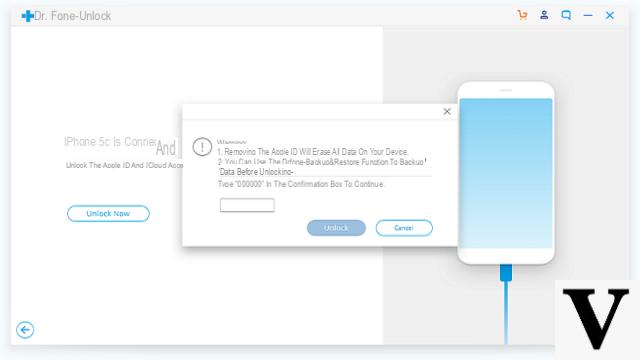 Now, you just have to go up Settings phone> General> Restore> Reset all settings to reset its settings and restart the device.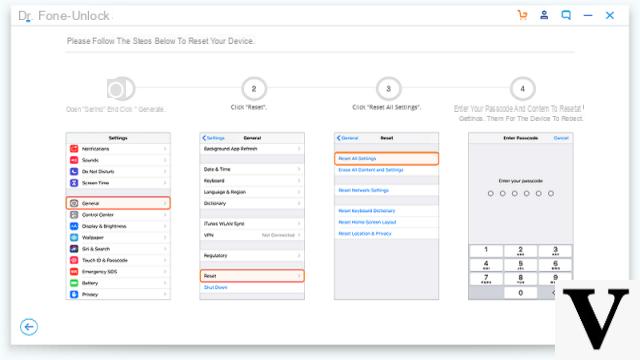 Once the device is restarted, the application will take the necessary steps to unlock the iOS device. Let the setup process finish and make sure your iPhone stays connected to the system.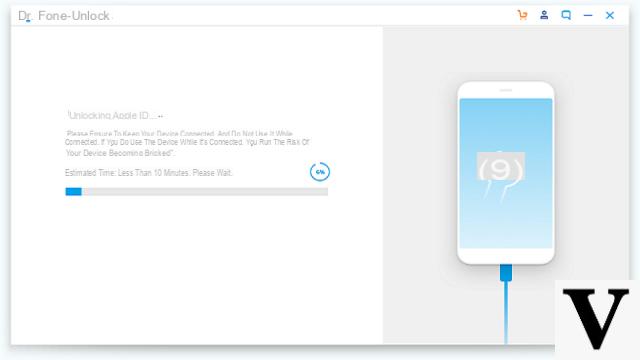 That's all! Eventually, you will be notified that the device is unlocked and you can simply disconnect it to use it however you like.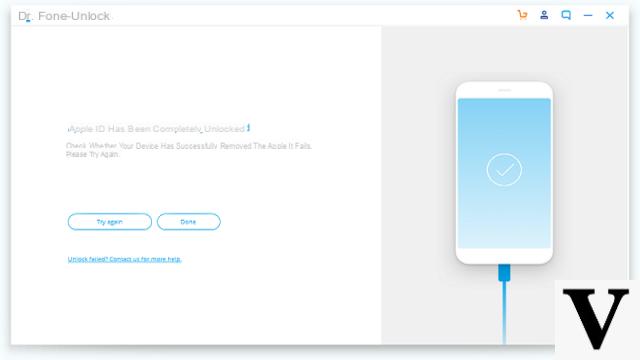 Note that the dr.Fone feature is only active on devices running iOS 11.4 or earlier. For later versions it will not work if Find My iPhone is enabled on the device.
Method # 2. iTunes
You can update your phone or do a hard reset by entering DFU mode. This mode allows you to update the firmware and iOS without entering the Apple ID. Follow the instructions below to enter DFU mode and restore your iPhone to factory default settings.
Step 1: Launch iTunes on the computer and connect your iPhone to the computer with a USB cable.
Step 2: Then turn off the phone.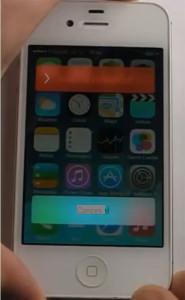 Step 3: Press and hold the Home button for 3 seconds.
Step 4: Press the power button and the home button and hold them for 10 seconds.
Step 5: Release the power button when the Apple logo disappears.
Step 6: Release the Home button when iTunes detects the iPhone in recovery mode.

Step 7: Follow the steps on iTunes. Make your backup before these actions. Finally you can update the phone or do a simple reset from the following interface.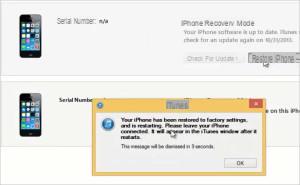 A warning will appear immediately after the reset telling you that the operation was successful and that you have to wait for the device to restart. It will also appear in the iTunes window right after reboot.
If your iPhone or iPad is locked on iCloud and you are unable to unlock it in any way, then we recommend that you read this article: how to unlock iCloud locked iPhone / iPad
The only way to avoid having problems with iPhones and Apple products in general is not to buy them. have invented a simple system to complicate people's lives with the excuse of privacy, data protection and other similar topics ...
good evening I bought a used iphone 5c but the guy who sold it to me didn't tell me that there was the code to access. he removed the ad and I don't know where to find him. I'm trying everything, I need it to work. IF I go to an iphone shop how long does it take to restore it ????? I try to leave the number 3281950634 here
Good morning
My wife's iphone 5s d crashed last week, meaning that in addition to asking for the 6-digit code, it also asks for the ID and PW. I think our little girl played on her cell phone.
Now my wife does not remember neither ID nor PW of her iphone 5s. We don't give a damn about the phone as I bought her a new cell phone, the problem is that we want to recover our daughter's photos.
There is a way to derive the apple id from the associated mobile number, or from the email (which the site does not recognize) or from the proof of purchase of the smartphone itself.
My children also pass phones. Now it happens to me that I have a child's ID that I see on the phone ... But if I forgot the pass and the code arrives on the phone, it does not allow me to unlock it anyway ... curious thing
let's say that one buys an iphone from a person and that person does not remember either the email password or the old mobile phone number, what do you think he should do? certainly can't hypnotize her and make him remember what she put as id etc, come on let's be realistic once and for all 😉
They are giving me an iPhone if you don't remember limeil and pawuord of the licloud how can I reset it
If you find an iphone in Verona and give it to the police after a year they tell you that they can't give it to you. . . .because for privacy they should reset it first. smart no! maybe he also laughs at how he gave it to me to drink. now laws and rules are made according to the circumstances even by those who should defend them. Do you remember the marquis del grillo, "I am me and you are not a. . . . . . . "
i just bought an i phone 7 while i was configuring all the data i turned it off by mistake, but i had entered the unlock code without having entered apple id yet, how can i reset the unlock code?
they gave me an ipad 4 mini with the non-existent glass tach now I have changed everything but I can not bypass icloud as my iphono and the old owner are active on this and in brasie I lost mine iphone with card and therefore I have no way to contact him who can tell me how to bypass iCloud
If it is NOT a stolen (and owner-locked) iPad, then you can safely use the service described in the article to unlock the device.
Today I bought an iPhone 5c for my son from a private individual, unfortunately it has not been restored and whoever sold it to me does not remember the psw, what can I do?
Try taking a look at this article: https://www.iphonexpertise.it/sbloccare-iphone-ipad-bloccato-icloud/
Greetings. I have the problem that my iPhone 5 has cracked with the Argentine SIM inside. I bought an iPhone 5 and I put the Italian SIM and to enter the APPLE IP it asks me for the 6 numbers that arrive in the SIM message in Argentina. That I have here with me split. So that I have an iPhone and also in the computer. And I can't access the IP. How can I do to recover the ip. Or to receive those 6 numbers ...
With iTunes, I have backed up my jphone on my pc., I tried to disable "find my jphone but, it requires the IDAPPLE password I DON'T REMEMBER, WHAT CAN I DO TO CHANGE EVERYTHING? THERE ARE SEVERAL DAYS THAT I TRY. THEN WHEN I GO TO SETTINGS; iTunes Store and App Store I do not get the window at the top right to exit, I can't do it anymore…! I'm stuck and I can't do anything….!
Hi I contacted the service center and I received a notification in another free email. I think that to get there without giving it to them it is associated with iCloud why don't they send me the instructions for changing the password there?
After an update of my i.pad, it asks me for the password, but it has been a long time since I forgot the Cloud password and also the secret questions how can I do?
hi everyone - guys i'm going crazy to unlock my granddaughter's iphone 6 i tried them all except give him a hammer blow, she forgot id psw and so on, the receipt can't find it but i have the photo of the receipt saved in the pc - say it's okay,
I, on the other hand, downloaded tinyumbrella but…. when I start it loads libraries etc but in the end nothing happens ... both on Xp and on win7
My Apple ID has been blocked, but I am aware of the pw, connected to the Apple ID I also have the email which is always iCloud. Since they blocked my id automatically, I can't enter the email and then unlock the account ... I don't know what to do now I can't do anything on the iPhone anymore
hello I bought an iphone 5s with the financial one about a year ago but I don't remember neither the password nor the email I went to APPLE AND THEY TOLD ME THAT NO WAY TO UNLOCK BECAUSE I DON'T FIND THE RECEIPT. TO ME IT SEEMS ABSURD BECAUSE THERE WILL IT BE A SERIAL NUMBER INSIDE THE CELL THAT YOU SHOW IT'S MINE ???
Hi, I bought a new iPhone (6s) and I wanted to initialize the one I had before (4s) so as to give it to my wife. The only perplexity was that, obviously, in the new mobile phone I have reported my data and my Apple ID. Since to initialize the old iPhone I have to disable Find my iPhone and to do it requires the pass. of my apple id, will something happen to the new iPhone too? Or can I go on? I don't know if I was able to explain myself
Nothing happens on the new iPhone ... then you can reactivate the "find my iphone" without problems
i also have an iphon 6 and i forgot the password and id and i don't know what to do
Guys I also took from ebay iphone 4s blocked I called assistance and they told me that the only way is to retrieve the receipt to take it to assistance, instead there would be another possibility obviously not recommended by apple if you are able to disassemble it and to change your motherboard you can be careful, however, because if it is under warranty you lose it, look for them on ebay but I suggest you watch the videos on youtube because to disassemble it you have to pay attention to the various connectors that you find around attached to the card mother
iphone disabled, days ago I was asked, from the home screen to change the access code, after doing it the phone is disabled. The only thing I can do is start it with find my iphone but I'm afraid of losing all data! Who's so good at helping me?
Try dr.fone to find out if you can access the device memory to recover data.
If you can't even do it with dr.fone then you will have to do a reset and unfortunately the data will be lost ...
I know that if the device is yours but you do not remember the id, but previously you have been to the genius of the apple store for some reason they already know that it is yours and they can unlock it ... I hope it is useful to someone 🙂
Good morning,
I have an iPhone 6 Plus active and I want to give away my old 4s.
I wanted to restore it, but it asks me for my id and I am afraid if I delete some data in the new one .. What should I do?
Thank you !
Don't worry, the data on the new one will not be deleted ...
I think there are no solutions or done the same bullshit myself and I have been trying to fix it for days but it is all useless and I am very good at using the pc but I am not able to fix my iphone. The only thing to do is to take it to the apple service center and give it a receipt or an invoice if you purchased it with a VAT number and even 80 euros. hello and good expenses
I have the exact same problem… I have been trying and trying again for 2 weeks… .to go crazy with it… ..I am at the limit. mine was "dead" and to continue to restore it asks me the pw icloud (which is not the same as the idapple). I do not know what saint or devil to vote for. Who knows that in the meantime you have found a solution ..?
Guys helpoooo I have an iphone5 whose Apple id I don't remember (it was my first ID) and with the "find iPhone" active. now i have another ID on two apple devices, how do i get my phone back?
Please tell me there is a solution.
yes there is if you have the invoice and receipt of the store that sold it to you apple in 2/3 dissociates it from the id and you can restore it without bumping into the screen that asks you for activation by entering the email and password data
Hello
i changed my email address due to problems i had with the server. now I have to change the setting on I phone 6
but I didn't understand how to do it?
Is there anyone who kindly and in a very simple way can explain it to me?
thank you
Eugenio
you only see questions. but there is someone who knows how to answer? I'm the hell of a problem ??? how can you do I have the tele blocked because naively I restored it without knowing that after it required id that I have not noted it anywhere. (mobile phones with removable covers were better.
If you have forgotten the id you can retrieve it from here: https://iforgot.apple.com/password/verify/appleid#!§ion=password
it still asks me for the apple id and password of the previous owner
I bought an iphone 4s on ebay restored by the old owner but that does not remember the pass and @mail of the apple id therefore impossible to restore.
any of you have any ideas beyond the garbage can?
thank you.
great cazzatona ... that mechanism is effective only if it is not active it finds my iphone
otherwise the only way is just to change imei
hello, I wanted to ask you but if you download and install the firmware I'm damn id of the old owner deletes it or not ???
What happened to me happened a little bit to everyone I reset the phone because they had blocked my account since I had not verified with the email .. Email that I do not remember so I find myself in the home screen without being allowed to log in because my account is blocked but my apple id and pw i remember them both.
I called the apple center and they made me do what I did all day try to change pw with the security questions that having done 3 years ago I don't remember at all.
They told me that I have to find the receipt or the receipt otherwise my iPhone 5S I can simply throw it away.
i have an iphone 5 with apple account other than icloud account. I know the data of the apple account but not those of icloud that the old owner does not remember. how do i initialize the phone if it asks me for icloud data?
If you know the apple id but do not remember pw by connecting to the site http://www.icloud.com
put id apple deliberately wrong pw and do iforgot you can restore pw ...
I activated Find my Iphone but I don't remember my ID password, so now I can't use icloud or reset the iphone. I obviously tried to recover the password but without success .. can any of you advise me what to do?
I also pretty much the same problem.
I wanted to go back to using my old IPhone5c with 'Find my iPhone' active but I don't remember the unlock code and I can't reset anything.
Help?
I have an ipod I have to give it away and I have deleted everything including the home screen now the only thing that appears is the only emergency call and a cd to connect to a pc I would like to know how to reload all the initial icons crazie
Try taking a look at this article:
https://www.iphonexpertise.it/sbloccare-iphone-da-schermata-con-itunes-e-cavo/
Hi, I have a 5th generation iPod touch, I found it a few days ago on the ground and then I got it. The problem is that even if I restored it from scratch after I insert the wi-fi it asks me for the apple id of the previous owner ... today I turn it on and it tells me that the activation servers are unreachable. What should I do???
you have to take the ipod to a police office and deliver it. They will take care of returning it to the owner. In case you do not do it, and let's say you manage to activate the ipod and there was some way to track it, you would risk a criminal complaint for receiving stolen goods. If after a year of delivery the owner has not been traced, you can request the return of the object. In this case it will be yours on a regular basis.

The same thing happened to me too, as soon as I turn it on it asks me for wifi, then set the language and Apple id. But having found it on the ground, I don't know which one to put ..?

You have to take him to the Carabinieri. They will find the owner, vice versa after 12 months it will become yours.
Since I bought My iphone 4s I have changed my apple ID and password several times. Now I would like to reset everything but not remembering the password of the ID I can not deactivate find my iphone and now I do not know what to do.
ditto for me too

you can deactivate the apple id is easy

I have the same problem, have you managed to solve it?

the same thing as you to me
I followed the instructions ... I reset my Iphone but when I turn it on at a certain point in the configuration it tells me that the device is connected to an apple ID (which in brackets is mine but which I do not remember at all) and that I must log in with that and the password to continue the configuration 🙁 so I'm back to back… without apple ID I can't access the functions of my Iphone
Hi, the exact same thing happened to me too 🙁
Now I don't know what to do anymore

you solved?

I'm having the same problem. Were you able to solve?

you have to go to the apple site go to the apple id section click I don't remember password then click I don't remember apple id fill in the boxes and in theory it should do
Good luck!

Hello
lost only time without id of the other user nn goes
But I did not understand. If I don't have an Apple account, what do I do? If I follow these steps will it restore it for me? Oh I forgot, I have an iPhone 5 and I forgot the password.
But how many are you with the forgotten password! The problem is not a problem. Just reset it from the iCloud site and it will be sent to the email used for activation. The problem is that many have bought the iPhone from some "rogue" and have been screwed! In that case, you should contact the authorities and report whoever sold you the item. You have lost your money, but at least you will help to combat the phenomenon of theft and receiving stolen devices.

hello I do not know how my brother has blocked his cell because he does not remember anything then he bought a new iphone 4, then I put id and passw everything here is fine. i am trying to restore the old account with
"You remember" but if I go to change the passw I change that of the new phone

no one will believe it but after a short time from the purchase of the iphone 6 a registration was made quickly putting data that I do not remember anymore now I have no possibility to trace anything but I have not stolen the smartphone nor I have bought it on the net. I don't remember full stop, among other things, if I restore it and it was stolen, it would still go back to imei. how can I do?