WhatsApp is arguably one of the most popular instant messaging services in the world and became even more popular when Facebook bought it. Unfortunately, when you delete a message by mistake, it does not end up in a sort of "basket" and therefore immediately becomes irrecoverable (at least for the moment). Regardless of whether you have deleted one or more Whatsapp messages or if you have actually deleted your Whatsapp account, what you need to know is that these messages may still be "hidden" in the internal memory of your phone. Thanks to programs, such as the ones we will see below, you will still be able to recover your WhatsApp messages, with related attachments (photos, videos, audio files, etc. ..).
Below we want to report you dr.fone Toolkit, a powerful tool of rand recover WhatsApp messages which not only restores deleted Whatsapp chats from phone but also manages to recover other types of deleted data from your iOS (iPhone) or Android smartphone. To proceed with the recovery it is essential to download and install this program on your computer (Windows or Mac) and then connect the phone to the computer to start scanning and searching for deleted Whatsapp data. In addition to how recover Whatsapp messages, at the bottom of the article we will explain how to back up your WhatsApp history in order to prevent future data loss.
How to Recover Whatsapp Messages
As we have already anticipated, deleting Whatsapp messages or the entire Whatsapp account does not necessarily lead to the definitive removal of all app data, because these remain for a while in the device memory until other data take the their place. If you intervene promptly, you can still recover whatsapp conversations, even old ones!
There are two possible programs that you can use and below we will point out both of them.
SOLUTION # 1: LAST FOR ANDROID
UltData per Android is currently the most powerful program capable of recovering Whatsapp data from any Android device, without the need for Root permissions. Here are the steps to follow.
Step 1: Download and install the software on your Windows PC

Step 2: After installation you will see this initial interface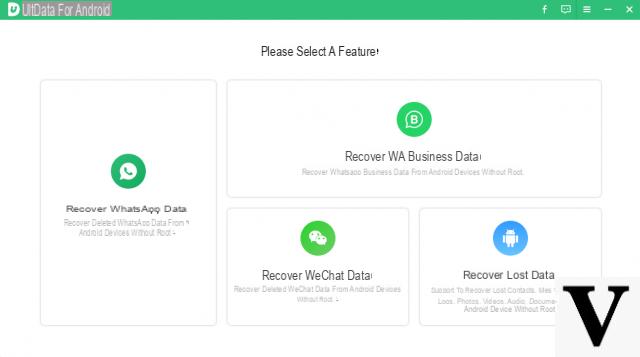 Step 3: Choose "Recover Whatsapp Data" as the type of recovery
Step 4. Connect Android phone to computer with USB cable. On the mobile you will have to activate the USB DEBUG (from the settings).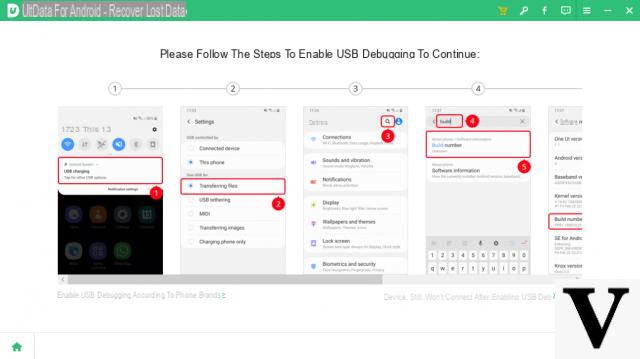 After activating USB debugging, on the phone screen click on "Allow"To proceed with the scan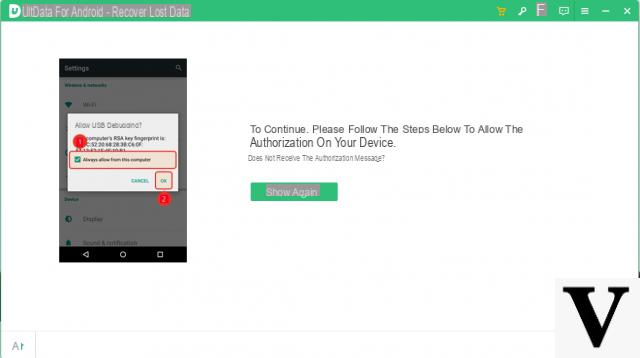 Step 5: Start scanning your phone by clicking on the "Home"
Log in to the WhatsApp account on your device. If you have already done so, click the "Yes, I want to continue" button to continue.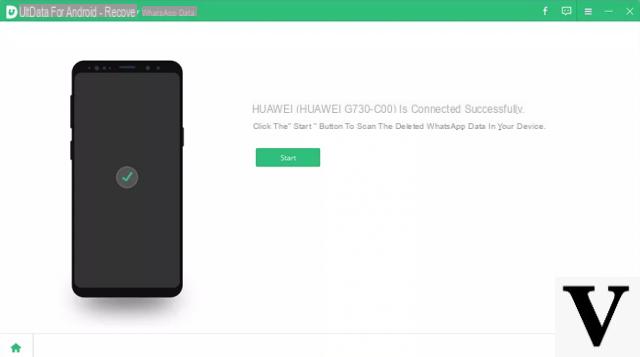 At the end of the scan you will see all the Whatsapp data (even those you thought had been deleted forever)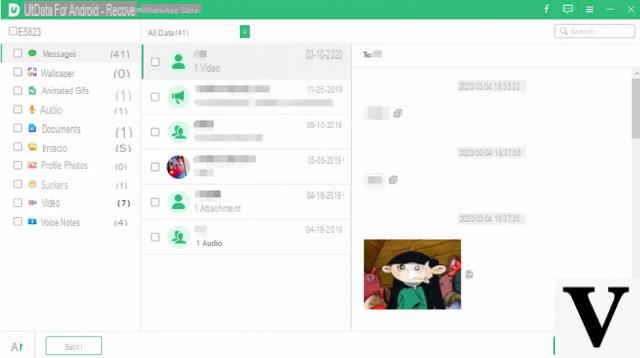 Select the desired files and then click on "RECOVER
"To retrieve them. That's all! Below you can also see a video tutorial that shows everything already described above:
SOLUTION n.2: DR.FONE FOR ANDROID
Another program you can try is dr.fone, which can be installed on both Windows PC and Mac OS X and allows you to recover data from both Android and iOS devices (iPhone / iPad). Here are the links to download this software based on both the computer and the phone you own (and from which you want to retrieve whatsapp messages):
Step 1. Download and install dr.Fone
Download dr.Fone for iOS for Windows Download dr.Fone for iOS for Mac
Download dr.Fone Android for Windows Download dr.Fone Android for Mac
Step 2. Launch dr.Fone and connect phone to PC / Mac
After finishing the installation, open the program. You'll see a splash screen like this: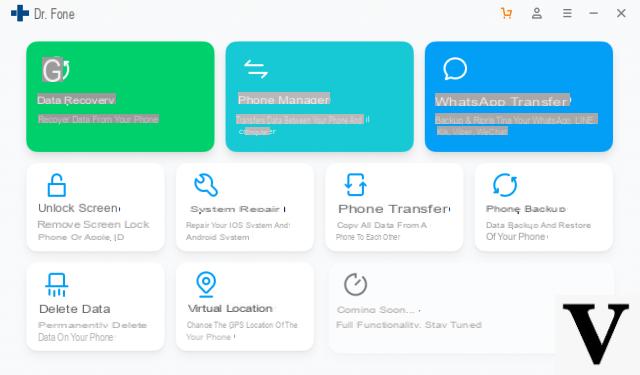 Left click on the function RECOVERY and the program will ask you to connect your mobile to the computer.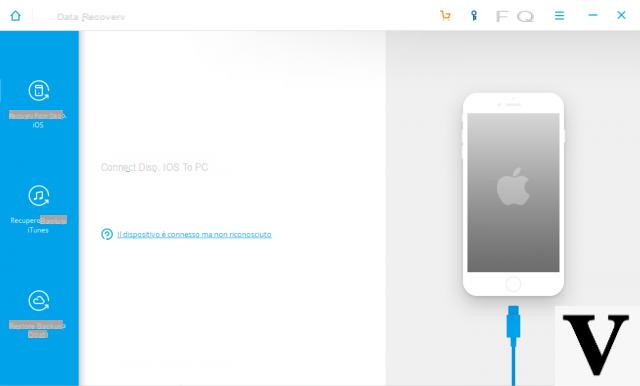 Use the USB cable supplied with your mobile phone to connect it to your computer. You don't have to do anything, just connect your device to your PC and let the magic happen. It is incredibly easy to use. Once the connection is made, wait a moment. If by chance you have an Android phone (Samsung, LG, HTC, Huawei, etc ...) that is not detected by the program, a window will open asking you to activate the "USB Debugging" mode on the device. What you will have to do is follow the instructions presented by the program to access the mobile phone settings and activate this option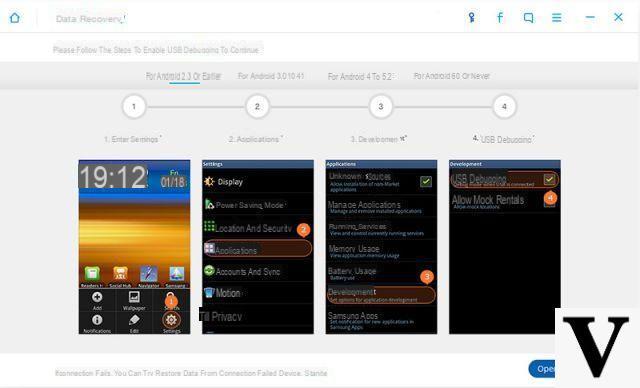 Once this option is activated, the phone will surely be detected by dr.fone and you can proceed with the recovery of whatsapp messages.
Step 3. Start Scan
Once the device is connected and identified you will be ready to launch the scan. Before scanning you will be able to choose the exact type of file you want to recover.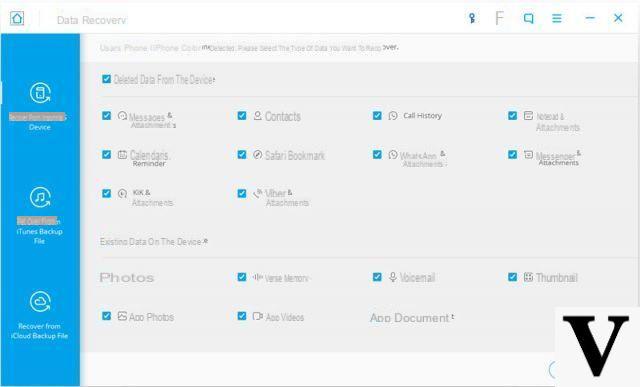 As mentioned above, it is not only the WhatsApp messages you will be able to recover, but also contacts, videos, call history, documents and much more. However select the box "Whatsapp & Attachments"And click on the bottom right START SCAN to start scanning your phone.
Step 4. Preview and recover Whatsapp messages
Depending on the amount of files on the device, the scan time may be longer or shorter. Have a little patience and make sure your phone stays connected all the time until the scan is finished.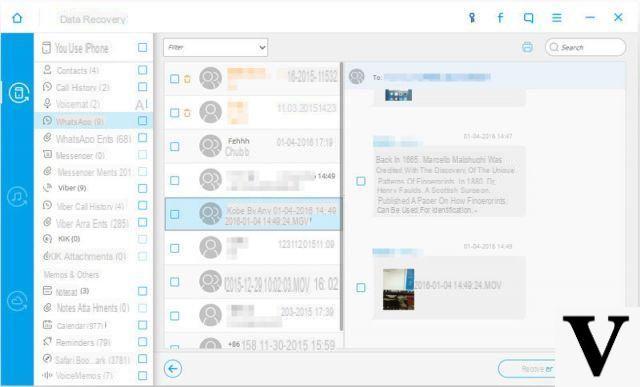 When the search ends, from the left menu click on "WhatsApp messages". As you can also see from the figure above you will be able to preview the messages found and then you can proceed to recover both them and any attachments. To do the recovery just press the button "Recover", And the procedure is done!
Besides recover Whatsapp messages, dr.fone can help you recover even deleted photos on your phone, SMS messages, contacts, videos, notes, voice memos, and so much more!
How to Backup WhatsApp to Prevent Data Loss
If you own an Android phone, here is a quick and easy way to backup Whatsapp and avoid data loss in the future. This involves backing up to Google Drive. If you have an iPhone instead, you can backup to iCloud as indicated on this page.
[Android] Back up WhatsApp su Google Drive
1. Open WhatsApp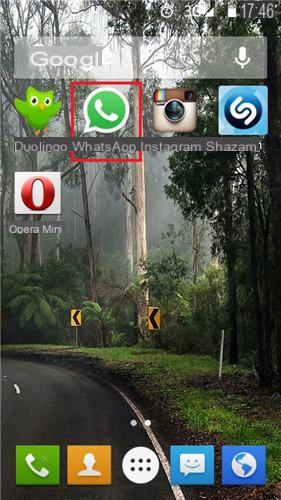 2. Click on the three dots at the top to open the menu and go to Settings> Chat and calls> Chat backup.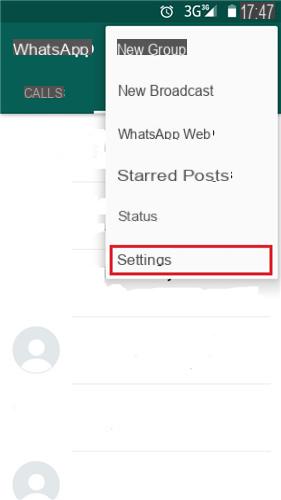 3. If you already have a Google account click on "Back up" and the process is done!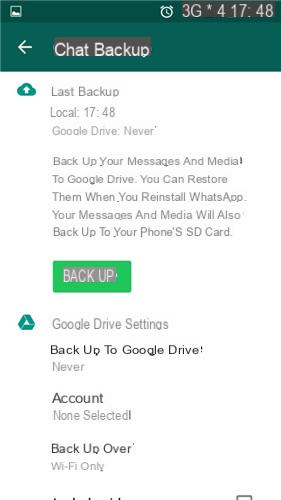 You should write that for certain functions (eg recovering chats from a deleted account) root is required
It depends on the phone model… for some you need to root, for others you don't… and for others it's not really possible to do the recovery.
Recover Whatsapp Messages (even with Deleted Account) -