When we talk about Message we mean both the messages sent / received via SMS that of all messages sent / received on applications such as Whatsapp, Viber, Kik, Facebook Messenger, Skype and so on. The messages often represent very important information containers such as addresses, telephone numbers, names of people to contact, personal dedications received, and so on ... Missing or accidentally deleting one or more of these messages can represent a real drama for anyone.
To avoid the lost messages on iPhone (and also on other devices) a backup of them, that is to save them somewhere (locally on the computer or on one of the many "cloud" services, ie online). We have already seen in several articles how to backup iPhone (also selective, i.e. choosing only the data that interest us), or how to save iPhone SMS messages on your computer, or how to backup Whatsapp on your PC, or how to backup Viber, Kik and Line messages (other widely used apps to exchange messages with friends, acquaintances and family).
But if you have not previously made any of these backups, and you have lost or deleted messages on the iPhone, what should you do? Is there any way to recover iPhone messages, even if there is no backup?
The answer to this last question is yes (luckily for you) but you need to carefully follow the steps below.
How to Recover iPhone Messages (Without Backup)
To recover your iPhone messages (or at least try to recover them) you essentially need two things:
A computer (Windows or Mac)
The dr.Fone program
Your iPhone at hand, with its USB cable (useful for connecting it to your computer)
Well, first download and install Dr.fone, on your PC or Mac from the links below (free demo version)


After installing the program you will see this main window: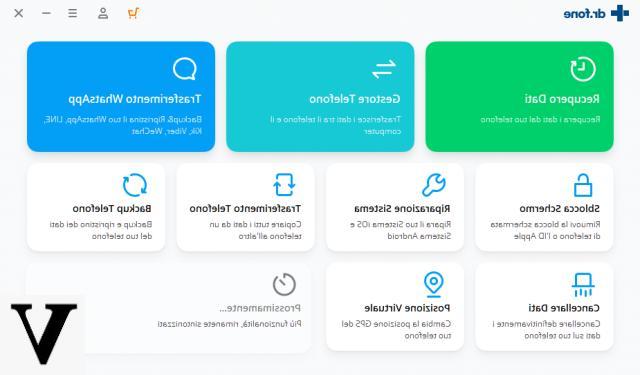 Among the many functions you see on the program screen, the one we need is "Recovery". Click on this box to open the following screen, in which you will be asked to connect the iPhone to the computer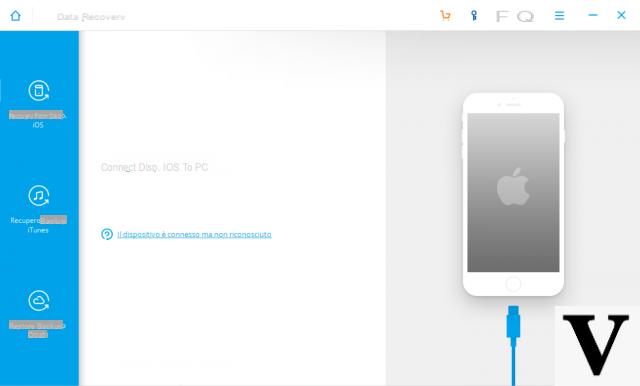 Use the iPhone cable to connect it to any USB port on your PC or Mac. Once connected, dr.Fone should immediately recognize the device. If it does not recognize it, make sure that:
Find My iPhone service and iCloud service are turned off on your iPhone
The latest version of iTunes is installed on your computer
Once the iPhone is detected by the program you will be able to decide which data to search from the internal memory of the iOS device. Here is the screen from which you can choose the type of data to search: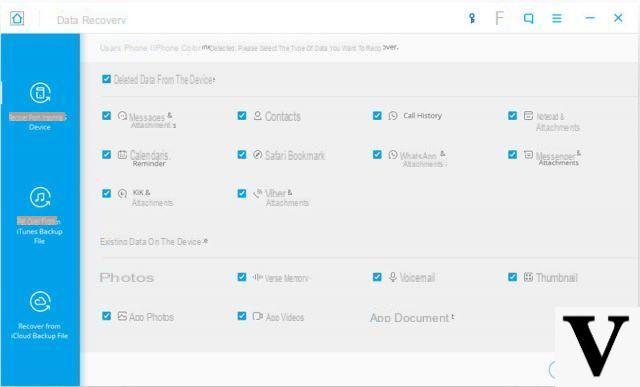 In our case, which we are trying to retrieve messages, be sure to check the boxes under "Messages & Attachments", "Whatsapp & Attachments", "Messengere & Attachments".
Once this is done click on START SCAN to start scanning for messages!
After the scan is complete, dr.fone will show all the messages found. Those messages that had been deleted but that the program was able to retrieve from the device memory will appear in red. In black instead, the messages already present and visible on the iPhone will appear.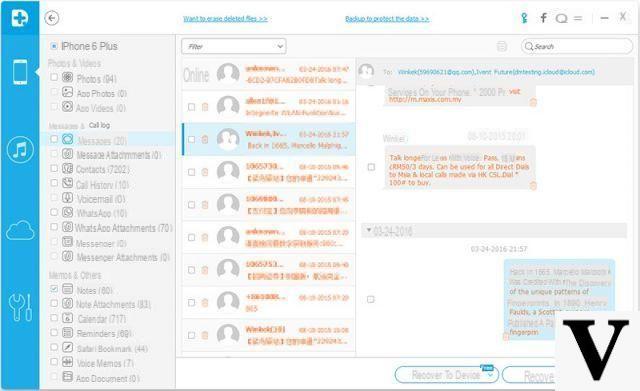 Now that you've found your messages, all you have to do is save them. You will either save them on your computer (in text format) or bring them directly to the iPhone by clicking on the appropriate button below.
NB: In addition to messages, thanks to dr.Fone you can also recover iPhone photos, recover iPhone contacts, call history, calendar, notes, reminders, voice memos, safari bookmarks, and so on ...