One of the main problems with most smartphones is that you can easily lose or delete your data. For example, if you have missed messages voice of Whatsapp or voice recordings made on the phone, the first thing you need to try is to figure out where these files are stored on Android or iPhone.
Once you know where these files are stored you will be able to understand if they are somehow still accessible. In this guide, you will learn just how and where to find your recordings and how recover deleted voices on Whatsapp (even in the absence of backup).
It is useless to deny that i Whatsapp voice messages represent a quick and easy way to communicate on Whatsapp without having to write it manually. It is especially convenient when you don't have a lot of time or when you have to communicate a very long thing to say that would be impossible to write in a few minutes. All the voices that are sent or received via Whatsapp are automatically saved in the internal memory of your mobile phone, and like all data saved on the device, they are always at risk of deletion. However, below we will see how to recover Whatsapp voices in case of accidental loss or deletion.
Part 1. Where are vowels saved on Android and iPhone?
Part 2. How to recover deleted voices from Android and iPhone Backup
Part 3. How to recover Whatsapp voice on Android without Backup
Part 4. How to Recover iPhone Whatsapp Voice without Backup
Part 1. Where are Whatsapp Voices saved on Android and iPhone
Depending on how your device (Android or iPhone) is configured, voice recordings are saved in internal memory or external memory (SD card).
Su Samsung, you can go to My Files / SD Card / Voice Recorder or My Files / Internal Memories / Voice Recorder to find your saved voice recordings.

Su Xiaomi, you can go to SD / MIUI / sound_recorder or Internal SD card / MIUI / sound_recorder to find the saved voice recordings.
Su HTC, you can find the voice recordings saved by sdcard / My documents / My recordings.
Su Huawei, the recordings are saved in File> Categories> Internal Memory> Sounds.
On the phone LG: puoi trovare le tue registrazioni vocali salvate da storage / external_SD / VoiceRecorder / my_sounds / filename o storage / emulated 0 VoiceRecorder / my_sounds / filename
In the case of voice messages WhatsApp, you will find these recordings in the folder WhatsApp> Media> Voice Notes of WhatsApp in your archive.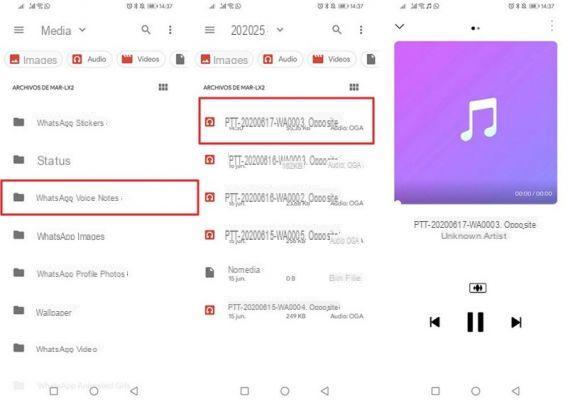 In the case of the iPhone, the Whatsapp voices are located in the same folder. More details, however, can be found in this article: recover iPhone voice memos
Part 2. How to Recover Whatsapp Voice from Backup
If you made a backup before losing Whatsapp voice recordings, then you will have no problem extracting and restoring the recordings from the backup.
Depending on the tool used to back up, you will need to use a third party app or an option in settings to recover lost voice recordings.
1. Recover deleted Whatsapp voices from Android from Google Drive backup
If you or your phone have automatically uploaded the voice recordings to Google Drive, then you can simply log into this Drive on your phone and download all recordings back to your phone. This is the easiest and fastest way to recover deleted voice and recordings on Android.
If you are not sure how to use this method, here are the step by step instructions that will help you.
Launch the Google Drive app from the app drawer on your phone.
Find the folder that contains your voice recordings.
Once you see the deleted recordings, tap the three dots next to the recording.
Select the option that says Download to download the recording back to your phone.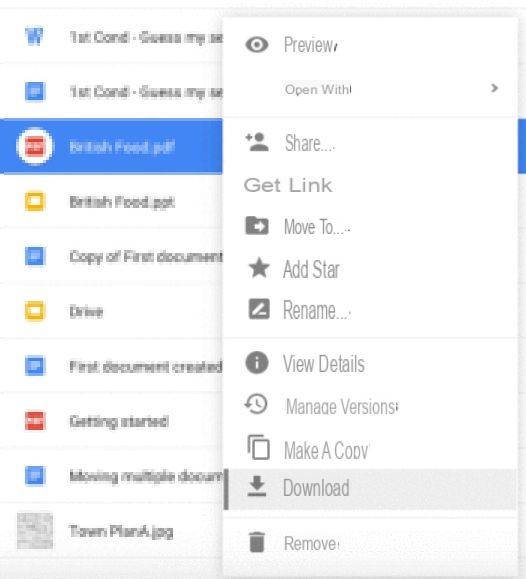 The lost voice recording should now be back on the phone. You can access the downloaded file using the default file manager app.
2. Restore deleted voice from Samsung via Samsung Cloud backup
If you are using an Android device Samsung, it is very likely that your voice recordings have been backed up to Samsung Cloud before being deleted. In this case, all you have to do is tap on a few options in the settings and your lost recordings will be back on your phone.
You need to make sure that you have an active and reliable internet connection before using this method. After checking it, you need to follow the steps below to restore deleted files on your phone.
Open the app Settings from the app drawer on your Samsung phone.
Tap the option that says Account e backup.
Toccata Backup and restore in the resulting screen
Select the option Restore data if you want to restore the contents to your phone.
Choose the device followed by the type of content you want to restore. At this point, select your voice recordings from the agolable options.
Then, tap Restore and the backup will start to be restored to your phone.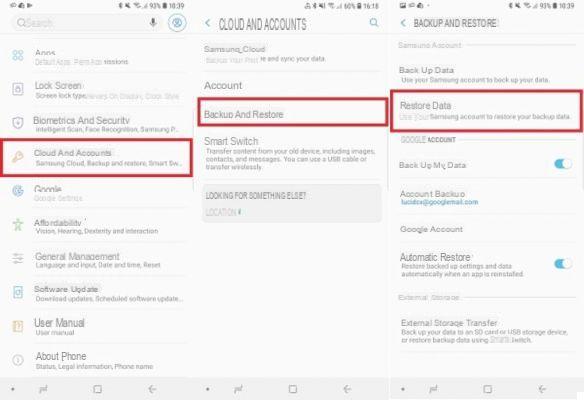 3. Restore Whatsapp Voices from iTunes or iCloud backup to iPhone (with dr.Fone)
If you are using an iPhone and have made a backup on iTunes or iCloud then you can use the dr.Fone program to be able to restore Whatsapp data (including voices) back to your iPhone. Here are the steps to follow! Download dr.Fone on your PC or Mac:


Start the program and connect your iPhone to your PC or Mac. From the main screen click on the "DATA RECOVERY" box: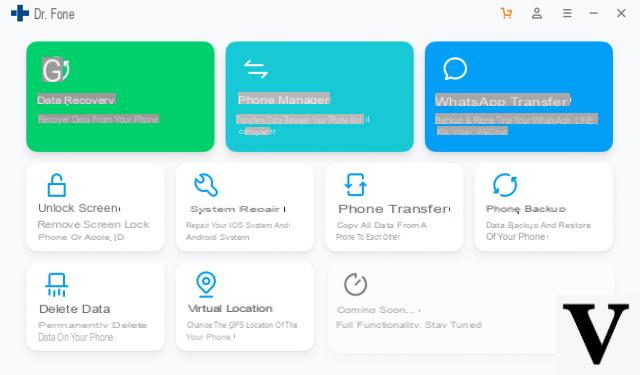 In the next window, left click on "Recover from iTunes Backup File" or "Recover from iCloud" to access the recovery mode from iTunes or iCloud backup. In the first case, the program will immediately show the iTunes backup files on your computer (see fig. Below). Choose the backup to be analyzed and click on "Start Scan" to proceed.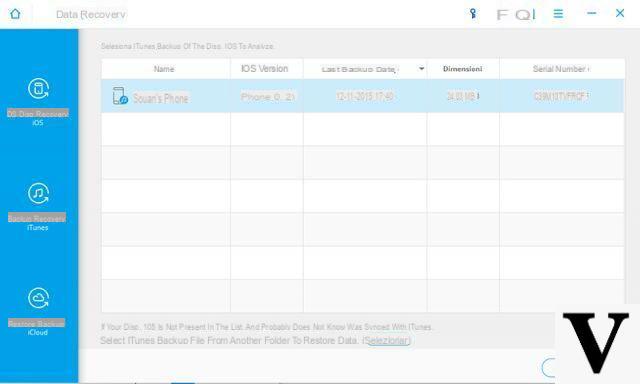 If you choose iCloud backup recovery you will need to enter your iCloud credentials and then select the backup to analyze and restore.
After a few seconds the scan will finish and all the data found in the backup will be displayed in the program window. Click on the left on the item "Whatsapp attachments"And you will be able to preview all found files (including voices in M4A audio format). Choose the ones to recover and click on "Recover"To save them on your computer or to restore them directly on your iphone (after having properly connected it via USB to your computer).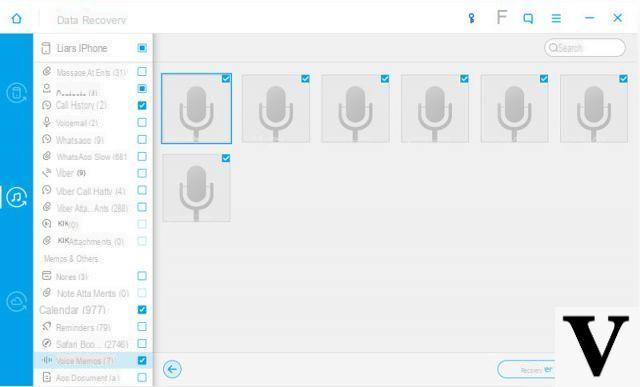 In addition to voice memos, you can recover videos, contacts, messages, etc ...
Part 3. Recover Whatsapp Voice on Android without Backup
Although you can use the above methods to recover lost voice recordings, these methods only work if you have a backup of your data. In case you don't have a backup, you need to find alternative methods and software to recover your files.
One of the ways to recover Whatsapp voice recordings without a backup is to use UltData per Android. This is a data recovery program that allows you to recover data without any kind of backup on Android devices (and it doesn't even require ROOT permissions).
If you are interested, here are the simple steps to follow.
Step 1: To get started, download and install the program on your Windows PC or Mac. Here are the download links:


Step 2: After installation the following main interface will appear.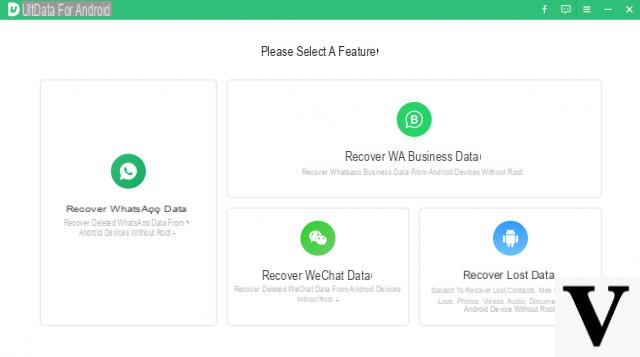 Connect your Android mobile to your computer and make sure UltData detects it correctly (you will surely be asked to enable USB Debugging on your phone).
Step 3: Choose the function Recover Whatsapp Data to start scanning for all deleted Whatsapp data from your device, including the voices you are trying to recover.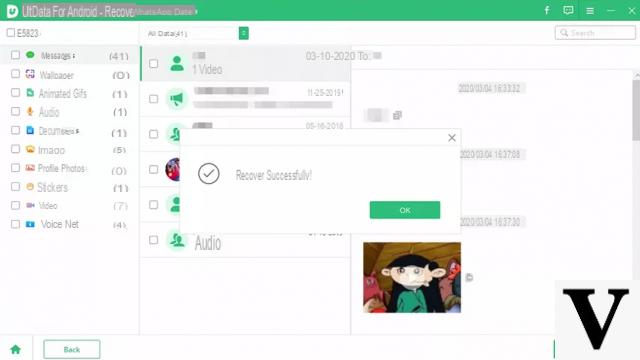 At the end of the scan you will be able to preview the recovered files and you will be able to save (on your PC) all the Voice messages found by the program.
Part 4. Recover Whatsapp Voice on iPhone without Backup
If you use an iPhone and want to recover very important Whatsapp voices, in the absence of backup, the software solution that we recommend is definitely that of FoneLab Whatsapp Recovery. The use of this program (compatible with both Windows PC and Mac) is really trivial.
Once Fonelab Whatsapp Recovery is installed and started you will see the following splash screen.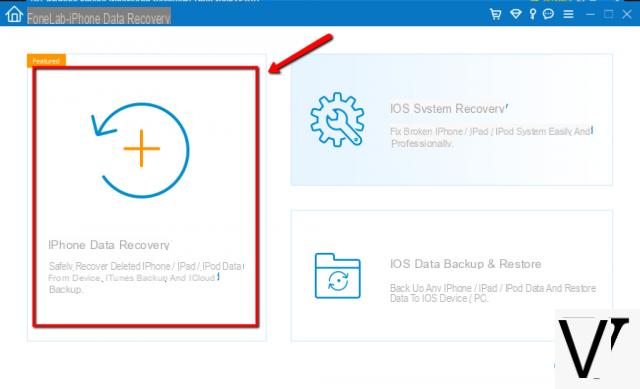 Select the "iPhone Data Recovery" function and then connect your iPhone to the computer via USB cable. As soon as it is detected by the program click on START SCAN to start scanning.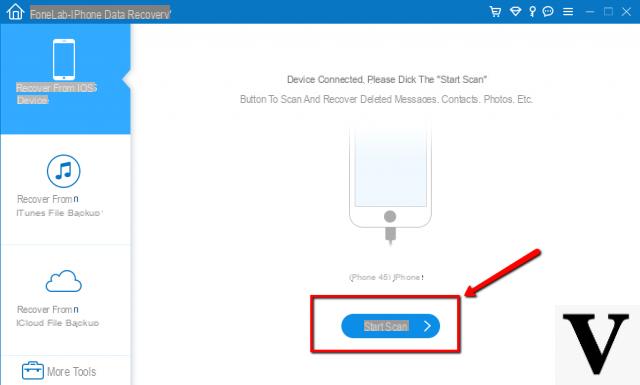 At the end of the memory scan you will be able to see all Whatsapp messages and all attachments (including sent and received voices).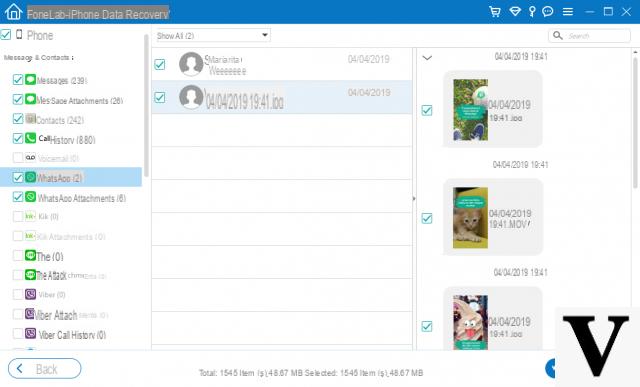 Choose the vowels to recover and finally press the "Recover"At the bottom right to save them on your computer!
Recover Deleted Voices on Whatsapp -