Here's a typical case that can happen: You bought a new iPhone and gave or sold the old one. Meanwhile you have connected the new iPhone to the computer and synced with iTunes. The old backup has been deleted since the last synchronization. The current backup is empty and you have lost everything.
If you are on this page it is likely that you have encountered an unpleasant situation like the one described above or you are trying to recover an old backup to permanently delete it. Don't despair, you still have a chance to recover your old iPhone backup by following the instructions below.
How to Recover an Old iPhone Backup
Actually only the last iTunes backup can no longer be recovered because the data has been overwritten, but you can try to find an old Backup (created earlier). In fact, iTunes creates a different backup file every time you connect and sync your iPhone. This is why you can try to find old backups that may contain the data you are looking for.
To restore and recover an old backup of your iPhone you can use Dr.Fone per iOS (available for both Windows and Mac users). The software can help you search for all iTunes backup files, and allows you to preview all of their content clearly and easily.
Download the demo version of dr.fone to give it a try right away.


Note: The program supports the recovery of any backup, regardless of the model of your iPhone (iPhone 6s, 6, 5, 5s, etc ..).
Step 1. Search for the old iPhone backup
Install and launch dr.fone. Access the DATA RECOVERY function and then select the "Recover from iTunes Backup". At this point, all the backups on your computer will appear on the central screen. If among these you can find the old backup you are looking for, you have done it!
Choose the old backup and click on "Start Scan"To extract all the data from it and preview them in the program.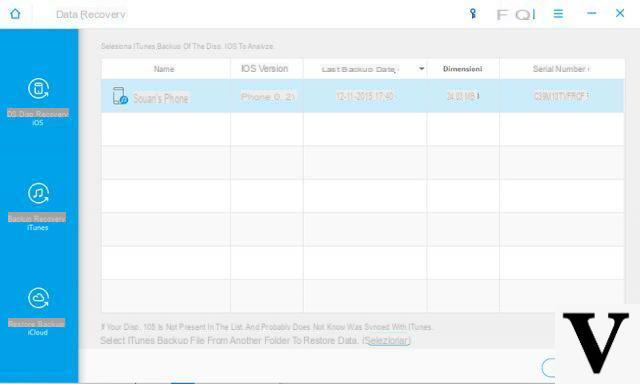 Step 2. View and restore the backup data
At the end of the scan, all the data will appear in the program, divided by type: photos, videos, contacts, messages, whatsapp, notes, etc.
Select the data you want to recover from the old backup and click on "Recover"To save them on your computer in a certain folder. For some files (e.g. messages, contacts, notes, whatsapp) you can also proceed to restore them directly on the device.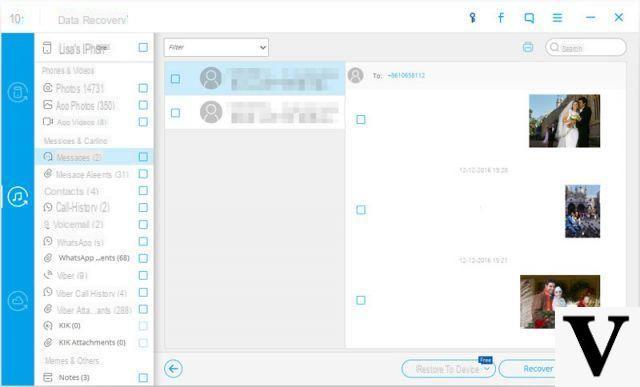 NB: With dr.fone for iOS you can also try to recover old backups saved on iCloud. What you will have to do is simply select the "Recover iCloud Backup" mode in the first step. Then the procedure is similar to the one done for iTunes backup.