The "Read Only" documents are, as the name implies, files that can only be viewed and the content is copy protected, print protected and obviously also from any kind of modification that the reader could make.
If you want to share a PDF document over the Internet you may need to make sure it is safe and that no one can copy and disclose the content of the PDF without permission. For create read-only PDF, Namely create copy and print protected PDF, you need to use a specific program. Below we point out two excellent solutions.
#1. PDFtools
Download and install PDFtools in demo version from the following button: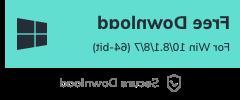 Open the program and you will see the following initial interface: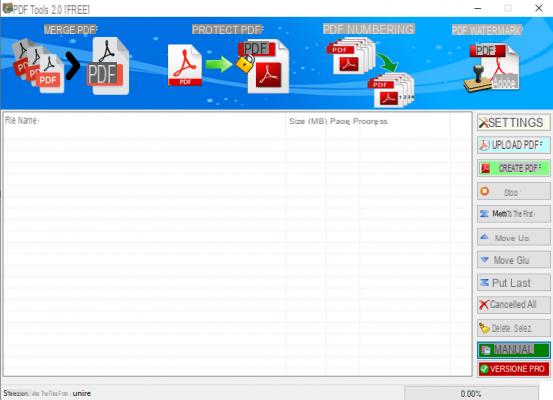 Click on the button UPLOAD PDF to load the PDF document to be protected and to be made "read only". Then click on the top right SETTINGS to activate the "PDF protection" function as shown in fig. following: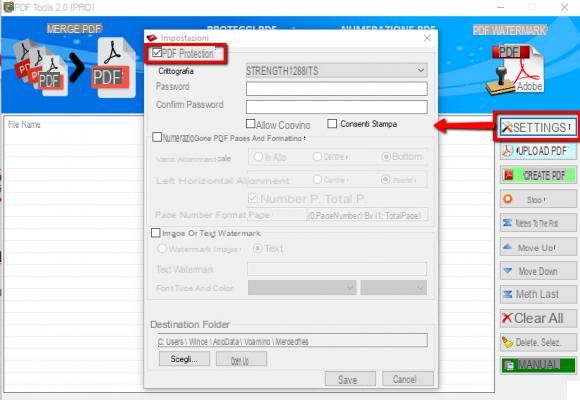 After activating the "pdf protection" box you can enter the desired password.
In addition to password protection, you can also prevent copying and printing. Leave the relevant boxes unchecked to prevent such actions and make your PDF document 100% secure.
To finish click on SAVE IN FAVORITES and then from the main screen click on CREATE PDF to create the new secure PDF!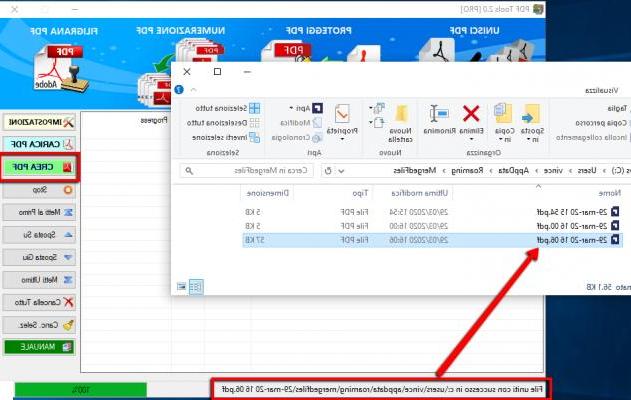 To access the secure PDF document you just created, just click at the bottom of the program, as highlighted in the image above.
NB: PDF Tools in the free demo version has the limitation of inserting a watermark on the PDF file created. To remove this limitation, the PRO version must be purchased at the cost of € 19 + VAT only from this link
#2. PDFelement
If you are looking for a more complete and professional solution then we recommend that you give it a try PDFelement. Thanks to it, in fact, you can fully manage any of your PDF files and create protected PDFs even with passwords in order to prevent unauthorized people from accessing the contents, copying, printing or modifying them. Here's how it works.
First download and install PDFElement on your Windows PC or Mac OS:


How to Create Read Only PDF and / or Copy and Print Protected PDF
Hello and thanks for the tips
I wanted to ask if there is a system to ensure that once a pdf (sold) has been downloaded it cannot be passed on to others.
Alternatively, I could publish the pdf on a site and allow only those who log in to read it.
Can I prevent x number of users, from different computers, from logging in with the same username and password?
If you share the PDF it can then be passed on to others. Possible solutions are to put a password protection.
Or you can create a version of the PDF that is browsable online and cannot be downloaded or shared. You could use a software like MyFlipbook (https://myflipbook.net) which allows you to create these browsable PDFs and also set an access password for reading the document.




Spett.le Sofstore,
I contact you to ask for clarification regarding the possibility of protecting the content of a PDF file:
The procedure proposed by you provides for the possibility of making a PDF file:
1 - Cannot be copied by the user to whom it was sent as an attachment to an email?
2 - Make said file read-only?
3 - Can only be installed on a single computer? That is, once it has been installed by the user to whom the aforementioned PDF file has been sent, is it possible to make it no longer installable on other computers?
No, copy protection does not mean the copy of the PDF file, but the copy of the internal contents (text and images). In practice, the "copy and paste" of the PDF text is disabled.
If you want total protection, you should also add password protection. Unfortunately, it is not possible to prevent the PDF from being copied if it is attached to an email or something like that.

So it's all basically useless. Whereas it is still possible to take a screenshot of protected PDFs.




Unfortunately, preventing you from taking screenshots is impossible. But at least his copying and / or printing work becomes more complicated.
I would like to make a pdf file read-only but without a password, is it possible?
Thank you
We would also be interested in the opposite article, which is how to print a print-protected PDF.
Obviously with a really working method, even on 200 mega PDFs ..
In this case you need a program to first remove the PDF restrictions (printing in your case) and then proceed to print. I suggest you take a look at this article: https://www.softstore.it/come-togliere-password-e-restrizioni-pdf-su-windows/
Read Only PDF: Create Copy and Print Protected PDF -