Want to know the difference between QuickCharge, Dash, Vooc, Pump Express? This article should help you see more clearly in the jungle of fast charging on smartphones.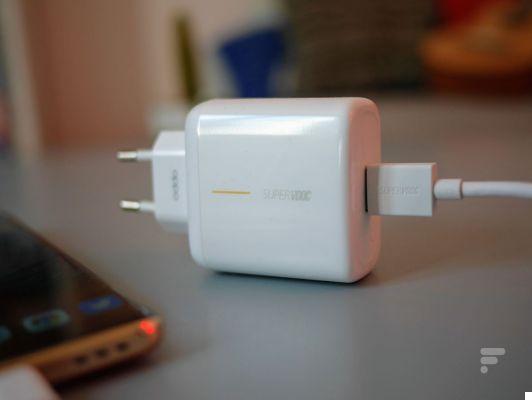 The 65 W charger supplied with the Oppo Find X2 Pro
While smartphones have gradually seen their battery increase as their size grew, this is not the only trick found by manufacturers to make life easier for users. In addition to improved battery life, most models now offer a fast charging system. This is a workaround found to overcome the lack of evolution of the batteries. In order not to take more than 3 hours to recharge these smartphones with a simple 5 watt charger, the manufacturers offer chargers capable of delivering a higher power.
We have thus already seen devices capable of absorbing up to 25 W, recharging almost five times faster than conventional chargers. Some even allow to go up to a load of 65 W. Before diving a little more in detail on the subject of the fast charge, let us quickly study the operation of the electricity and the units of measurement within the chargers.
Fast chargers
If you take a look at your charger, you can easily calculate its output power, expressed in watts. Chargers specify the intensity of the current (in amperes) and the voltage (in volts) at the output, intended for the smartphone. To calculate the power of the charger, in watts, simply multiply the current by the voltage. For example, in the case of a conventional charger capable of delivering a current of 1 ampere on 5 volts, we will have the right to 5 watts at the output. On Oppo's SuperVooc 4.0 chargers which output 6,5 amps on 10 volts, the smartphone will be able to receive 65 watts. What is more power for? To reduce the charging time of smartphone batteries.
To better understand the rest of the article, note that the recharging time of a battery is not linear. So, while half the battery can be recharged in a very short time, the second half - and even more the last percent of it - takes a very long time to recharge. Fast charging therefore consists in sending a very large power on the first half of the load, then in finely regulating this power on the second half. This last exercise is the most delicate, in order not to damage the battery.
For safety reasons, batteries compatible with fast charging must also incorporate separators much thicker than conventional batteries between the anode and the cathode. The greater thickness of this separator logically causing an increase in the size - but not in the capacity - of the battery. Therefore, for the same volume, manufacturers must choose between a battery with a larger capacity, but without fast charging, or a lower capacity, but with fast charging.
Qualcomm Quick Charge
Technical specifications
| | Tension | Current | Max power |
| --- | --- | --- | --- |
| Quick Charge 1.0 | 5V | 2A | 10W |
| Quick Charge 2.0 | 5 / 9 / 12V | 1.67 / 2A | 18W |
| Quick Charge 3.0 | 3,6 to 20V | 2,5 / 4,6A | 18W |
| Quick Charge 4.0 + | 3,6 à 20V ou 5/9V (USB PD) | 2,5 / 4,6A or 3A (USB PD) | 27W (USB PD) |
History
In June 2012, Qualcomm acquired Summit Microelectronics, a company specializing in the design of electronic circuits for chargers. In February 2013, the Quick Charge 1.0 standard was born, capable of reducing the charging time of compatible smartphones by 40%. For this, smartphones had to integrate a special chip. In fact, the standard allowed a 10 watt (5V - 2A) charger to be used with compatible smartphones. Then comes the Quick Charge 2.0 standard, this time capable of shortening the charging time of a smartphone by 75% with up to 36 watts (12V - 3A). To benefit from an intensity of 3A, you need a special Quick Charge charger.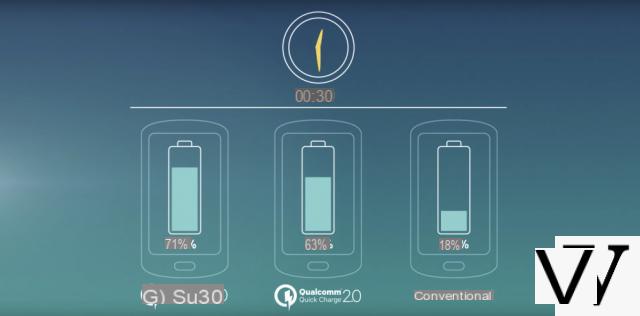 At the end of 2015, Qualcomm launched revision 3 of its Quick Charge standard, once again with a reduced charging time. This time, it is possible to use a voltage of 20 volts against 12 volts maximum for Quick Charge 2.0. Qualcomm went even further by integrating finer voltage management, in 200 mV steps between 3,6 and 20 V. Previously, a smartphone could only choose four different voltages depending on the progress of the charge, against now 80 voltages. It is thanks to this finer management of the voltage that charging is faster, allowing the power delivered to the smartphone to be refined as much as possible during the last minutes of charging. Qualcomm promises 71% recharge in 30 minutes for a battery with a capacity of 2 mAh.
Now we can count on the Quick Charge 4.0. It retains the advancements of version 3.0 while offering superior optimization, promising 20% ​​faster charging for 30% more efficient energy management. The INOV algorithm has been revised in order to better consider the heating of the device and the power supply unit by adapting dynamically to it. Most importantly, Quick Charge 4,0 is now compatible with the free USB Power Delivery standard, which promises to make QC4 chargers compatible with any device that supports it.
In 2017, a review of this technology was launched, under the name Quick Charge 4+. This once again improves performance with a load advertised up to 15% faster and up to 30% more efficient for a more optimized heating once again. Above all, the temperatures of the block and the smartphone are monitored at the same time.
OnePlus Dash Charge / Warp Charge
Technical specifications
| | Tension | Current | Max power |
| --- | --- | --- | --- |
| Dash Charge | 5V | 4A | 20W |
| Warp Charge 30 | 5V | 6A | 30W |
History
With its OnePlus 3, the Chinese brand has innovated in terms of fast charging with its in-house Dash technology. Under this name hides a fast charge that resembles that of Oppo, with a voltage of 5 volts, but an intensity of 4 amps, which ultimately gives a power of 20 watts. Once again, we have the advantage of low voltage (little heating) with the advantages of fast charging. On the other hand, as with Oppo, Dash fast charging requires a special USB cable, again with more pins for charging. OnePlus promises 63% of the battery capacity of the OnePlus 3 (which is 3 mAh) in 000 minutes of fast charging.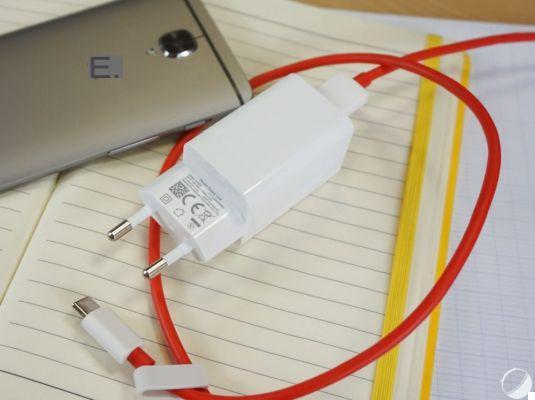 Since 2018, OnePlus has been forced to drop the name "Dash Charge" for legal reasons. For the OnePlus 6T McLaren Edition, the brand has thus switched to "Warp Charge 30" which offers, as its name suggests, a power of 30 W. To do this, OnePlus offers an intensity of 6V and a voltage of 5 A .
In 2020, it is still this 30 W power that is at work on the brand's most recent smartphones, the OnePlus 8 and OnePlus 8 Pro.
Oppo VOOC / Flash Charge & Realme DART
Technical specifications
| | Tension | Current | Max power |
| --- | --- | --- | --- |
| OPPO VOOC | 5V | 4A | 20W |
| OPPO Super VOOC | 5V | 10A | 50W |
| OPPO Super VOOC 2.0 | 10V | 6,5A | 65W |
| Oppo Flash Charge | 10V | 12,5A | 125W |
History
Oppo has also created its own fast charging solution called VOOC. Unlike Qualcomm's solution, Oppo did not choose to increase the voltage, but only the intensity of the current. VOOC can therefore deliver 20 watts, with 5 amps and 4 volts.
The advantage of using 4 volts and not 12 or 20 volts is to prevent the battery from overheating when recharging, and therefore using the phone without burning yourself. Oppo also uses its own batteries, integrating several cells to optimize the current. Finally, the USB cable used by Oppo is special, since it incorporates more connectors. Oppo announces 30 minutes to recharge 75% of a smartphone battery, of unknown capacity.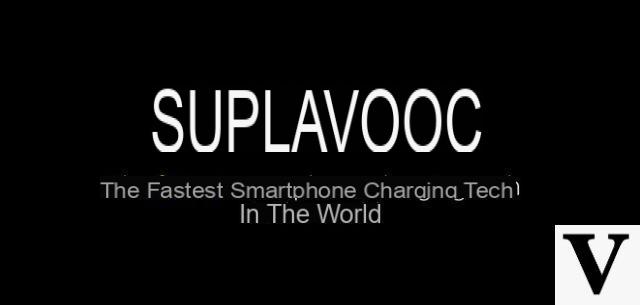 In early 2016, Oppo announced the Super VOOC Flash Charge, which would charge a 15 mAh battery in just 2 minutes. The charger still uses a voltage of 500 volts, but with pulsed charging, which allows the total power to be varied with precision over the entire charging time. Oppo also specifies that a brand new battery is used to go along with this technology which is not yet available on smartphones.
In 2018, Oppo unveiled the Super VOOC on its Oppo Find X, also featured on the Oppo RX17 Pro. Thanks to its power of 50 W, it is possible to recharge the Oppo Find X in just half an hour.
In 2019, the Reno Ace inaugurates a new look with a charge compatible with a power of 65 W. It is the same charger that also equips the Find X2 Pro, but also a cousin of Oppo, the Realme X50 Pro. For Realme, however, the charging technology was renamed SuperDart.
The symbolic 100 W mark is finally exceeded in 2020 with the announcement of the Oppo Flash Charge (and Realme UltraDART). This technology uses a current of 20 V / 6,25 A and transforms it via 3 parallel circuits into a current of 10 V / 12,5 A.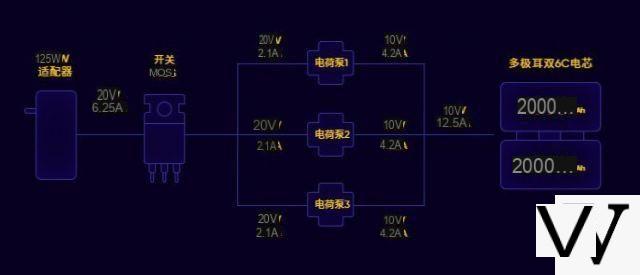 To avoid overheating, the brands of BBK Electronics integrate more than ten temperature sensors, both in the phone battery and the power supply unit and restrict the charging speed so as not to exceed 40 degrees. Oppo explains that a 4000 mAh battery takes about 20 minutes to charge while it could only take 10 without this security.
This technology is also compatible with other protocols, such as USB Power Delivery (PD) up to 65 W, Qualcomm Quick Charge (up to 36 W) and others.
Samsung Fast Charge
Technical specifications
| | Tension | Current | Max power |
| --- | --- | --- | --- |
| Samsung Fast Charge | 5 / 9V | 2A | 18W |
| Super fast charging | 9V | 2,77A | 25W |
| Super fast charging | 10V | 4,5A | 45W |
History
At Samsung, we find the Adaptive Charge which plays the role of fast charging. Thus, the charger supplied with the Galaxy S7 can deliver up to 25 watts with 12 volts and 2,1 amps. Once again, Samsung uses Qualcomm's Quick Charge technology, as an engineer from the San Diego company told us at CES 2016. According to Samsung, Adaptive Charge can recharge 50% of the Galaxy S7's battery. (3 mAh) in 000 minutes.
On the Galaxy S20s, however, Samsung has gone a step further with 25W chargers provided across the range. The Samsung Galaxy S20 Ultra is however compatible with a power of 45 W, just like the Galaxy Note 10 Plus, while the S20 and S20 Plus remain limited to 25 W. They also use the Programmable Power Supply (PPS) to manage at the fly thermal elements during charging depending on the voltage and amperage of the charger.
Huawei SuperCharge
Technical specifications
| | Tension | Current | Max Power |
| --- | --- | --- | --- |
| Super Charge 1.0 | 5 to 9V | 2A | 10 to 18W |
| Super Charge 2.0 | 10V | 4A | 40W |
History
At Huawei, the fast charging technology is called SuperCharge. From 2016 at the manufacturer we find chargers of 10, 15 or 18 W with a voltage of 5 or 9 V and an intensity of 2 amps. Over the years and generations of smartphones, technology has evolved to reach up to 22,5W (5V for 4,5A).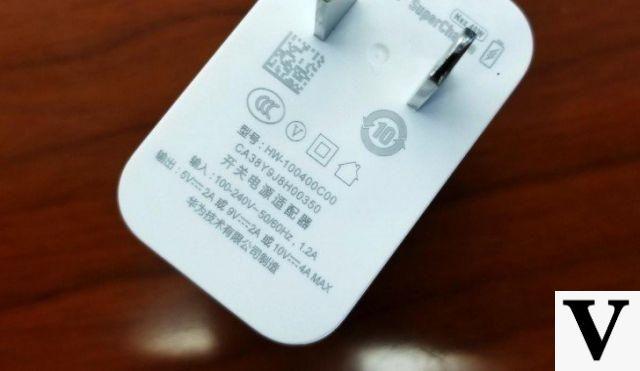 With the Mate 20 Pro, the company launched the SuperCharge 2.0 offering a power of 40 W (10 V, 4A), making it possible to recover 70% of autonomy in approximately 30 minutes. A feat that borders on the results of Oppo's Super VOOC. In 2020, it is still this 40 W fast charge that equips the Huawei P40 Pro.
Motorola TurboPower
Technical specifications
| | Tension | Current | Max power |
| --- | --- | --- | --- |
| TurboPower 15 | 9 / 12V | 1,2 / 1,67A | 15W |
| TurboPower 25 | 5 / 9 / 12V | 2,15 / 2,85A | 25W |
| TurboPower 30 | 5V | 7,7A | 28,5W |
History
Motorola also offers its own technology by the name of TurboPower. It appears to be partly based on Qualcomm's Quick Charge 2.0 standard since the charger is compatible. However, Motorola says its engineers worked with battery designers to optimize charging. The software part would also be specially dedicated to the battery, for better energy management during charging. Most high-end Motorola smartphones come with the TurboPower 25 adapter which achieves a power of 25 watts with 12 volts and 2,15 amps. Motorola announces 1000 mAh of recharging in 15 minutes.
Note that most Motorola smartphones now benefit, even on the entry and mid-range. This is particularly the case with the Moto G6.
MediaTek Pump Express
Technical specifications
| | Tension | Current | Max power |
| --- | --- | --- | --- |
| Pump Express 2.0+ | 5 to 20V | 3/4,5A+ | 15W |
| Pump Express 3.0 | 3 to 6V | 5A + | 25 / 30W |
| Pump Express 4.0 | 3 to 6V | 5A | 25 / 30W |
History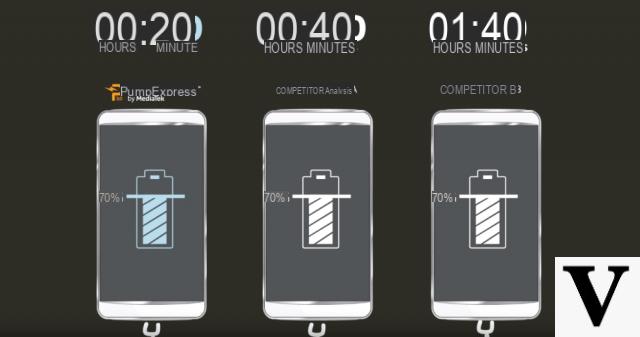 For its part, MediaTek has developed its own fast charging solution called Pump Express. It comes in four different versions: Pump Express Plus, Pump Express Plus 2,0, Pump Express 3.0 and Pump Express 4.0. Version 3.0 was reserved for smartphones with a USB Type-C connector with an output voltage of 3 to 6 volts (in steps of 10 to 20 mv) and an intensity that can exceed 5 amps. We can therefore go up to about 30 watts, with a low heating thanks to the low voltage. MediaTek thus announces 75% recharge in just 20 minutes for a battery with a capacity of 2 mAh against 060 minutes for the Pump Express 30 standard.
In 2018, MediaTek unveiled version 4.0. In addition to working with wireless chargers, it relies on USB Power Delivery to go up to a power of around 30 W.
USB Power Delivery
Technical specifications
| | Tension | Current | Max power |
| --- | --- | --- | --- |
| USB 3.1 (USB C+ USB PD) | 5 to 20V | 0,5/0,9/1,5/3/5A | 100W |
History
The introduction of USB Type-C connectors on smartphones has increased the charging speed of phones lacking fast charging features. Thus, the USB Type-C connector allows a power of 15 watts to pass between the smartphone and the charger, with an intensity of 3 amps and a voltage of 5 volts. We therefore remain on a load that does not heat too much, but which is much slower than the mechanisms of Qualcomm, MediaTek or Motorola.
In addition, the USB 3.1 standard will also finally have propelled USB Power Delivery. This standard, which can be used by all, is capable of varying the voltage and the current in order to obtain a maximum power of up to 100 W. It is designed so that one and the same charger can also be used for a smartphone, for recharging. fast or not, than a laptop.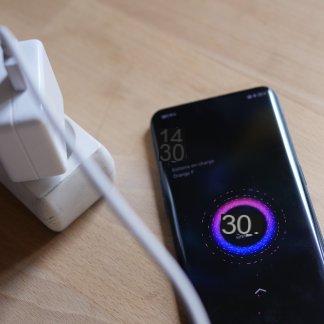 What are the best fast chargers for your smartphone?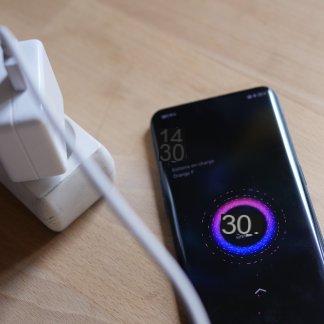 From Apple to Oppo via Samsung and Xiaomi, the majority of smartphone manufacturers today offer technologies that allow you to quickly charge the battery of your smartphone: Quick Charge, Fast Charge, Power Delivery, etc….