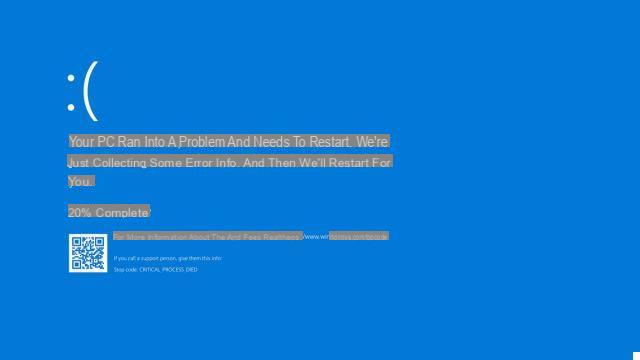 Microsoft tried (and is still trying today) to do Windows 10 the leanest and most stable operating system possible, with virus scans and system updates (UPDATE) which are done silently in the background and which should (we use the conditional) be almost invisible to the user.
For the antivirus function it can be said that it works quite well, but for the updates there are a lot of complaints. Whenever Microsoft releases a Windows 10 update, it is true that it fixes some bugs but others come out systematically. Or there are bugs that come back to life again. There are also often problems updating Windows 10, which can cause system crashes and even data loss! In this article, however, we do not want to discuss what to do if a problem arises during the update (eg PC blocked during the Windows 10 update) but we want to understand how to solve those problems that arise. after installing the latest update.
Make a list of any bugs and / or problems that may occur after a Windows 10 update it is a difficult undertaking because there are so many. At the time of writing this article, many users have encountered the following problems after the latest Windows 10 update: deletion of the contents of the Documents folder, sound problems, sudden Windows crash with blue screen, problems related to mapped network drives, problems with the association between files and applications, Windows license no longer recognized as valid (for Windows 10 Pro users) and many more…. As you can see they are not small bugs, but they are gods big problems which can cause a lot of inconvenience to the user.
How to fix problems encountered with the latest Windows 10 update?
The answer to this question is only one: ROLLBACK ie RETURN BACK to the Windows version before the upgrade.
Before understanding how to do this "rollback" and correct the problems caused by the Windows 10 update, it is necessary to check which build (ie which version) of Windows is currently installed on the system. To do this, go to "Settings> Update and security> View update history".
In that window, click the arrow next to "Feature updates"To view the version of Windows you are currently using and click on" Quality Updates "to view all the smaller" KB "updates installed.
After each major update, Windows 10 offers one ten day window to go back to an earlier version of Windows. This feature is very useful in such cases and should give you time to judge whether you have a problematic update or not. Of course, this won't restore your files if Windows 10 deletes them, but at least you'll get on a more stable version of the operating system.
To do this, go to Windows 10 Settings, then click on "Update and Security> Recovery". Under "Reset your PC"You should see the option for"revert to the previous version of Windows 10. " Click on "Start" and then follow the steps to reset Windows 10. Once again I remind you that this option is only available for ten days after a Windows 10 update.
Once you have gone back to the Windows 10 version that did not bother you, to avoid the above update problems again in the future it is worthwhile to take control of when Windows 10 updates are done. This way you can prevent updates when Microsoft offers them, monitor what's new to see if any important errors occur, and then manually update when you want.
There are several ways to take control of Windows 10 updates, depending on whether you have the Home or Pro version of the operating system. For more details you can read the official microsoft guide at the following link: https://support.microsoft.com/itit/help/4028233/windows10schedulearestartorpauseupdates
I accepted that W10 did the latest update. Result: Download is not responding. It does not allow me to access the restore point because the update was performed more than ten days ago (fake).
This operating system creates one problem after another….
after an update windows 10 no longer detects the wifi network card. how is it resolved?
My opinion is that w7 was the most intuitive, most stable, leanest and most practical operating system. An operating system that wants to do everything and ultimately does it badly makes no sense. I had to leave w7 for w10 for security reasons. With this security thing, they are driving us crazy and in the end a lot of servers know everything about everyone and guarantees… let's make the sign of the cross.
I understand that Windows 10 is a big rip off. It was much better 8.1
Windows yesterday installed two updates (October 2020). Now I can no longer connect to the home WiFi. I uninstalled one update (KB), but the second ("security") update cannot be uninstalled, because the Update History screen does not provide the uninstall option for this update. Anyone have a solution?
after windows 10 update i receive emails but i can't open them completely and therefore, i can't see the content.
I also had problems with the latest Windows 10 update in the sense that I got stuck at 97% of the update: so I rebooted the system and it canceled all the update.
Now everything is fine. Of course, before tackling a new update I will have my technician check if it works without problems.
I think my problem after the update is really serious…. It does not restart me anymore, I have the all black s hermata with the PC logo in the center, then it doesn't go further….
After two days of the Windows 10pro update my laptop won't turn on anymore! Bad news for those who work and have important job deliveries. How is it possible that I paid € 300 for an operating system and after 3 months for an update, which should make everything more streamlined, it proves to be the distribution of my data and my work? In this case windows should pay the damages, right? I'm speechless!
switch to mac and solve many problems

Question, if a blue screen shows up every now and then, isn't it worth waiting for further updates? Without being there to do restores?

Yes, sometimes with some updates it could be resolved. However, it is also true that the situation could also worsen if the problem is neglected for too long.
I did update # 1903, but some apps. they don't work, especially games
However I do not understand why Microsoft, after several years that Windows 10 is in circulation, is unable to fix blatant bugs such as apps that do not open, start or search menus that crash, and so on ... despite the continuous updates (means that many are 100% useless)
At the point I'm better off permanently deactivating the search for updates
other thing that causes on pc with onboard and non-dedicated video card. Impressive screen flicker

My advice is to go back to the previous version of windows.

I tried this update on two computers. They both gave the same defect
Problems After Last Windows 10 Update? -