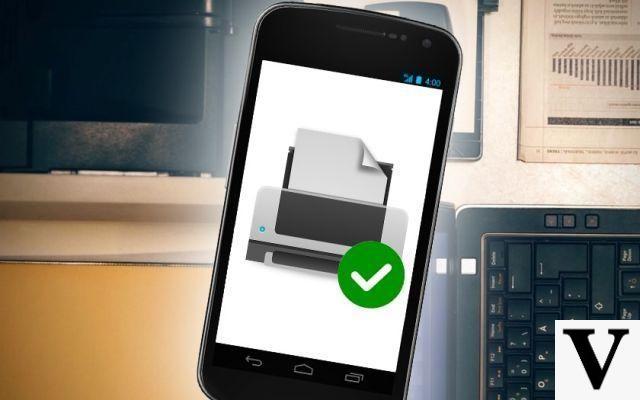 Even if printing from a smartphone is becoming more democratic, it is not yet obvious, particularly because it depends on the operating system, but also on the implementation of this functionality within applications. A quick tour of the world of printing from mobile devices ...
Most printing solutions now go through the "cloud", but some manufacturers still offer dedicated applications that allow printing directly from the smartphone when it is not the system that requires compatibility like Apple's iOS.
From Android: Google Cloud Print in the cloud
The system offered by Google maximizes compatibility with printers, but printing from Android is not that easy. You must first update the Google Play services then install - or update - Google Cloud Print. To check the availability of printers, go to Settings> Printing. Google Cloud Print should be enabled and printers should appear.
Second step, the application must be compatible with the printing function. We uploaded a test PDF file to the web and it opened by default with the Polaris Office 5 app which does not support printing. We had to download Acrobat Reader which manages Google Cloud Print perfectly. Of course, all Google applications manage printing including Chrome, Gmail and Drive.
From iOS: easy with AirPrint printers
Printing from iOS devices (iPhone, iPad and other iPod Touch) is probably the easiest to use, but it requires an AirPrint compatible printer (list of printers on the Apple site). In the application, all you have to do is click on the share icon, drag the lower part to the left to bring up the "Print" button.
The system then offers to choose the printer to use, the number of prints and some options such as double-sided printing. The system alerts even when the printer is out of ink.
Some manufacturers also offer their own application, but as with many systems, printing remains confined to the content of the application (photos, web page and access to online storage services) which is sometimes sufficient, but not always.
From a BlackBerry (BB 10)
The Canadian mobile operating system does not embed a printing function by default, so you have to go through a third-party application. Fortunately, the developers at Dynamix USA have done it right with their PrintHand Mobile Print Premium app, which sells for around € 4,50. The latter detects network printers from its first opening and offers to print a test page. If this does not work, it is still possible to use a computer as a gateway by installing a little software or even send the documents to the cloud. The developers offer a free PrintHand Mobile Print version, but it only allows you to print a test page.
Then all you have to do is open the file to print and click on the Share option to send it to the PrintHand application which retrieves the document and takes care of printing.
The manufacturer HP offers a free application (HP ePrint for BlackBerry), but it is obviously not available on the Spanish version of BlackBerry World. It allows printing on compatible printers - almost all network models (Wi-Fi and / or Ethernet) - of the brand to be managed.
From Windows Mobile (Windows Phone)
Microsoft has not integrated this functionality. It is therefore necessary to go through the printer manufacturer's application - as long as it is available - or else opt for a third-party application on the Windows Store. We were able to find an HP AiO Remote app in beta that manages printing to HP printers, a Mobile Print app from Samsung, Epson Print and Scan from Epson and also the Print Portal app for Xerox printers.
The Print2Cloud application allows you to use the Google Cloud Print service with the limits of Windows Mobile. The free version is limited to printing web pages or internet links as well as photos stored locally. The paid version - charged around € 2 - allows you to print documents stored on the phone or on OneDrive as well as notes (Quick Notes).
Charged € 4,99 (trial possible), the PrintHand application is also available on Windows Mobile. It thus avoids going through the Google cloud, but as for the BlackBerry version, you have to pay to be able to benefit from all the features. It allows you to print photos or documents stored on OneDrive, Google Drive, Dropbox or Box.