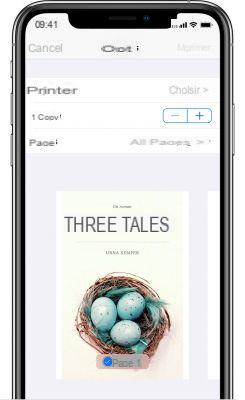 The iPhone OS and Android have the first direct printing solutions, without going through the computer. HP is ahead, Canon, Epson and Lexmark are focusing their efforts on Apple. Review of solutions ... and their limits.
Why print directly from your mobile? Because it is practical, fast, simple and efficient. More and more mobile phone owners are using their device to take and store photos, to read on the internet and check their mail as well. Thanks to these applications it is possible to produce very good quality prints on inkjet printers. Yes, but...
These applications are reserved for the photo and exclude text files
Available as a free download, these applications are simple and intuitive. They allow, thanks to a wireless connection, to print the photos stored on their mobile. For now, only photos can be printed. Nothing is planned for documents. Are they really easy to use? Yes. All you have to do is launch the application which directly displays your photo library, and click on "Print".
Demonstration:
Finger cropping, visible here, is only possible on the HP iPrint.
It is within reach of all hands; a pity that the iPhone's sensor is not always up to a print in A4 format, or even 10x15 cm. On Android, some do better, but impession solutions are still too rare.
|

| Canon : Easy-PhotoPrint for iPhone (* IEPP
for the close friends)
* Only for Pixma!
Available for download, this application allows you to print photos from your iPhone 3G, iPhone 3GS or iPod Touch (OS 2.2.1 or higher). Only Pixma printer models with a wireless network connection can run prints. Set the paper size (9 format models are available), the paper type and your preferences: with or without borders. is very easy to use and intuitive.


Price: Free

Publisher: Canon Inc. |
|

| Epson : iPrintDoes not work on the whole range! The iPrint application allows you to print directly from your mobile device (Apple) on the range of Stylus Photo, Stylus Office, on the Artisan and WorkForce models. In this configuration, it remains impossible to print via a USB, bluetooth or 3G connection. You must connect your device and the printer to the same Wi-Fi network. IPrint allows you to select the chosen paper size (10x15 cm - 13x18 cm - A4) as well as the option with or without borders. transmit the data to the printer, you have to choose! Both actions are impossible simultaneously.

Price **: Free **

Publisher **: Epson |
|

| Lexmark : LexprintCompatible with all models of Lexmark printers We appreciate the software's compatibility with all models in the Lexmark range. However, we regret having to install an additional application on his PC, essential to establish communication between the printer and the mobile device: download on his computer. LexPrint Listener is available in Mac and Windows versions, and the application goes even further than those of other manufacturers. It offers to configure the print quality (draft, normal, photo mode), the print format (8 in all), but also the image adjustment and the desired number of copies.

Price: Free

Publisher: Lexmark International, Inc. |
|

| HP: iPrint* Also available on the online application catalog: Ovi by Nokia
HP also developed its free app to capture, edit, and print photos directly from their iPhone or iPod Touch to compatible HP printers, and you can crop photos in a pinch before printing. Four print formats (jpg, png, tiff and bmp) are recognized by the application. The software allows you to choose between photo and plain paper, or to choose a margin.


Price: Free

Publisher: Hewlett Packard |
Your reactions on the forum:
Print photos from an iPhone, Touch or iPad over Wi-Fi
[link src = "http://www.legrandforum.com/Itopdroid/Produits-Nomades/imprimer-iphone-photos-sujet_2043_1.htm"]
[/link]