With the spread of the PDF it has been understood over time that it is an ideal format also for purposes of long-term archiving. While not as popular in the US, the use of PDF for file storage is very common in Europe. This popularity gave birth to a new standard PDF, in fact PDF / A, an ad hoc version of the PDF designed for the digital preservation of electronic documents. Users of this format are many starting from government offices and various regulated sectors such as legal systems, financial systems, newspapers, etc ...
Building on global requirements for reliable electronic archiving, Adobe defined as early as the early 2000s a stable derivative of the PDF format based on proprietary specifications that could be accepted internationally as standard for archiving long-term electronics. L'ISO (International Organization for Standardization) released a standard for documents for the first time PDF / A in 2005 and this standard has evolved further in recent years.
What is PDF / A
PDF / A is a format that guarantees that documents are autonomous, which means that the contents are always displayed the same way every time the document is opened or printed. The idea behind PDF / A is that many years into the future, users will be able to view the content of the PDF file without compatibility problems. PDF / A provides a mechanism for representing electronic documents to preserve their visual appearance over time regardless of the tools and systems used to create, store or render files.
ISO requirements for programs that open PDF / A files include guidelines for color management, support for fonts used (so that text can be displayed correctly without relying on substitute fonts), and a user interface for the reading embedded annotations. On the base of PDF 1.4, some of these restrictions involve no audio or video content, no JavaScript, only device-independent colors, no encryption, standards-based metadata required, no transparent objects, and no XFA forms.
Types of PDF / A documents
To make things more complex, different levels of PDF / A compliance have been created: PDF / A-1a, PDF / A-1b, PDFA / 2 and PDF / 3.
> PDF / A-1a requires tagging for the structure and Unicode characters for the text. The aim of PDF / A-1a is accessibility to the document also for users with physical disabilities. Accessibility tags allow screen readers to provide some form of description for images.
> PDF / A-1b it is for content that does not have accessibility tagging; it is useful for scanned documents. The goal of PDF / A-1b is to ensure reliable reproduction of the visual appearance of the document.
> PDF / A-2 is the second part of the standard and addresses some new features added with versions 1.5, 1.6 and 1.7 of the PDF reference.
> PDF / A-3 allows the embedding of arbitrary file formats such as XML, CSV and CAD into PDF / A as complete archived objects.
When looking for PDF / A support, it is important to find software that can create PDF / A compliant PDFs and can meet your archiving needs. There are many ways to generate, convert and save PDF to PDF / A, and among these there is certainly PDFelement.
You can download and try PDFelement Professional for free on your PC or Mac. Here are the links of the demo version:


Initial program screen: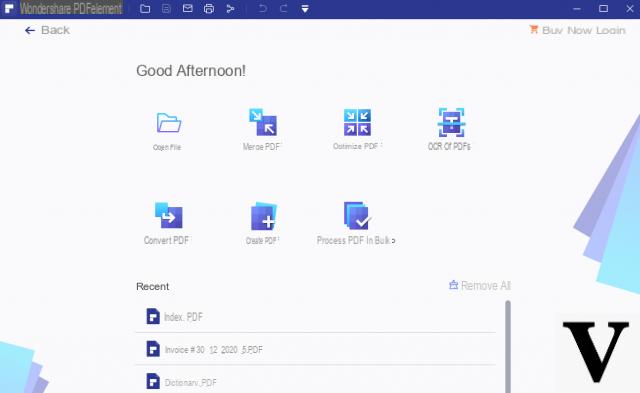 Any PDF / A document it can be opened with this program and it can also be modified using all the functions present in it. Once you have finished making changes, you can save again in PDF / A format simply by going to the menu FILE -> SAVE -> OTHER PDF -> PDF / A as you can see from the following figure: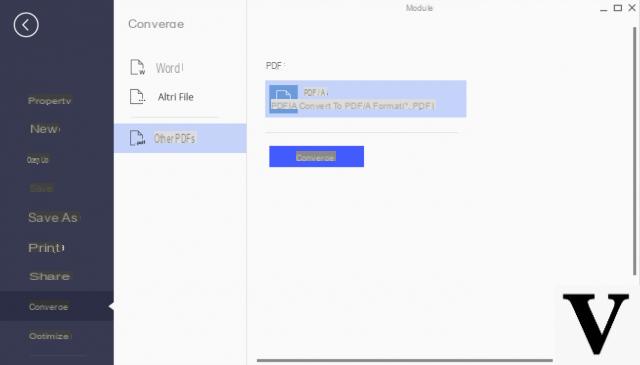 With PDFelement Professional it is also possible to convert any PDF into PDF / A format simply by saving in the latter format, as seen above.
PDF / A: What It Means And How It Works -