Free account opening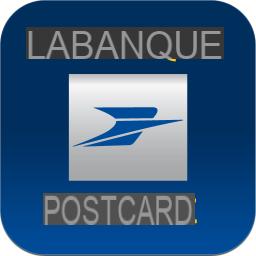 5 / 10
Editor's note
5 / 10
Editor's note
Read the conclusion of the test
It is one of the most popular banks in Spain, especially for its proximity network. But the Postal Bank especially had a lot to do to develop its offers, in particular by embracing the digital trend of recent years. So, has the historic establishment managed to make its banking service a must in the face of the competition? Answer in this review.
Features of La Banque Postale
| OPENING BONUS | ANY |
| --- | --- |
| INCOME CONDITION | 0€ |
| INITIAL DEPOSIT | 20€ |
| ACCOUNT HOLDING FEES | € 1,10 PER MONTH |
| MOBILE APPLICATION | ANDROID/IOS |
| MOBILE PAYMENT | APPLE PAY, PAYLIB |
| 3D SECURE | YES |
La Banque Postale in a few words
In almost 16 years of existence, La Banque Postale has grown into one of the most popular public banking institutions, in part due to its obligation to provide basic banking service to everyone. The bank has been able to develop its offer over the years to address businesses and professionals via more suitable banking products. Today, the bank has around eleven million customers and tries to draw inspiration from online banks, particularly on the subject of digital technology, Ma French Banque is a good example.
Banque Postale tariffs
Contrary to what we can see from online banks or neobanks, the postal bank has opted for the simplicity of reading its offer. No level with different tariffs and services, there are only two possibilities: open an individual account or a joint account, with Alliatys or Alliatys Plus insurance, with a Visa Classic, Visa Premier, Visa Platinum or Visa Infinite card. The only originality concerns the Réalys card with systematic authorization, which cannot be used abroad and with basic banking services.
La Banque Postale does not offer a free service. An individual account with basic insurance and a Visa Classic card cost 5,95 euros per month, compared to 6,25 euros per month with a Visa Premier card (the first year only, then 14,10 euros per month thereafter). Account maintenance fees are included in these formulas, otherwise they amount to € 1,20 per month. These are still very competitive rates, even compared to the most generous online banks.
Side additional costs, they are few, but quite expensive, especially with regard to foreign currency payments. Each payment in foreign currency is taxed with a commission of 2,30% plus a fixed fee of 3,30 euros for withdrawals and 1 euro for an online payment. Suffice to say that you can put aside a trip to the United States or Japan with such an offer.
How to fund your account?
This is one of the most practical points of this bank: taking advantage of the entire postal network to manage your money physically. In the majority of the branches with the banking service of the Post office, it is possible to deposit checks and cash very easily.
Apart from this physical contribution which many need, it is obviously possible to make transfers from another account with the same name without limitation, as long as it is domiciled in Spain. Everything happens from the application, not smoothly, as we will see later. La Banque Postale also uses Paylib to manage the transfer of money by simple phone number, although we would have liked the possibility of sending money directly by SMS without going through the application.
Open an account at Banque Postale
Opening an account with La Banque Postale is very simple, accessible and takes a few minutes. The steps are always clear with few fields to fill in and it is always well explained, at least on the web platform. Recently, the upload of documents via photocopy or photo is also possible. This is one of the good points inherited from online banks.
The effective opening of the account takes place after a few days and the documents are sent directly to your home. A single payment by card or ATM withdrawal is enough to activate the card permanently.
We still regret the fact that it is still impossible to open an account from the Banque Postale mobile application.
Initial deposit and overdraft management
The initial payment to open an account (online or in a branch) is a minimum of 20 euros. This money can then be used at will and no additional costs are deducted during the operation.
As a public interest bank, overdrafts are well authorized and management and set-up costs are free. However, the use of the overdraft is subject to debit interest (agios) which is collected quarterly and calculated according to the rate in force. These rates are also among the lowest on the market, with a rate exceeding the authorized overdraft of 17,00%, where others easily exceed 20%.
Welcome bonuses
The postal bank does not have a commercial offer dedicated to the acquisition of customers. Opening an account does not entitle you to any bonus or even temporary advantage such as free monthly contributions or loyalty refunds. On the other hand, it may occasionally happen that the Banque Postale offers special operations via partnerships with external companies to offer smartphones or other devices as gifts.
Referral bonus
La Banque Postale's civic approach is carried out with a view to inclusiveness. Consequently, the Bank does not promote commercial practices based on client-to-client sponsorship.
Insurance, offers and services of Société Générale
Despite its reputation as a bank "for the less fortunate", La Banque Postale is indeed a partner of the VISA organization, which issues cards with various insurance packages. Obviously, VISA Premier, Platinum and Infinite cards are to be favored if you plan to travel abroad because of the guarantees they offer: repatriation in the event of an accident, compensation in the event of flight delay and loss of baggage, etc.
La Banque Postale offers its own loan system via consumer credit to make heavy purchases such as a car or to carry out work. The simulator allows you to adjust the amount according to your needs. There is even the possibility for students to take out a loan with preferential rates.
Cashback
Surprisingly, La Banque Postale does offer a cashback service via its postal services. By making a purchase via Colissimo, of stamps to be printed or of physical products offered by the Post Office, it is possible to obtain rewards in the form of a reduction code via the partner platform Reduction Privée. Ideally, we would have liked a dedicated platform with automatic discounts on postal services, but we are not going to be choosy.
Customer Service
It is customer service that La Banque Postale still has to do. Much of it is managed by the postal service and is mostly of poor quality. Between the fact of not being able to get an advisor by phone without waiting for hours and the fact of having no response by email or to messages sent by the application even after a few days; there is clearly something wrong on that side, which is a shame when you see the efforts made in other areas over the past few years.
What about cryptocurrency?
La Banque Postale is not one of those banks with flexibility in the field of cryptocurrencies either. There is therefore no portfolio or services going in this direction and even less online brokerage. This is hardly surprising, however, coming from a public banking establishment.
Mobile app
La Banque Postale's application is basic to say the least. On Android as on iOS, the design is spartan to say the least, but at least has the merit of providing good readability of options and features with a quick menu placed at the bottom of the screen. However, we regret the slowness of navigation, the change of screen is not as smooth as what can be found in the competition. In addition, the display of information sometimes takes a few seconds before being fully visible which is rather frustrating when you want to quickly take a look at your accounts.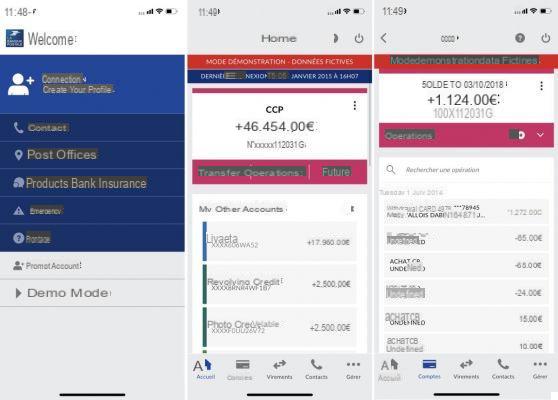 The La Banque Postale application gets to the point. The design is a bit dated, but efficient.
Concretely, it is possible to do the essentials such as checking your accounts, making a few transfers, managing your bank cards, ordering your check books, and that's about it. She still relies on Apple Pay to provide mobile payments via NFC, but Google Pay and others are not yet on the program.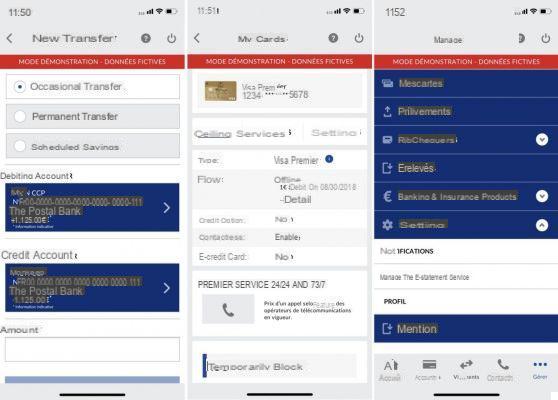 There are few options within the La Banque Postale application.
The application does not offer automatic categorization of expenses, no consumption graphs and no real-time expense statement, or even transaction notification (they also take 24 hours before being displayed on the account. ). We are therefore still far from the current standards of the largest online banks which tend more and more towards "Super Apps" allowing everything to be done from a single platform.
How to open an account at La Banque Postale?
It is possible to open a La Banque Postale account in a physical branch, but also online. By going online, registration is quick and easy. However, it will be necessary to send the supporting documents by post.
How much does La Banque Postale cost?
The Visa Classic card from La Banque Postale is billed at 5,95 euros per month, in a formula that includes account maintenance fees. However, this bank offers a completely free card, which only allows you to make withdrawals from La Banque Postale ATMs.