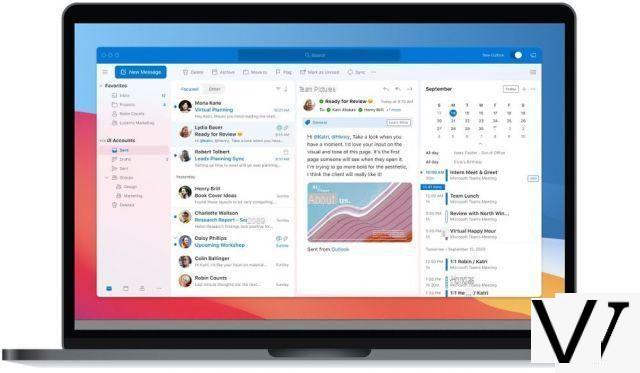 On the occasion of the Ignite trade fair, which runs until tomorrow, Microsoft presented a new version of its messaging manager Outlook for macOS . The latter will be deployed in mid-October, which should coincide with the final version launch of macOS Big Sur.
Not so long ago, on macOS, there were few alternatives to Apple's mail client. After Microsoft Outlook and Thunderbird, in recent years, various applications have been noticed, such as PostBox, AirMail, Spark, Canary Mail or even Edison Mail. So to always be one step ahead, Microsoft is redoubling its efforts for Outlook.
Read also:
macOS "Big Sur": the transition to ARM is launched
New design and better performance
Apple presents macOS Big Sur as a major evolution of its operating system; and for good reason, the user interface sports a whole new design closer to that of iOS. Also, in order to better integrate its application, Microsoft for its part added some cosmetic touches to Outlook: buttons, list of messages or conversation windows, all the elements now have rounded corners.
This new version would also display better performance thanks to an optimization of the synchronization technology developed by Microsoft. Emails, contacts or calendar events will therefore refresh faster.
Read also:
Microsoft Edge is coming to Linux next month
Some new features for emails, contacts and calendars
In terms of productivity, Outlook can now display today's events from the calendar directly in the email pane. It will be possible to configure this display, for example by selecting the diary of your choice. Note also the possibility of responding directly to an invitation without having to leave the Mail section. Microsoft is also announcing better contact management, in particular making it easier to find regular collaborators or add an information note.
Regarding email management, Outlook for macOS finally offers a unified vision to bring together messages from all configured accounts. For now, the application supports Office 365, Outlook.com, Gmail, soon iCloud, and more broadly accounts synchronized via the IMAP protocol. The message list can now be personalized with a more condensed view or a more or less rich message preview. A Snooze option is also appearing in the quick actions.
In addition to an optimization of the internal search engine allowing you to enter a query in natural language to filter the results, it will be easier to schedule a meeting with a better display of its various calendars. By the way, this section has a new view with a schedule over the next three days.
Download Outlook for macOS
Source: Microsoft