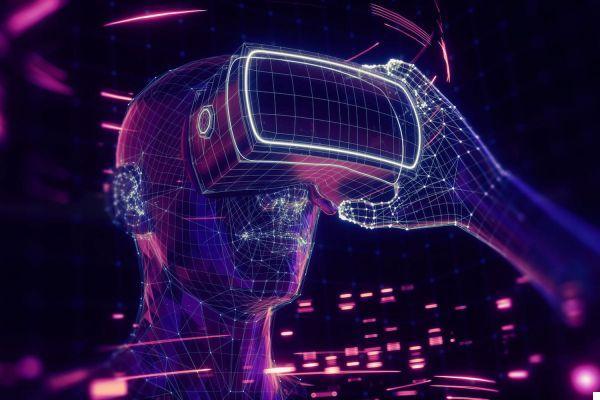 METAVERSE. A clever mix of digital technologies, the concept of metaverse makes tech giants fantasize. Driven by the economic ambitions of Facebook, it could soon impose itself in our daily life.
Metaverse, metaverse or metaverse depending on the authors and translations: a somewhat barbaric term, a contraction of words whose meaning we can guess, but whose outlines we still struggle to distinguish. Cleverly combining several technologies (virtual reality, augmented reality, blockchain, NFT, cryptocurrency, etc.), the concept of metaverse (a meta-universe, literally "beyond the universe", a universe where the borders between real world and worlds virtual machines fade to the point of blending into one), is nothing new, but everyone has been talking about it since Facebook announced its intention to make it one of its major development axes. "My hope is that in about five years (...) people perceive us above all as a metaverse company," said Mark Zuckerberg this summer at the specialist site The Verge. For the co-founder of Facebook, the metaverse, often heralded as the next digital revolution, is indeed nothing less than "the successor to the mobile internet", "the Holy Grail of social interactions", but also, we l 'will have guessed, a way to significantly diversify the Internet group's sources of income beyond a simple economic model based primarily on advertising.
Metaverse: an old concept from sci-fi
The term "metaverse" first appeared in 1992 in "The Virtual Samurai" ("Snow crash"), a dystopian science fiction novel by Neal Stephenson. The author then describes a world where humans interact as avatars with each other. Humans whose minds are trapped in a computer virus that infects their brains. A delightful vision of the future that still fascinates entrepreneurs in Silicon Valley today. More fun, but still just as confusing, from 1997 to 2001, Canal + Multimedia invited a virtual community of players to evolve in The Second World, a virtual universe where you could walk around a Paris reconstituted in 3D thanks to an avatar. The concept of the metaverse, with its chaotic evolution, takes on a new dimension from 2003 with the creation by Linden Lab of Second Life, a new virtual universe which this time attracts, beyond the curious, brands, artists, but also avatars of political figures who (like Nicolas Sarkozy, François Bayrou or Ségolène Royal in 2007) find it in good taste to set up their virtual electoral office and even organize cyber- meetings. Before falling somewhat into oblivion, Second Life (one million users in 2006) will also be a field of exploration for the purchase and sale of virtual goods (via a local currency created for this purpose, the Linden Dollar ) as well as an El Dorado for a whole lot of underground activities.
Since then, the concept of the metaverse has continued to spread and spread, in the cinema with films like Matrix, Avalon or Real Player One (by Steven Spielberg) but also more concretely (if we can say so) via certain platforms like Fortnite, Roblox, Minecraft or Decentraland. Thus, we were able to attend in April 2020, on Fortnite (a game that brings together 350 million gamers) to a series of concerts by the avatar of American rapper Travis Scott, followed by more than 12 million spectators. In the process, Fortnite which now sees itself as a "platform for connected social experiences" organized a film festival ("Short Nite") as well as a giant virtual party hosted by renowned DJs ("Party Royale") . On Minecraft is developing in projects with a (sometimes) more educational vocation (such as the one initiated by the organization Reporters Without Borders to save hundreds of censored articles). While on Decentraland is developing, in a distant echo to Second Life, a phenomenon of speculation and real estate transactions based on the blockchain where virtual land is sometimes snapped up for several hundred thousand dollars.
Metaverse: the future of social networks according to Facebook
For its part, after having acquired (or developed) several technologies such as Oculus virtual reality headsets, Portal video calling devices or the Horizon platform, connected glasses (Ray-Ban Stories), Facebook hopes synthesize all these elements and attract the billions of users of its services in a metaverse. A world (bordering on teleportation) made up of "fluid movements of virtual universes in physical places", an "embodied Internet", whose "essential quality will be the presence, the feeling of really being there with people" like Mark Zuckerberg explained last July on his Facebook profile. A space for exchange between brands and consumers who, when they are not busy living parallel existences, will certainly be able to buy physical or virtual goods in Diem, the new name of the future cryptocurrency under development at Facebook . For this sprawling project, on which depends a large part of its future, the Facebook group has decided to put the means, by investing billions of dollars and by creating nearly 10 jobs, especially in Europe.
Metaverse: Facebook's new Eldorado?
Metaverse, metaverse or metaverse depending on the authors and translations: a somewhat barbaric term, a contraction of words whose meaning we can guess, but whose outlines we still struggle to distinguish. Cleverly combining several ...
I manage my push subscriptions
Facebook
Metaverse
Meta verse
Metaverse facebook
Facebook abandons automatic facial recognition
Delete Facebook posts: all the solutions
Facebook memories: how to find posts
How do you know if you are blocked on Messenger or Facebook?
Change Facebook password: the simple solutions
Facebook Marketplace: how to buy or sell
Switch Facebook account: switch without logging out
Facebook in French: how to change the language
Download a Facebook video: the simple solutions
Delete a Facebook friend: how to block a contact
Facebook poll: how to easily create it
Facebook invitation: how to display the button
Facebook Messenger offline mode: appear offline
Create a Facebook account: on PC, Mac, phone, tablet
Download Facebook account: save all content
Who is looking at my Facebook profile? Tips to find out
Facebook Story: create, publish and manage stories
Facebook trusted contact: how to secure your account
Facebook avatar: create and use a character
Create a Facebook page: the easy way
Facebook, Instagram, WhatsApp, Messenger outage: return to the global bug
Facebook account disabled: how to get it back
Facebook writing: how to change the font
Delete a Facebook account permanently or temporarily
Use a light version of Facebook on mobile
Filtered messages on Facebook Messenger: how to access them
Facebook privacy settings: how to adjust them
Facebook friends lists: create and use filters
Facebook: how to check your account connections
Facebook: how to change or add a profile name