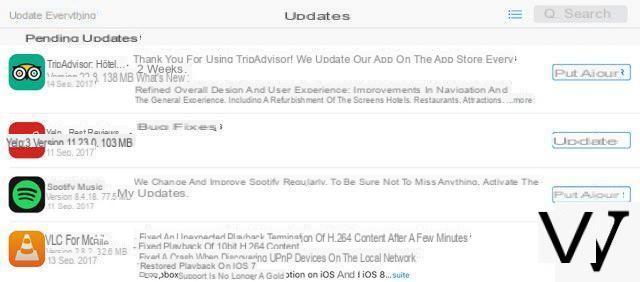 The latest version of iTunes 12.7 completely eliminates access to the Apple iOS App Store. It is no longer possible to manage its applications via the software (Mac and PC), but only via an iOS terminal.
For those who used to manage their iOS apps through iTunes, the change is not trivial. Once the update (version 12.7) is performed manually or automatically, a message prompts you to manage your apps, ringtones and audiobooks directly on your iOS device. Also note, iTunes U content has been moved to the Podcasts section. The software is therefore now refocusing on music, movies, TV series, podcasts and audio books. Following the disappearance of the App Store, it is no longer possible to manage application downloads nor, above all, to organize the different pages of the iPhone or iPad by changing the location of the apps and folders. A new section called "File Sharing" has been created, however, to manage content transfers within applications such as VLC, Google Docs, iMovie, etc.
Manage your applications with iOS
Even though application management on iTunes was far from perfect, it was still handy enough to do the housework every once in a while. Fortunately, it is possible to download, delete or redownload apps on iOS without too much difficulty. If some of them disappeared after the update, here's how to re-download them:
open the App Store application on the iPhone or iPad;

select "Updates" then scroll through the apps;

press the "Update" button on the desired app to reload it.
What if an app is not available in the App Store?
Some apps you purchased may no longer be available in the App Store. Don't panic, it is normally possible to retrieve a copy of the application file - ending in ".ipa" - from the iTunes Media folder on your computer. Here's where to find these files on Mac and PC:
on macOS: / Users / (username) / iTunes / iTunes Media / Mobile Applications;

on Windows 7 or later: C: Users (username) MusiciTunesMobile Applications.
To load the app again on iOS, the trick is to connect the iPhone or iPad to the computer, launch iTunes and then simply drag the .ipa file onto the device icon that appears. at the top left of the software. You can use the same method to load ringtones and books.
On the other hand, there is not much more to do for 32-bit applications whose days are numbered now. Scheduled for September 19, the new version of iOS 11 will in principle no longer support 32-bit games and applications. To the best of my mind ...