Apple is strengthening the appeal of its movie buying service compared to DVDs and Blu-rays. To do this it gives new impetus to the iTunes Extras function, which now works on Apple TV.
Apple launched iTunes Extras five years ago when it started releasing movies on the iTunes Store alongside DVD and Blu-ray. It thus brought to the dematerialized market the principle of menus and bonuses previously reserved for physical media.
But since the launch, these enhancements could only be viewed with iTunes on a computer. If some people watch entire movies with their computers, it seemed absurd that iTunes Extras were not compatible with Apple TV. Because if there is a situation that lends itself to viewing cut scenes or behind-the-scenes videos, it's comfortably installed in front of your TV with a remote control within easy reach, that is to say in front of your Apple. TV.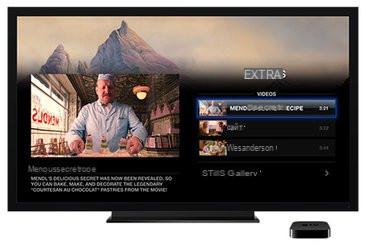 This loophole is finally repaired. The new iTunes Extras are now searchable from Apple TV, following the release of version 6.2 last week, and will be available this fall on iPhone, iPad and iPod Touch with iOS 8. The iTunes 11.3 update as for it allows you to enjoy iTunes Extras on films already purchased. From now on, producers will also have the possibility of enriching Extras after the release of a film, to prolong the appeal of a purchase.

The Extras are effectively reserved for purchases, they are still not offered with rentals.

A list of movies including iTunes Extras is available through iTunes at this address.

You can download the new version of iTunes from our software library:

Download iTunes 11.3 for Windows
Download iTunes 11.3 for OS X
Download iTunes for Windows.