Recently, among the most frequent discussions on forums related to Apple products is the following post 'iPhone does not sync with iTunes'. Many people who have recently updated their iPhones and iPads to the latest version iOS they have encountered the same problem: "the music does not synchronize correctly with iTunes" or more generally "iphone does not synchronize with itunes".
This problem has bothered and continues to give problems to so many iOS users. If you are having the same sync problem between iphone and itunes, try the following fixes.
1. Update iTunes to the latest version
When you can't sync iPhone with iTunes, the first thing you need to try to do is to check the version of iTunes. If your iTunes is an old version try updating it now. Many people have solved the problem of "not syncing with iTunes" just by updating iTunes to the latest version.
Note: By clicking on 'Check for Updates' in the iTunes 'Help' menu, you can check for a new version. However, we recommend going directly to Apple's official website to download the latest version of iTunes. From there, in fact, you will be sure that you are downloading the latest version available.
2. Authorize the computer
I found that even though I have used iTunes on my computer for a long time and authorized the computer with my Apple ID, when I try to sync my iPhone 6 Plus with iTunes, there is no response. Thankfully, after I reauthorized the computer with my Apple ID, it works fine again.
It's very simple to do: launch iTunes> click on Store menu> Authorize this computer.
3. Remove all old synced files on iPhone
When it happens that the iPhone, running on iOS 8, does not sync with iTunes, you can also try to remove all the old synced files on the device and sync with an empty folder. Try to sync 1 or 2 files on the iPhone with iTunes to check if it works. If it works, you can then choose the necessary files and try to sync with iTunes again. There is rumored to be a bug on iOS 8 but if you try 2 or 3 times then it might work.
4. Remove duplicate songs on iTunes
From some forums it has emerged that some synchronization problems between iPhone and iTunes could be due to the presence of duplicate songs on itunes. So the solution to solve the problem is to remove duplicate songs from the iTunes library: open iTunes> in the View menu choose "Show duplicates". Then click on the duplicate song and click on Edit> Delete. Once this is done, try to sync the iPhone with the iTunes library again.
5. Update to the latest version of iOS
If your iPhone is running on older iOS, it is recommended that you update your device to the latest iOS version to avoid syncing issues between iPhone and iTunes. If you want to update iOS, without losing or deleting the data saved on the device, we recommend that you read this article.
6. Use iTunes alternative software
If you have tried all the solutions described above but failed to fix anything, then I recommend that you give it a try TunesGO, an alternative software to iTunes and that allows you to do all the synchronizations you want: transfer of songs, videos, photos and contacts from computer to iPhone and vice versa.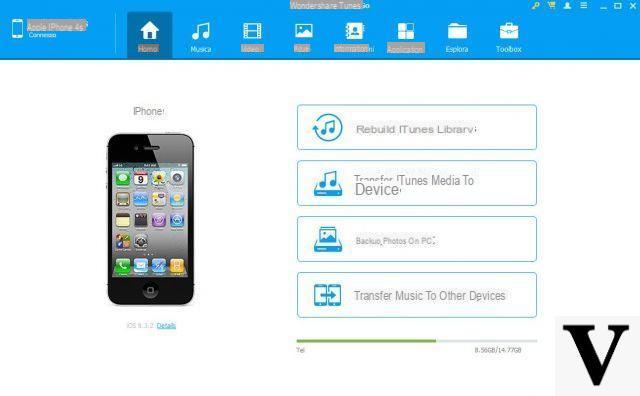 Or you can also use the program iMusic to transfer songs from iTunes to iPhone or vice versa.
Itunes has always been a complicated program! It never syncs with any device. Useless and very heavy program for PCs.
As of today, at the end of May 2019 the problem is not solved!
I no longer sync contacts and calendar on i-phone and it also applies to i-pads
I even formatted the PC but nothing!
There is no way to synchronize anything
I bck does them but the rest does not
I do not know what to do
my iphon is disabled and iTunes does not recognize it to be able to do the forced deactivation as I can do to reconfigure the phone so that iTunes sees it in order to continue
I felt the assistance but they don't come out
Read this article that offers an alternative solution to unlock a disabled iphone without an iPhone: https://www.iphonexpertise.it/sbloccare-iphone-disabilitato-senza-collegarlo-itunes/
for me it is difficult, it does not work for synchrony nor itunes nor mobilego. I can buy via iphone, but do not connect the phone with the pc, because my windows vista has an operating system that is too old. What do you do in these cases? do i need to change pc or take a tablet? it seems absurd to me ...
the problem is that not all macs can update with itunes 12. my mac obviously does not support the new IOS? so it means that I have a new phone, PHONE 6 which I cannot BACKUP BECAUSE I DO NOT HAVE A NEW COMPUTER.
Try using an alternative version of iTunes like this program: https://www.iphonexpertise.it/ios-software/mobilego-ios/windows/
Detailed and useful article for those who, like me, had problems synchronizing their iPhone with itunes ...
Problem solved but I think I will leave itunes to use your TunesGO software which seems much easier and safer to use than iTunes!