Thanks to the iOS 14.5 update, now available on iPhone, it is possible to prevent Facebook, and all the overly curious iOS applications, from tracking you for advertising purposes. We explain how to do this below.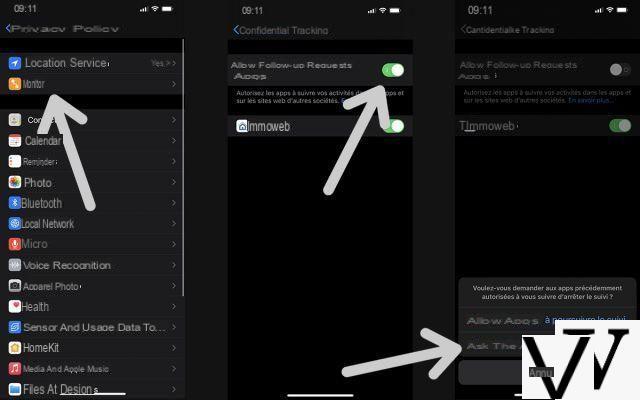 This Monday April 26, 2021, Apple finally deployed the final and stable version of the iOS 14.5 update. With this new update of its mobile operating system, the Cupertino giant is inaugurating new measures to protect the privacy of iPhone users. This battery of restrictions and features includes in particular "App Tracking Transparency" (ATT).
Now, Apple requires iOS apps that want to grab user data to get their clear and explicit consent. Owners of compatible iPhones will then see a message appear giving the choice between two options: "Accept usage tracking" or "Ask the application not to track usage".
Here's how to block Facebook ad tracking on iPhone
Obviously, this turn of the screw complicates the task of applications which are based on the exploitation of personal data, such as Facebook. The social network is known to use the data of Internet users for advertising purposes. With iOS 14.5, Mark Zuckerberg's firm finds itself deprived of the Identifier for Advertising (IDFA), a digital identifier that can be used to trace the journey of an Internet user. This tool allows you to calibrate ads and educating advertisers about the return on investment of their ads.
If you want to prevent Facebook from collecting your data and tracking your actions on the Internet, we will advise you toactivate the new security implemented by iOS 14.5. To prevent tracking, it is obviously imperative to install the update, which is being deployed. Then follow the manipulation below:
See you in the Settings from your iPhone
Go to Privacy Policy
Click on Order Tracking
uncheck Allow app tracking requests
Confirm by choosing Ask apps to stop tracking
Once this is done, Facebook, and any other applications wishing to enable ad tracking, will be required to seek your consent. It will then suffice to refuse. If the social network does not respect the user's request, Apple reserves the right to ban its iOS application from the App Store.