In this article we want to address a very common problem among those who work with documents, catalogs and brochures in PDF format ... We have already seen how to merge multiple PDFs into a single PDF, now we want to see how to merge two PDF pages or better how to tile two PDF pages on one page. But why do this coaching?
Well, there are many situations that require this. Just think of the PDF catalogs (the ones we browse) and which can contain a photo (panoramic) spread over two pages. If we then print this catalog, that photo will actually appear on two different pages and not on a single page. It is true that through the print options it is possible to print two pages on one, but if you need to save a PDF with this setting (i.e. with DOUBLE PAGE display), then you need to use a professional tool like PDFElement.
How to Tile Two PDF Pages with PDFElement
First you need to download the program to your computer. PDFElement is available as a free demo version for both Windows PC and Mac. Here are the download links:


After the download, install and at the end open the program. You will see a main screen like this: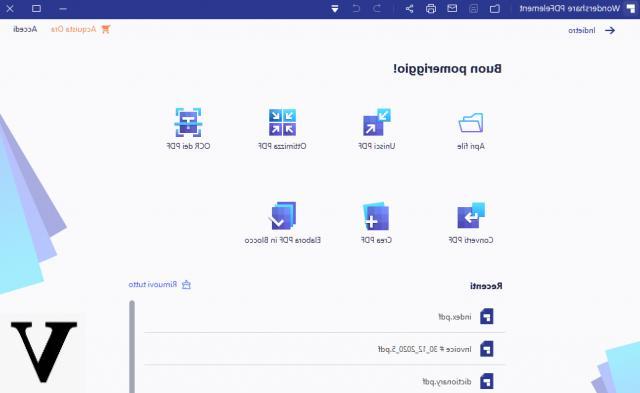 Now click on the button at the bottom left OPEN FILE ... and select the PDF document that contains the pages to be tiled. The file will be immediately displayed on the central screen (in "preview" mode).
In order to change the PDF display settings click on the FILE menu at the top

From the menu on the left now click on PROPERTY', select on the right INITIAL VIEW and finally in the "Layout" menu set the mode DOUBLE.
In this way, all the pages will be automatically tiled (in pairs). To view the result of the change click on the menu again FILE and then SAVE AS. Save the new PDF (using a different name so as not to overwrite the original) and finally open it with your favorite PDF Reader. For example, you'll see something like this, with a "stretched" page actually containing two pages of the original PDF: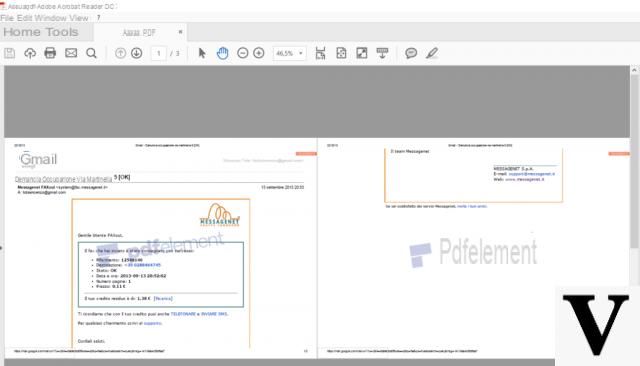 What do you think about it? This is what you were looking for side by side two PDF pages?
Of course PDFElement is not limited only to this function because it offers hundreds of other features all useful for editing, correcting, personalizing and protecting your PDF files. If you often work on PDF documents, this is a program you should definitely consider.
How to Tile Two PDF Pages (on One Page) -