Whether it's Apple, Microsoft, or Google, each offers a little different handling when it comes to photos. Let's see the solution offered on iCloud.
At Google, the storage of photos up to 16 MP and videos up to 1080p is free, unlimited and does not count towards the storage allocated to the user. At Dropbox, enabling automatic image uploading translates to a bit more free storage. In the past, Microsoft had chosen a similar strategy.
At Apple, things are still a little different and at first glance, the service can appear a little confused, especially when it comes to using the storage quota on iCloud. By default, all free accounts have 5 GB of space shared between all services, which means that budding photographers wishing to make their life easier with iCloud will have to quickly opt for a subscription.
The idea is to find all of his photos on all devices attached to the same iCloud account, so that the latest photos captured from an iPhone will be automatically available on a Mac or iPad. They will be visible through the Photos app on iOS and macOS and in the media library on Windows.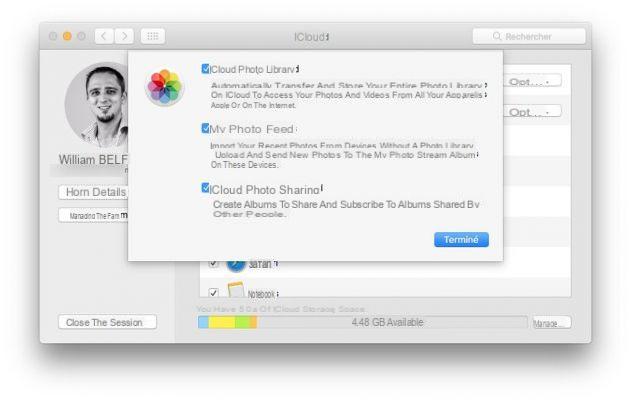 How to set up photo sync
Before getting into the subtleties of the service, here's how to activate photo synchronization:
On macOS, go to System Preferences> iCloud> Photos (Options)
On iOS, go to Settings> iCloud> Photos
On Windows, download the executable from iCloud.com
ICloud Photo Library vs My Photo Stream
It is necessary to differentiate between two key elements of snapshot management: the traditional iCloud Photo Library and the My Photo Stream service.
ICloud Photo Library
What you must remember :
Automatic upload of all photos and videos to Apple's servers;
these media make use of the storage quota available on iCloud;
these media are visible on iPhone, iPad, Mac as well as iCloud.com;
these media are uploaded in maximum resolution;
support for many formats including JPG, RAW, PNG, GIF, TIFF, MP4, also with Slow-motion, time-lapse, 4K videos or Live Photos effects;
does not sync albums and photos through iTunes on Mac and PC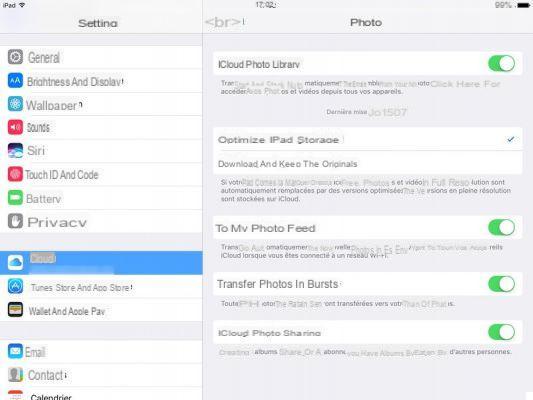 My Photo Stream
What you must remember :

Automatic loading of the 1000 most recent pictures or the last 30 days;
videos are not loaded, only images;
these media DO NOT use the storage quota available in iCloud;
these media are visible on iPhone, iPad, Mac or PC;
these media are uploaded in optimized resolutions according to the target devices;
Support for JPEG, TIFF, PNG and various RAW formats;
allows to sync albums and photos via iTunes on Mac and PC
How iCloud Photo Sharing works
When configuring photos on iCloud we also find a sharing feature. Here again, a few subtleties deserve our attention.
A user is able to share one or more photo albums with up to 100 people. They will immediately have write rights, which means that they will be able to add their own photos. The device can for example be practical the day after an event (wedding, concert ...) to recover a maximum of photos (within the limit of 5000).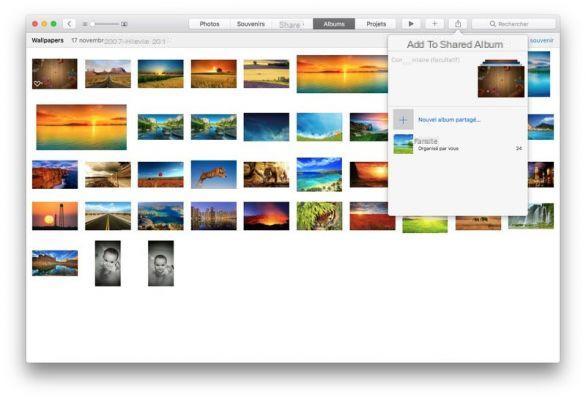 But it is especially interesting to note that once an album is shared, its content is no longer taken into account in iCloud storage. In theory, we could therefore think that it is enough to create a second private iCloud ID and to add it systematically in sharing just to enjoy unlimited storage. In practice things are a little different.
Tip for unlimited photo storage
In a way it is possible to hijack the functionality of iCloud in order to set up unlimited online photo storage using shared folders.
You must first configure the Photos feature on a secondary Apple account, a manipulation that requires access to the settings of macOS or iOS. At a minimum, it will therefore be necessary to create a new user session on his Mac with this new iCloud identifier. You will also need to check the "iCloud Photo Sharing" box.
On the main account, having imported the photos via the Photos application in the iCloud Photo Library, they will be counted in the storage space allocated for free. It will therefore be necessary to place them in a new shared album with the email address of the second identifier, then return to the secondary account session again to accept the invitation and proceed with the synchronization.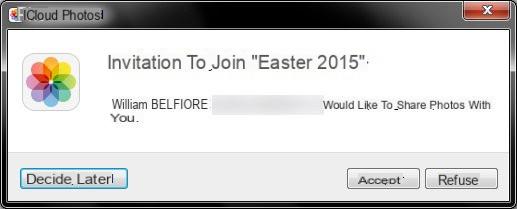 After that, it will be possible to connect to the main session and delete these previously imported snapshots in the iCloud Photo Library (and therefore free up web space). In the Photos application it will be possible to consult the shared albums.
To note :
If this manipulation will allow you to obtain "free and unlimited" storage on iCloud, the quality of the photos will be affected. Through our test, an initial file of 1,4 GB including 122 images weighs only ... 113 MB. We therefore obtain standard Web quality.
On the same subject :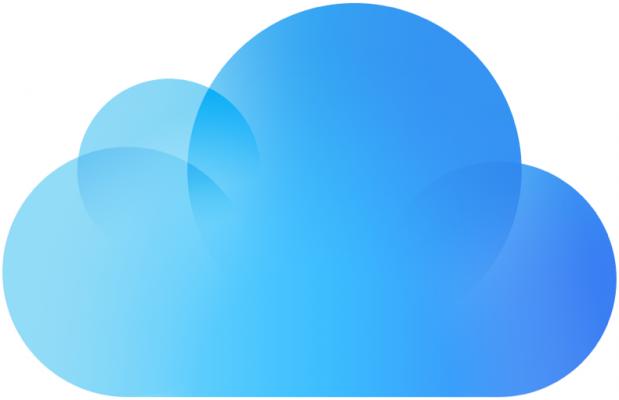 Presentation of iCloud, Apple's web platform
iCloud Drive, the alternative to Dropbox by Apple
iCloud: how to optimize storage space?
iCloud: what are the commercial offers?
How to use iCloud on Android?
How to use iCloud on Windows?
How to sync your photos with iCloud?