You are about to go on vacation but you have some important messages to send via Whatsapp. The place you are going may not even have any internet connection and this could be a serious problem.
If your business requires you to message your customers in a timely manner you have two solutions:
Automate responses on Whatsapp so that the end user can interact even in your absence
Program / Plan sending messages (e.g. programming messages in the morning and having them sent in the evening).
As for the first solution, we have already seen how to automatically reply to Whatsapp using a Windows PC software called WhatBot.
As for the second solution, however, it is necessary to rely on third-party applications because WhatsApp does NOT have a programming function for sending messages inside. These apps are very simple to use. All you have to do is download the app to your computer or phone. It will automatically sync with your WhatsApp application. Then you will have to search for the name of the person to whom you want to send scheduled WhatsApp messages and select the time and date of sending.
Part 1. How to Schedule Message Delivery on Windows PC
If you have to send a scheduled message to more than one person, perhaps you should use your computer and not your cell phone. In fact, with the computer it is possible to use software that can send a Whatsapp message to multiple users in a single click. If you are looking for software of this type that also allows you to schedule the sending of messages then we recommend that you try WhatSender.
WhatSender is the ideal software for companies that want to contact all their customers (or potential customers), having only their phone numbers agolable. Just import these numbers into the program, write the message and click on SEND.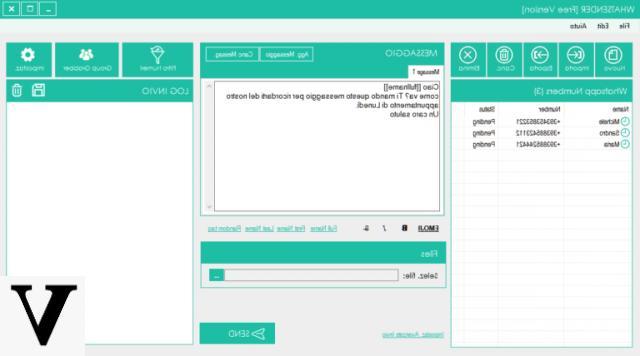 Before sending, you can also schedule sending on any date and time.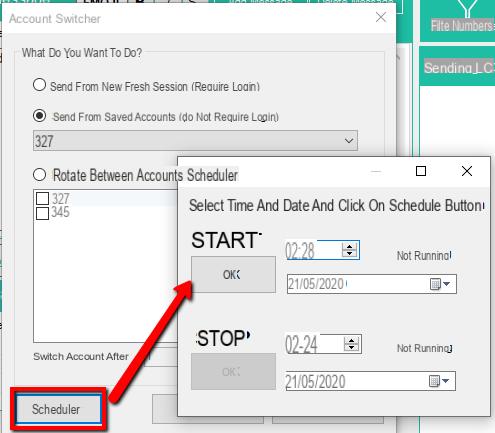 For more info read the detailed guide on the official website: how to schedule sending Whatsapp messages
Part 2. How to Schedule Message Delivery on Android
If you are looking to schedule WhatsApp messages on Android, you need to use the right app. With this app you can send messages whenever you want, even if you sleep. Sounds interesting, right? Here are the recommended apps.
1. SKEDit Scheduling App
SKEDit Scheduling App is a free 5-in-1 scheduler that you can use for schedule WhatsApp messages, Facebook posts, calls, emails and SMS messages. If you are a social influencer, you absolutely must own this app on your mobile. Not only does it save time, it also reduces stress and makes you more productive. The automated communication technique keeps you abreast of the activities you have scheduled on that particular day.
If you are in a location where the internet connection is absent or not working, the message or post will still be sent because it has already been scheduled. there how to schedule WhatsApp messages su SKEDit:
Pass 1. Install and register using your data or account
Pass 2. Choose the communication method you want to automate. In our case it will be WhatsApp messages.
Pass 3. Choose the person you want to send the message to. Write the message to be programmed and sent later.
Pass 4. Select the time and date for sending the message content. That's all!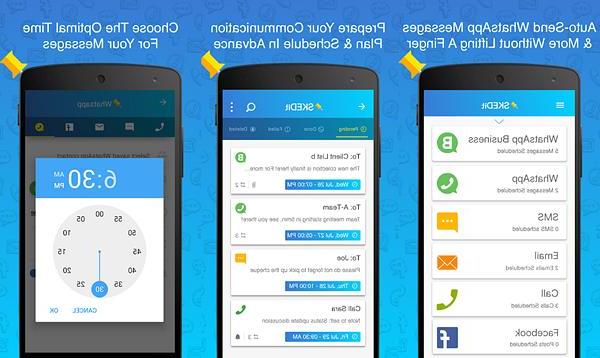 2. Scheduler for WhatsApp
Scheduler for WhatsApp it is easy to install and use. In addition to scheduling WhatsApp messages, you can also schedule emails. This app offers more features than the previous one as you can create groups and send scheduled text accordingly. After you set up your email ID with the app, it will automatically send emails from that ID without asking repeatedly. You can change the ID whenever you want.
The app also allows you to change the theme according to your mood. It comes with a built-in FAQ section elaborated to help you in case of doubts. You can also contact the app's 24 x 7 customer support number if the FAQs don't help. Let's take a look at how to use Scheduler for WhatsApp:
Pass 1. Download Scheduler for WhatsApp on your Android phone.
Pass 2. Sign up and enable accessibility.
Pass 3. Tap WhatsApp and click +.
4 pass. Select the recipient, time and date of the WhatsApp message. Type the message to schedule.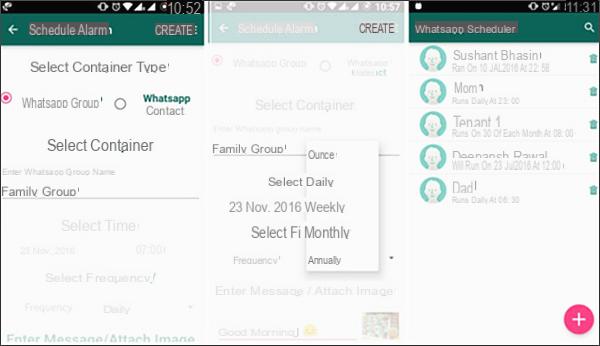 After scheduling the message, you will be able to view it every time you open the app on your mobile phone.
3. GB WhatsApp
Another app designed for scheduling WhatsApp messages on Android phones is GB WhatsApp. It is completely free and offers many features to make your experience enjoyable. After downloading GB WhatsApp apk, you don't need to root your phone.
This app does more than just schedule WhatsApp messages. It also allows you to delete messages you have already sent, run two WhatsApp accounts on a phone, hide your status for privacy and security reasons, use special emojis not agolable for other WhatsApp users and make video calls without problems. You can keep a group name of up to 35 characters using GB WhatsApp. Additionally, you can send videos up to 50MB in size (greater than the 25MB limit imposed by WhatsApp). Here's how you can use GB WhatsApp to schedule messages:
Pass 1. Download the latest version of GB WhatsApp on your mobile.
Pass 2. Install it as you install all other apps from Google Play. To find the downloaded app, open File Explorer.
Pass 3. Enter your details like you do on WhatsApp and start using them.
Pass 4. To schedule a message, click on a contact and type your message. Set the time and date and that's it.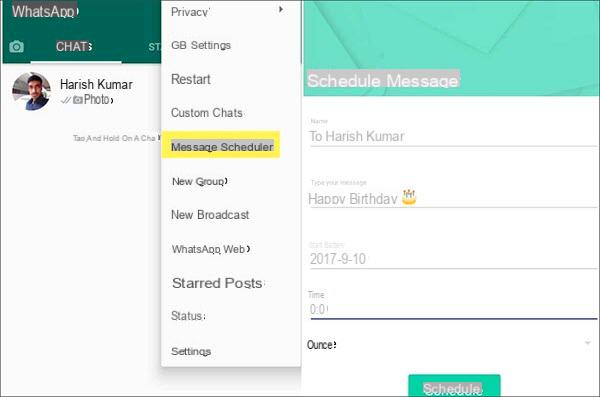 Part 3. Programming Whatsapp Messages with iPhone
Don't have an Android phone? Do not worry. Here's how you can schedule WhatsApp messages even if you own an iPhone.
1. Scheduled App
This app can be used to schedule messages and posts on Facebook Messenger, Line, WhatsApp, Twitter, Slack, Telegram, LinkedIn, WeChat, Skype and iMessage. You can schedule and send messages to multiple people at the same time. It is a great app for businesses and influencers who need to send continuous messages and messages to their customers and followers.
You can connect it with your mobile phone's Calendar app and send scheduled birthday and anniversary wishes and other reminders when the date arrives. Some other features offered by Scheduled App include snooze message, skip and remove message, repeat and delete message, and archive message. Here's how it's possible schedule WhatsApp messages on iPhone using the Schedule app:
1 pass. Download and install the scheduled app. Select scheduled messages.
2 pass. Select WhatsApp and the person you want to send the message to.
Pass 3. Type your message and select time and date. You can send the message to multiple people at the same time.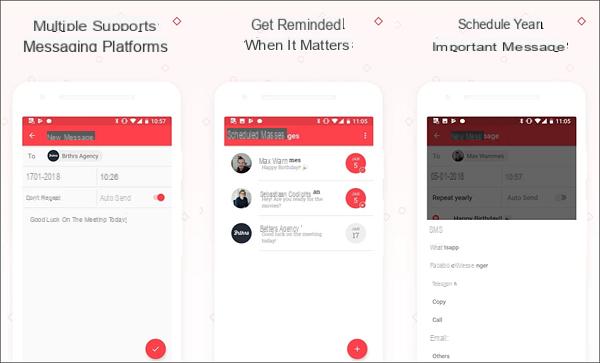 2. Message Scheduler for WhatsApp
To use Message Scheduler for WhatsApp on your iPhone, you will need to do the jailbreak. The app is pretty simple to use and only works for WhatsApp. It is the perfect solution if you are looking for an organizer for your WhatsApp messages instead of an app like the previous one that offers support for various messaging and social media applications.
Here's how to use Scheduler for WhatsApp:
Pass 1. After downloading and installing the app, select "schedule a message".
Pass 2. Type the message you want to schedule and send it to your contacts. You can select multiple contacts at a time.
3 pass. Select the time and date.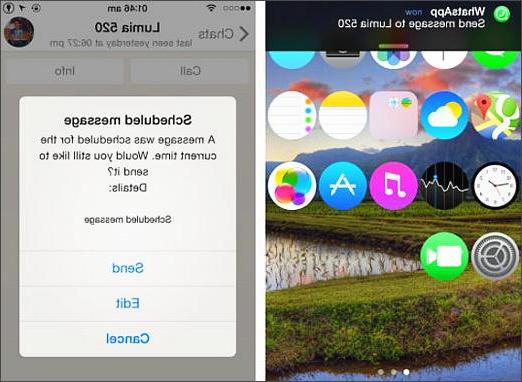 How to Schedule Sending Whatsapp Messages -