I forgot my iPhone 6 Plus unlock password. Now the lock button is broken, and iTunes doesn't recognize it. This iPhone 6 Plus has been in use for a long time, and I think it's time to switch smartphones. However, I have a lot of data on it and most of it is quite important. There is a way to be able to backup your data from the locked iPhone?
The good news is there is a good chance of save data from a Locked iPhone, and then to recover photos, contacts, videos, notes, calendar, sms, whatsapp chat, etc ... What you need is a software tool that allows you to access the data in the locked iPhone. This software is called Dr.Fone for iOS and is available for both Windows PC and Mac OSX. Download the free demo version of the program from the buttons below and then follow the detailed guide.


Step 1. Connect your iPhone to the computer
Start the program Dr.fone and connect your iPhone to the computer. The device will be detected by the program if in the past it has been connected at least once to the same PC / Mac and authorized.
From the dr.fone home screen click on the function DATA BACKUP & EXPORT: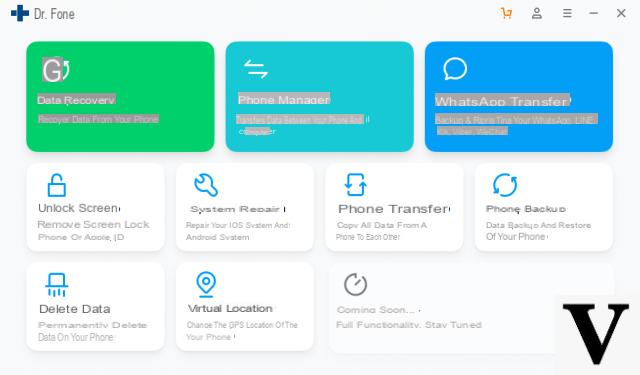 Step 2. Select the "iOS Data Backup & Restore" function
After accessing the Data Backup / Export function you can choose the data you want to recover from the locked iPhone to save them on your computer. Finally click on "Backup".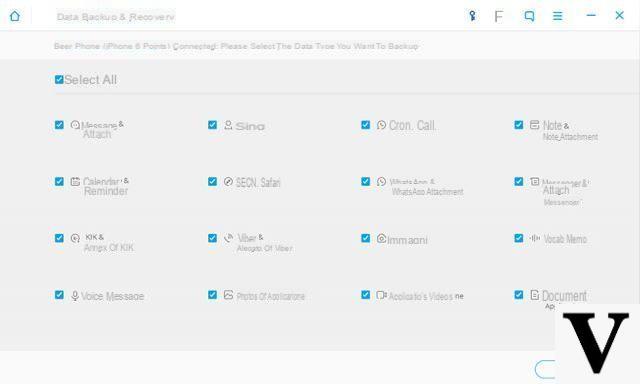 Step 3. Saving the data
Wait for dr.fone to finish saving the selected data and be careful not to disconnect the iPhone from the computer until the transfer is complete.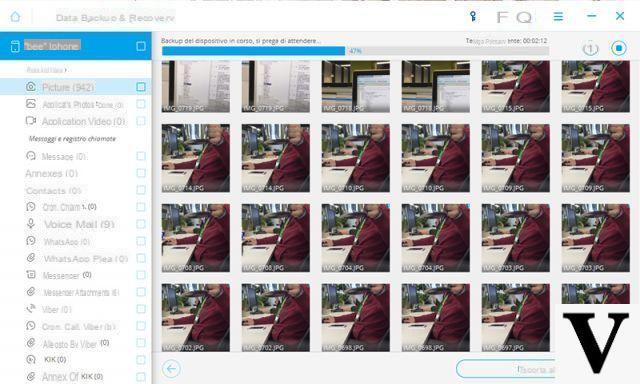 Step 4. iPhone Data Restore / Export
Once the backup is created you will be able to view all the data via dr.fone itself. These data (photos, videos, contacts, sms, whatsapp conversations, etc ...) can be exported to your computer or restored to another iPhone.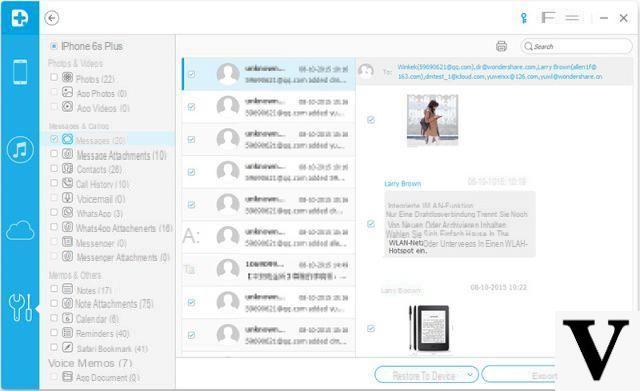 Note: If after connecting the iPhone you are still asked to enter the password, it means that the device was not previously authorized on that computer and in that case there is little you can do. In fact, dr.fone does not allow you to disable the password you have set, but only to access the memory of the iOS device if the latter has already been connected (previously) to iTunes and authorized on that PC.
Hi, my iphone X suddenly crashed and I only see the apple. I also tried a forced reboot but nothing. It should be noted that due to lack of space I have no longer updated the operating system and the data backup on iCloud dates back to early August 2019.
I intend to buy dr fone to recover the missing photos and videos, as long as the software really works. If not, is there a refund of expenses? Thank you in advance for your help
With the Repair function and the "Standard" mode you should be able to repair the device without deleting the data. In case of problems or failure to recover, you can contact the assistance of the software house.





Could you please link me to the type of package I need to purchase? Thanks

Hi I currently have the same problem with the same iPhone model have you solved with dr Fone? Thank you very much
Hi, my iphone 6 was blocked by the shop where I went to pass all the data to my new iphon X. They tried to download an update and it froze and now for two days they tell me that it is stuck with the screen of the apple with the writing loading and does not go on.
Do you think it is possible that with this software it can recover data?
I hope for an answer because I have some very important things inside,
thank you so much
Hi I have an iPhone 7 with a cracked screen that does not take some keys and no longer recognizes the fingerprint so I cannot unlock it. Is it possible to save the data without having to restore and without risking to lose everything? It is essential not to lose data as I also use it for work
Good evening, my iPhone 5 is disabled, through the demo version I found a Back up, and the device is detected. In order to transfer the data, I am only interested in photos, in order to transfer the data to the pc (no mec) which version of the available packages should I purchase? Thanks
Greetings! After an iTunes update, my iPhone 6 got disabled. I don't have a backup on WhatsApp. Possibly through Doctor phone I could save the conversations with the attached files of documents and anything else of importance by detecting the WhatsApp chats in question?
Try the demo version to see if the device is detected ... if it is detected by dr.Fone you can save that data ...
hi, with iPhone 8 is it possible to activate CarPlay having the display completely black?
I state that I have already disabled, thanks to you, the unlock code. A thousand thanks
Hi, I have an iPhone 7 whose liquid crystal broke, along with the screen, in December. I should have fixed it right away, but for various reasons I couldn't get it fixed. Now that I fixed it, I found that I completely forgot the lock code. I would restore it without a problem if it weren't for the fact that I would lose the 15.000 photos inside the device and other data (I had 128GB). Is it possible to recover data with dr.fone? I should first reset it and then use dr. fone?
Before restoring, try to use dr.fone anyway because if that iPhone has been authorized on the PC in the past, dr.fone will be able to access the device memory even if it is disabled.
Hi, I have the phone as Claudia is disabled because the screen is broken and you push the keys by yourself, I think I understand that first it must be unlocked then you try to recover the data ??? but if you lose the data by unlocking it, how can you then recover it ???
I have my iPhone disabled since I dropped it and the screen went crazy, he put the code over and over again, after fixing the screen the assistance said I just had to turn it off but I didn't think about it .. now iPhone disabled tells me connect to iTunes .. connecting it to this program will I be able to save my data tt ?? Or at least the photos?
Unfortunately when the iphone is disabled, the only way to fix it is to reset everything then data is lost. After the reset, however, you can try using this program to see if some data is still recoverable.
Hello,
unfortunately my I phone X r with facial recognition got stuck: I PHONE IS DISABLED CONNECT TO TUNES. Right now I can only receive the phone calls and restart it.
It seems to me that I have never connected it to I TUNES and I have never done a back up ……. Can I recover the photos, the chats with your program? Thanks for the reply
Unfortunately, it's not that simple. You must first remove the lock of the disabled iphone (with a reset) and then try to recover the data with a program like dr.fone
More info in this article: https://www.iphonexpertise.it/sbloccare-iphone-disabilitato-senza-collegarlo-itunes
my ipad 2. is disabled because I entered the wrong unlock code. I have never done backap… but I have some photos of a person that I don't want to recover anymore. How do I do it?
Hi, my iPhone 6s as soon as I turned it on gave me an "activation lock" is it possible to recover all the data through this Dr.Fine software? Without ever using iTunes?
Hi, I don't know why but my iphone 5s no longer recognizes neither the numeric access code nor the digital recognition. But it turns on even if it remains unusable. In this situation it is possible to recover the data using the dr. Phone?
Thank you
With dr.Fone you can use the unlock function as described in this article: https://www.iphonexpertise.it/resettere-e-sbloccare-iphone-ipad-senza-codice/

Hi I have an iPhone X, having the memory full I tried to update from the Mac, but halfway through the update it stopped due to an error and since then I can no longer turn on the iPhone. It went into recovery mode, can I recover the data?
Hi, I have the completely locked phone no longer turns on. I tried to transfer data through the program but it asks me to enter the phone unlock code. How do I put it on if my Iphone 7 does not turn on?
Unfortunately, if it does not turn on, it is not possible to proceed with saving or transferring the data.
Hi, I need some clarification as I intend to purchase the dr.fone software.
Below I ask you some questions.
1. Can you guarantee that it works? I do not wish that once purchased I cannot save my data!
2. Another thing: I've never backed up my iPhone, does dr.fone still manage to access my data and allow me to save it?
3. Finally: My iPhone crashed (white screen with black apple) after the following events took place:
- I had the iPhone memory to the limit for a year already, so much so that every two by three I would see the "archive full" screen; having the memory at the limit, I could no longer download the updates of Ios, so I have not updated the operating system for a year;
- Two days ago, connecting my iPhone with the mac by means of a USB cable, I accidentally clicked on iTunes on the "sync" button, and from there the damage happened: I was no longer able to access the photo / video gallery, so yesterday I went to an Apple Store and an employee advised me to reset my iPhone after making a backup; I tried, but unfortunately the backup was not successful (I'm afraid because of the memory full), so I tried to turn it off and on again and from that moment the phone froze and I was not able to turn it on anymore.
Will I be able to access / save my data with dr.fone despite this mess?
Thanks in advance for your reply!
Gloria
What I can tell you is that many other users in a similar situation (white screen with black apple) have managed to restore the iPhone with the use of dr.fone (iOS Recovery package). Also you must consider that there is always the guarantee that allows you to request a refund if you fail to repair the device with dr.fone.