"I have over 1000 photos on my iPhone and recently I found there are quite a few duplicate photos as well. There is a quick and easy way to delete duplicate photos on iPhone? Any advice is welcome. Thank you! "
Apparently it's very easy to find duplicate photos on iPhone. We have already seen how to remove duplicate photos from PC. Below we will explore the best solutions to delete double photos on iPhone without risking doing damage.
Part 1: Manually delete double photos on iPhone 12/11 / X / 8/7 / 6S
Part 2: Remove iPhone double photos with TunesGO
Part 3: Remove iPhone double photos with an app
Part 4: Comparison of the various solutions
Part 1: Manually delete double photos on iPhone 12/11 / X / 8/7 / 6S
If you have an iPhone with a recent iOS version and want to delete duplicate photos you can do it manually by following these simple steps:
Step 1: First, go to the Photos app on your iPhone.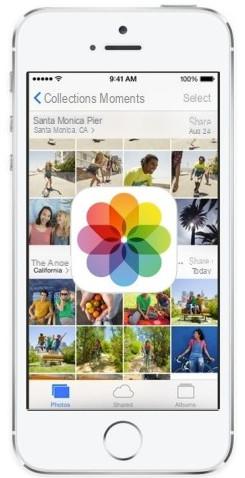 Step 2:After opening the application you will see all the photos in the Camera Roll section as seen in the image below. Now select the duplicate images and tap the del icon Trash can at the bottom right as highlighted in the screenshot below.
Step 3: Confirm the removal of the photos by clicking on the button at the bottom Delete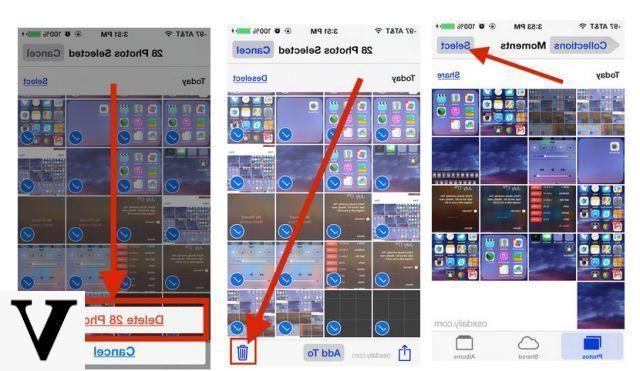 Part 2: Remove iPhone double photos with TunesGO
To tell the truth, deleting double photos manually is not very feasible if there are a lot of them. In the latter case it is advisable to get help from a program such as TunesGO. This software (compatible with Windows PC and macOS), in addition to deleting duplicate photos from the phone, has a lot of useful features a manage your mobile from your PC (import and export photos from your phone, manage contacts from your computer, transfer data between different devices, and so on).
Please note: TunesGo does not automatically delete duplicate photos. However, it shows all duplicate photos and allows you to easily delete them from your computer, no matter if the photos are saved in the Camera Roll or in the Photo Library all images,
Here are other useful functions present in TunesGO:
Transfer, manage, export / import music, photos, videos, contacts, SMS, Apps etc.
Back up your music, photos, videos, contacts, SMS, apps, etc… to your computer and easily restore them.
Allows phone-to-phone transfer
Advanced features like iOS / iPod system repair, iTunes library rebuild, file explorer, ringtone maker.
Fully compatible with all iOS versions
How to remove duplicate photos with TunesGO
Step 1. Download and install TunesGo
Click the button below to download the trial version of TunesGo on for Windows or Mac.


Install and launch the program. Connect your iPhone to computer with a USB cable. If you connect successfully you will be able to see your iPhone displayed on the TunesGO screen.
Step 2. Remove duplicate photos on iPhone
Click Gallery at the top of the program to see all the photos saved on your iPhone. You will be able to see the photos saved in different folders such as "Camera Roll", "Photo Stream", "Photo Library", etc .. Select one of these folders and then search and select the double photos to be deleted. Once selected, click on "Delete".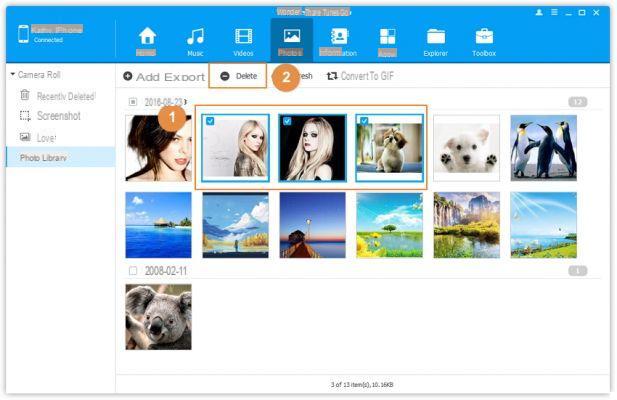 Part 3: Remove iPhone double photos with an app
With the constant use of smartphones it is normal that the memory tends to fill up quickly. Multimedia content takes up more than 50% of the iPhone's memory, and to remedy one thing that is done is to regularly remove extra files. Sometimes the problem is the presence of duplicate images that take up a lot of memory on the device. You can also free up this space by using some applications. For example, to delete duplicate photos there is an app called Duplicate Photos Fixer (iOS).
Functionality:
> Delete duplicate photos.
> Automatically scan duplicate photos with one click
> Able to reclaim wasted device space.
> Free up your iPhone memory.
> Allows you to delete photos in batch mode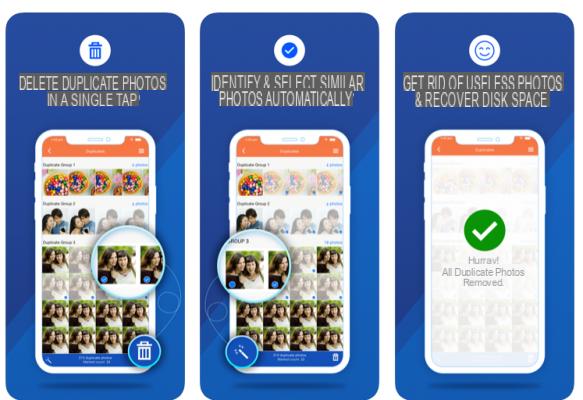 Part 4: Comparison Table
How to Remove Double Photos on iPhone -