The profile MDM helps organizations and companies to control all iOS devices (iPhone / iPad) they distribute to employees. Using a solution MDM, organizations have the power to monitor employee activities and even restrict their access to certain device features.
While it's a great feature for monitoring purposes, MDM can become a big deal, especially when the employee decides to leave the organization and keep their iPhone or iPad with them. If the device has an MDM profile, it is possible that your former company can still access all data and even wipe it remotely!
To avoid such situations, you need to find a way to remove and / or bypass MDM and thus gain access to the device. Below you will find a detailed guide that will help you bypass MDM profile on your iPhone or iPad.
Part 1: What Mobile Device Management (MDM) means
Part 2: How to Remove MDM from iPhone / iPad
Part 1: What is MDM (Mobile Device Management)
Deploying a solution MDM on any iPhone and iPad helps administrators (such as corporate organizations) set up all devices and monitor their activities. It is basically a solution designed to help administrators gain full control over every registered iOS device. With an MDM solution, organizations can remotely initialize the device, lock devices, and install apps.
However, there are many iPhones today that are enrolled in an MDM program but are being used by a former worker. If so, the owner should bypass the MDM profile so that no one can access their data or remotely control the device.
Part 2: How to Remove MDM from iPhone / iPad
bypass an MDM profile on iPhone and iPad, you need a custom designed software solution. Since Apple is extremely cautious about security, it's important to look for an alternative, reliable, third-party tool. Among the various software solutions available on the market we recommend using 4uKey e iActivate.
Solution 1. Remove MDM with 4uKey
Tenorshare 4uKey is the best solution to bypass MDM, because it is very simple and quick to use. It is not necessary to enter the username and password. In addition, 4uKey also supports unlocking iPhone without passcode and removing Apple ID. Below are the detailed steps to bypass and remove MDM profile.
First download 4uKey on your Windows PC or Mac from the buttons below
Download and install the program on your computer. Select the "Bypass MDM" mode.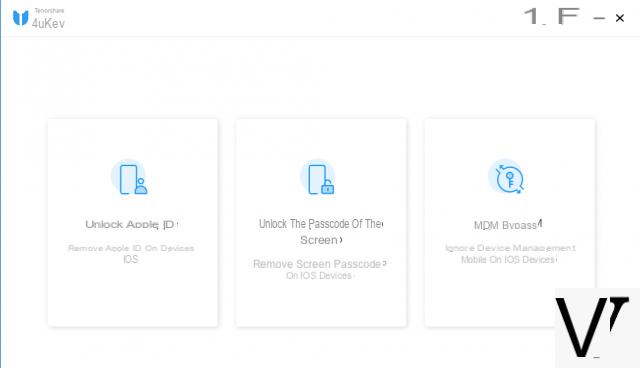 Now connect your iPhone / iPad to the computer using a USB cable. If prompted, tap "Trust this computer" and enter the device passcode to establish a connection.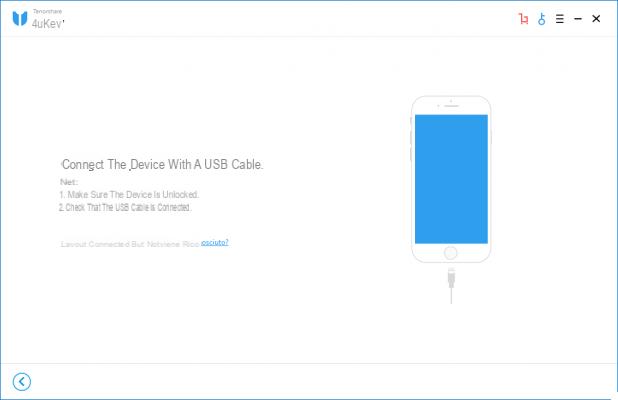 Once your iDevice is successfully connected to the PC, tap "Start to bypass". This will start the MDM bypass process.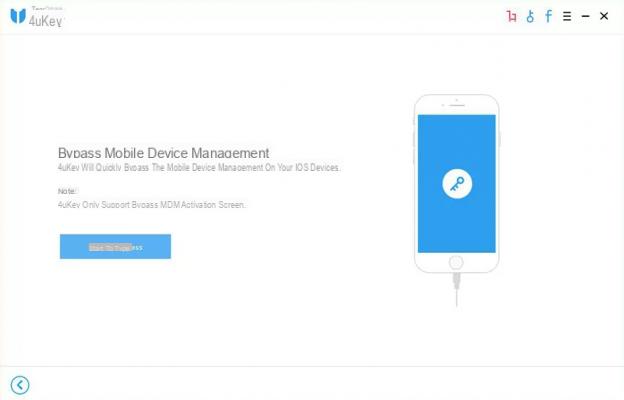 Wait a few seconds, the MDM lock screen will be removed after a while.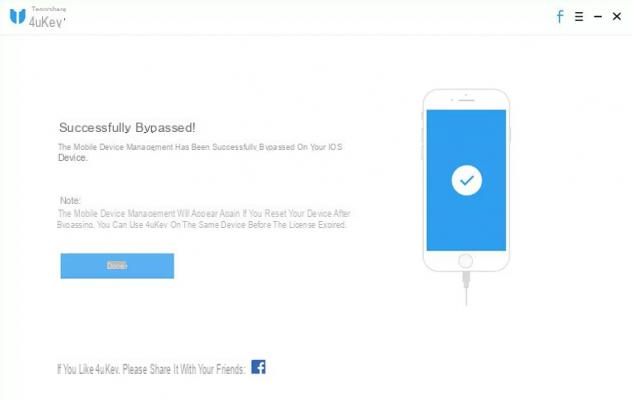 Solution 2. Remove MDM with iActivate
iActive, is one of the best tools that support fast MDM bypass for iPhone and iPad. No matter what iPhone or iPad model you are using, iActive is able to remove the MDM profile from any iDevice.
This is how iActive works, one of the best tools to bypass MDM on iPhone and iPad.
Go to your iPhone settings and turn off Find My iPhone.
Order the MDM bypass service on the official iActivate website.
Download the software to your computer.
Connect your phone to your computer and allow iTunes to detect it.
Launch iActivate, it will show detailed information of your device like IMEI, serial, etc.
Click the "Start MDM Bypass" button and the process will begin.
Once the MDM profile is removed, the previous company will no longer be able to track your smartphone. As a result, you can rest assured that your privacy will not be compromised in any way.
FAQ
Q1: Does MDM Profile Removal Software Really Work?
Yes, the MDM Bypass software works and can help you bypass the MDM profile on an organization-owned iPhone. However, it is important to find the right software like the ones described above.
Q2: Why do I need an MDM solution?
An MDM solution will help you monitor all devices, simplifying the management of different business operations.
Q3: Can iActivate bypass MDM if Find My iPhone is enabled?
To bypass MDM on iPhone, it is important that the "Find My iPhone" feature is disabled. If the feature is enabled, you will not be able to bypass MDM.
Q4: Can iTunes be used to bypass MDM?
Yes, you can bypass MDM using iTunes. However, to do this, you will also need a custom MDM bypass tool.