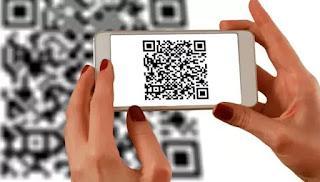 I
Codici QR o QR Code
they are those printing designs made of stripes crossed one inside the other inside a square or horizontal shape, which if framed by a scanning device return information stored in them. Just like a store barcode has the price of a product stored within it, the QR code can contain a phone number or anything else information. QR stands for Quick Response and are black-banded square codes that have become widely used for marketing purposes, for advertising, and to provide quick access to websites, messages or personal contact information. Marketing and advertising love QR codes because people are always curious to scan when they meet someone. QR codes are visual shortcuts for more information.
When you find a QR Code you can use the application of the
smartphone with the camera to scan and decode it
, so you can see what it hides, to quickly read and store data without having to type it with the keyboard. Their usefulness is evident: by scanning a QR code it is possible to open a person's social profile, download an application, import a business card, a long address, a URL and so on, only by scanning with the smartphone camera a image.
Since QR codes are free tools,
everyone can create them freely and generate them for free
for any reason you want and everyone can
decode or read with normal smartphones
. In this post, in addition to see
how to create QR codes
, we also see
how to read QR Codes and how to use them
.
Create QR Codes from PC and smartphone
for
creation of QR codes
there are a lot of
web applications
, some with more options than others.
one of the best is The easiest way to create a QR code is with
QRCode Monkey
which allows you to create a QR code with this information stored in it: URL, text, Email, telephone, SMS, VCard, MeCard, geographic coordinates, Facebook profile, Youtube page, Wifi credentials, events to remember and more. The QR Code can be customized with colors other than black and white and also with a different image or design. At the end you can save the code as a PNG image or print it with a maximum resolution of 2000 × 2000 pixels.
Other sites to create QR codes
From our website Kaiwa you can generate a barcode to identify a phone number, email address, SMS or URL.
Goqr.me, can create a barcode also for a vCard, i.e. a business card that includes all personal data such as name, surname, address, etc.
ZXing allows you to create a code that contains name and password to access a Wifi network or even with geographical coordinates or calendar dates.
The QR Code Generator is a very complete web application with lots of options to create QR codes with anything.
The site QR Code Generator It allows create a code with an image inside it which can be a logo, or a photo and also allows you to change the colors of the design and add custom text.
The most complete site of everything is QrStuff because it allows you to generate QR codes for a website, a Facebook page, a Twitter profile, a wifi network, a Paypal payment, a download from the App Store, a Linkedin profile, an email, an Email address, a telephone number , a Youtube video, a Google Maps place. The code can also be colored and saved as a PNG or JPG image.
Yes they can
create QR codes on your computer
for websites and texts using simply
Google Chrome
such as browser and application
QR Creator
. After installation, you start QR Creator from the app page and then you write the text or internet address to be embedded in it to save the code image or share it via a link.
You can also use some
extensions to create QR codes
from browsers including: Qr Code
for Firefox
, QR Code Extension (which works both to generate Codes and to scan them from a PC webcam) or even Quick QR to generate QR codes
to Google Chrome
.
QRCoce Generator is an extension to create QR COde on Mac using
Safari
.
Scan QR Codes
Although it can also be done from a PC, the easiest and fastest way to read barcodes and decipher what they hide is the camera of the Android smartphone or iPhone with a '
barcode scanner application
.
To read QR codes
you need a scanning application to be installed on your Android smartphone or iPhone, which allows you, by pointing the camera at the code, to extract and decode the information it hides.
Scanner QR per Android
Your Android
it is possible to scan QR codes using the Google app, already installed in all Samsung, Xiaomi, Huawei or other smartphones, where there is the Google Lens icon in the search bar which also works to scan QR codes. The code scanner function is also present within Google Photos.
Other apps that work very well are
BarCode Scanner
, simple and proven,
Kaspersky QR Scanner
which in addition to decrypting the barcodes, also tells you whether they report to safe sites or not.
Another popular application for Android that allows you to scan QR codes is
QR code reader
which also scans product barcodes as fast as it scans QR codes, in seconds.
Again we can add Firefox Browser, where just press the QR button at the bottom right to scan a code, or QR code scanner
Scanner QR per iPhone
On iPhone and iPad
you can use the code scan tool located in the control center which appears swiping from bottom to top on the screen. If it is not visible, go to Settings> Control Center and activate it by pressing the green + button.
On iPhone, you can also use an external app like
QR Code
or the app
QR Reader
which is the simplest.
Scan and read QR Codes on PC
It can be done
scanning a QR code even from a Windows PC
using the program
CodeTwo QR Code Desktop Reader
, free and easy to use to read QR codes found on the internet, directly from your computer. The reading or scanning can be done directly from an image or by uploading the file with the QR on the program itself.
From any PC
you can also scan any QR code online by uploading it as an image on the site
zxing
.
Other sites for
read QR codes using the computer's webcam
I'm:
Web QR
who uses the camera,
QR Code Generator
,
Inlite
which scans QR codes and all existing barcode types.
You use QR codes
Once you have created the square image representing the QR code, you could print on your business card so as to provide the address of your own online business card or personal web page or, less beautiful but more useful, a code that contains the vCard that adds all the personal and contact data to the phone book with a click. One barcode scan is enough to transfer complete contact information to your phone in a flash and effortless.
Business cards can be scanned by a QR code reader so that they are directed to the person's website, given their portfolio, shown their phone number or social media pages, etc. The application tec-it.com is a perfect tool to create business card to print with embedded QR code.
I remember in this regard the page with the best free sites for create free business cards to print.
Routers can use QR codes to simplify and speed up internet connection from your smartphone. Using QR codes is also possible share wifi passwords quickly e let friends connect to Wifi without giving them the password.
Put a QR code on your CV it could be a nice move to hit recruiters and employers who may see it as a modern touch.
Who does YouTube's ADS, but click on them, on the billboards that you see on the street or in the newspapers it can include a QR code that may lead to a special offer or to the official website of the product or company. A code can also be an advertising medium on posters and stickers to stick around. I have also seen that some companies have distributed advertising t-shirts and caps with QR codes; evidently they make fashion and push those who see them to scan the brand with their smartphone.
The fact that a code contains hidden information of any kind could lead some people to find different non-commercial but more social uses, perhaps by inserting secret messages or special dedications.
Receipts can be printed with an automatically generated QR code to encourage the customer to participate in a survey or to highlight refund opportunities.
Apps and websites use QR codes to authorize access from a PC. WhatsApp Web and Messages for Web are just two examples of websites that generate QR codes that are read by their respective apps to send login details to your computer.
Whatever you have to say, if you want to spread it so that only those interested can read it, the QR code becomes an excellent information vehicle. There are an infinite number of practical applications to use QR codes, especially considering that they are simple to both create and read and that they are free, unlimited and free.