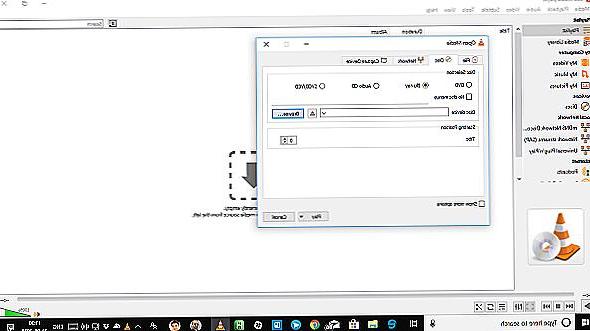 If you have a Windows PC you will have noticed that it is not immediate to play Bluray without the need for specific software. Windows removed Media Center and Help from Windows 10 a while ago, making it more difficult to play discs on your computer. It now charges around $ 15 to play your favorite movies by purchasing the Windows DVD Player app from the Windows Store. But you don't have to despair because below we will look at three different ways to play Bluray discs on Windows 10.
What you need is a third-party media player and a program that can play Bluray discs on the Windows 10 operating system. Here are our suggestions.
# 1. Bluray player
#2. VLC Player
# 3. MakeMKV
# 1. Play Bluray with Bluray Player
Bluray Player is one of the best programs designed to open and play bluray on Windows (and also on macOS systems). The advantage of using this software is that you won't have to do any configurations and once installed, just insert the bluray disk into your computer and click Play to view its contents.
From the following links you can immediately download the DEMO version free program (for Windows and Mac)
The software is compatible with all Windows and Mac systems. After installing Bluray Player you will be able to launch it and you will see this main interface:
Here are the 3 simple steps you can take to reproduce your bluray:
Insert the disc into your PC drive and click on OPEN DISC to open it in the program
The movie will automatically be played by the software
Use the menu to optimize movie playback and find the best sound settings
#2. Use VLC to open Bluray on Windows 10
VLC is a multimedia player that can handle major audio and video file formats. It works the same way as Windows Media Player but with many advanced features. Although VLC is not available on the Microsoft Store, you can download it for free from the developer's website. VLC cannot natively play Bluray or display some Bluray menus. But by downloading other files it is also possible to make it work with bluray discs.
Here are the steps to follow to play Bluray discs on Windows 10 with VLC player.
1. Go to the official VLC website to download VLC and install the program on your Windows 10 PC.
2. Click Ends to complete the installation.
3. Open File Explorer and go to C: Program Files
4. Here create a new folder and name it "AACS"
5. Click on the link vlcbluray.whoknowsmy.name and download the "KEYDB.cfg" file in the folder you just created
6. Similarly download and install the libaacs.dll file and place it in the VLC folder. If you can't download it directly to the VLC directory then first download it to your PC desktop and then move it to the VLC folder.
7. Now open the VLC program and click on "Media> Open Disc" at the top
8. Click on the "Bluray" option
9. Check the box "no disc menus."
10. Select the Bluray disc in the relevant field below
11. Click "Play"
At this point VLC will be ready to play your Blu Ray disc. It is a cumbersome process but in return VLC is a totally free program.
# 3. Extract videos from Bluray to watch them Windows 10
Another method to play Bluray discs on Windows 10 is what the ripping and encoding, a process that consists in extracting the video from the bluray disc and saving it on the computer in a format that can be played by any player.
This process does not destroy the disc, so you can still use it normally. However, in some countries, making copies of Bluray discs is illegal. These copies are for personal use only, not for display or distribution of any kind. Get legal help if you're unsure or do a Google search.
To rip and encode Bluray discs, you can use a program such as MakeMKV. It is easy to use software and easily converts all your discs to digital files. You can also watch the converted files on other devices using programs like Plex.
Here's how to use MakeMKV to rip and convert Bluray discs for playback on Windows 10:
1. Go to the MakeMKV website
2. Click on the link to download and install the software.
3. Follow the installation procedure
4. Open MakeMKV and click "File> Open disc."
5. Select the Bluray disc and click "Yes."
6. Go to the MakeMKV section, click the green icon and then click on "Yes."
7. Wait for the conversion to finish
8. Play the MKV file you got using a player like VLC
How to Play BluRay on Windows 10? -