Are you looking for a quick and easy way to import your own data tables PDF to Excel? In that case you have come to the right place! This article shows you the best way to import data from PDF to Excel. We at Wondersoft.it recommend using the PDF Converter program to convert PDF to Excel and import all tables and data. It is true that there are also "online" converters on the internet but the quality of converting PDF to Excel with these tools is really bad.
Guide: How to Import PDF to Excel with PDF Converter
Step 1. Download and install PDF Converter
First click on the "download" button on the page of PDF Converter (for Windows). If you have an iMac, MacBook Pro then download PDF Converter per Mac with which you will be able to import PDF to Excel on Mac. This article considers the version of PDF Converter for Windows and shows how to do this PDF to Excel import and conversion on PC. After downloading, install the application on your computer.
Step 2. Import PDF files and select Excel as the output format
From the main window you will see a button "Add PDF files" top left. To import PDF files click on this button to select PDF files from your hard drive to convert to Excel. Up to 200 PDF files can be imported each time. To save time, you can batch convert multiple PDF files at the same time.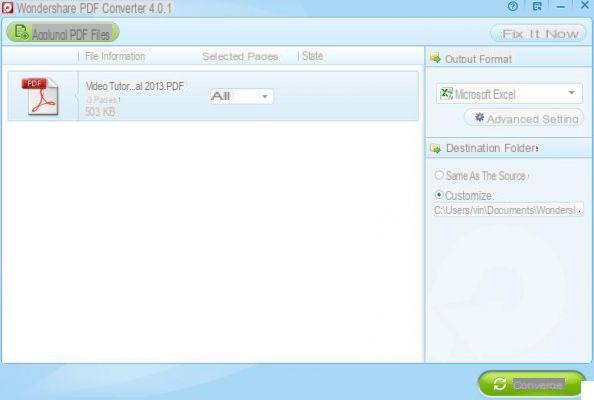 After importing the PDF files, you need to select Microsoft Excel as the output format from the drop-down menu on the right. To customize the output and import of data in Excel, click on the "Advanced Settings". From here you can import PDF files into Excel with all pages in a single Excel sheet or all pages in a single Excel sheet.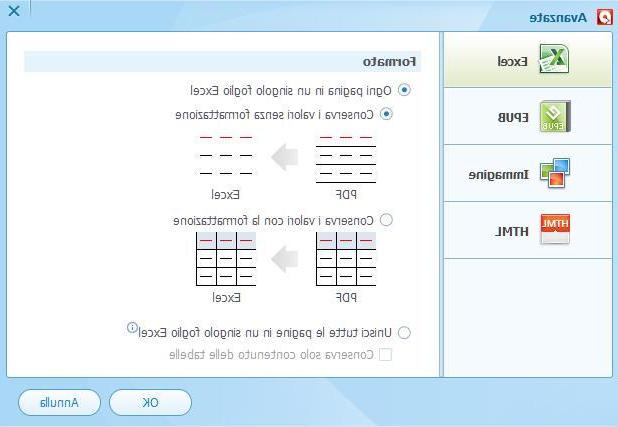 Step 3. Import PDF files into Excel
Before importing the PDF data into the Excel worksheet you can decide whether to import all the pages into an Excel file or select only certain pages of the PDF to convert and import into Excel. After making these settings, click on the button "Converted"To start importing PDF into Excel. After the conversion click on the small "folder" icon to open the Excel file obtained from the conversion.
How to Import PDF to Excel -