Among the dozens and dozens of messaging apps agolable on the market, WhatsApp it is certainly the most popular and used in the world. You won't find a single person who doesn't have a WhatsApp account.
Considering the ease and popularity of WhatsApp, there are many people who are not satisfied with just one Whatsapp account but would like two. As long as you have due account Whatsapp, each installed and activated on a different mobile, no problem. But how to have two Whatsapp accounts on a cellphone, perhaps on a dual-sim cellphone? Many people would like to keep their personal and professional number separate and have a different whatsapp account for both numbers.
Let's say immediately that it is impossible to have two Whatsapp accounts on the same phone number, but if you have a dual SIM device you can certainly also have two Whatsapp accounts on it and therefore manage the messages of each without problems.
Here are the solutions we propose to manage and have two Whatsapp accounts on your mobile.
# 1. Using the App Cloner function
#2. Using Parallel Space
# 3. Using Whatsapp Plus or GB Whatsapp
How To Have Two Whatsapp Accounts On One Mobile Phone
Solution 1: Use Dual SIM phone with App cloner functionality
This solution is the simplest one to have two WhatsApp accounts on the same mobile phone. All you need is a dual sim phone. If you have one, you are good to go. However, in addition to a dual sim phone, you also need an Android device with app cloning. The name of this built-in function may vary depending on the device. Using this function and having a dual SIM phone you can have two WhatsApp apps (each related to a phone number) in the same phone. Before seeing the steps to follow, we need to understand how to check for the presence of this feature in our mobile phone.
> On mobile Samsung, the feature is known as "Dual Messenger"And can be found in" Settings ">" Advanced Features ">" Dual Account ".
Once you access these settings you will have to choose which messaging app you need the double account for: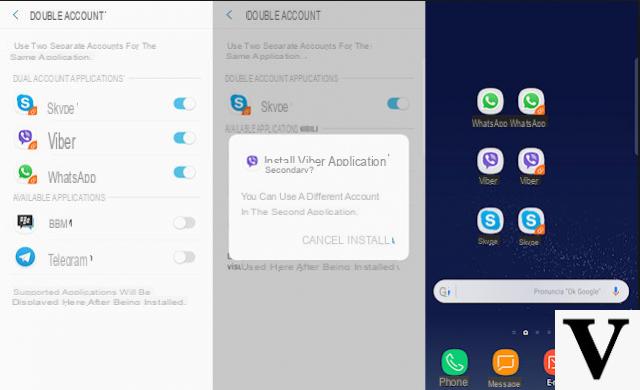 Select Whatsapp and you will be asked if you really want to install a secondary Whatsapp app. Confirm by clicking on INSTALL.
> On Xiaomi (MIUI) phones, the name of the "Dual Apps" feature
> On Oppo mobiles we have "App Clone"
> On Asus devices it is called "Twin Apps"
> For Huawei and Honor, it's called 'App Twin'
Here's how to use two WhatsApps in one mobile with the help of the app cloning feature:
Once WhatsApp is installed on your device, search for Settings on your phone
Look for the function that allows you to duplicate the app (refer to what is written above)
Select WhatsApp from the list
Create the copy of the app
Go to the Home screen and you will see another WhatsApp icon
Activate the new app by entering the new phone number, etc ...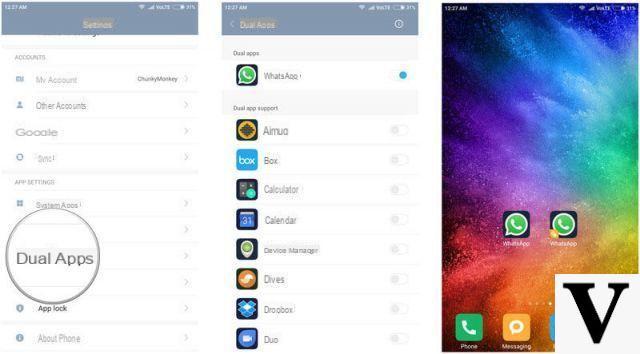 Solution 2: Install Parallel Space App
If your Android device doesn't have the App Clone feature, then you can use alternative apps that do the same job. One of these is parallel Space. This application will allow you to have two WhatsApp accounts.
You don't need to root to run this app on your Android phone. With this app you can create more accounts than any app.
Here's how to use Parallel Space to have two WhatsApps on one mobile:
First, launch the Google Play Store and search for the app. Once found, click on the "INSTALL" button and the app will start to be installed on your device.
Once the app is installed, launch it to start using Parallel Space for WhatsApp
Tap "CONTINUE" and grant permissions to the app to access the data. Now tap "START" and your apps will show up on the next screen.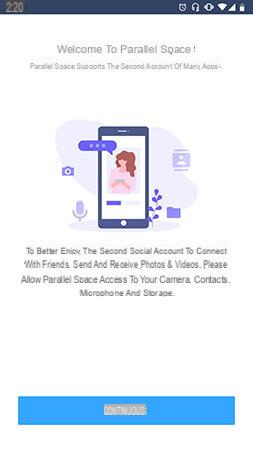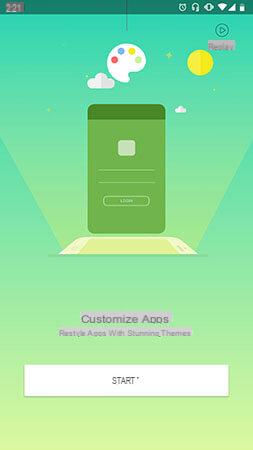 Select WhatsApp from the list of apps and tap the "Add to parallel space" button at the bottom of the screen.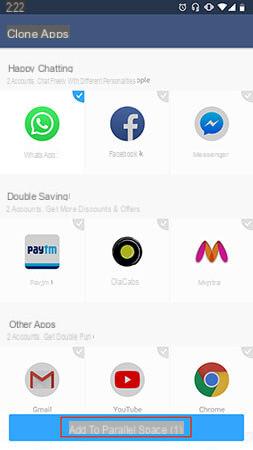 Tap "WhatsApp" again and from the popup select "GRANT" to allow permissions. Follow the instructions to give all permissions.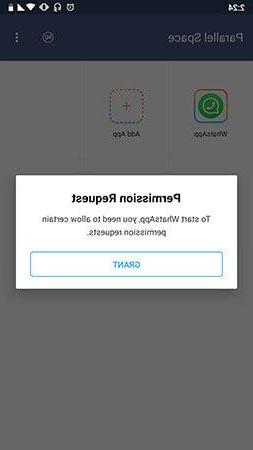 Now the app will create a new WhatsApp. You can add new account credentials. This way you will be able to access two WhatsApp from a single mobile!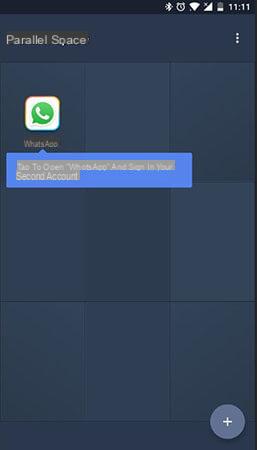 Solution 3: Install WhatsApp mod apk (like WhatsApp Plus)
Here is another solution to have 2 account WhatsApp in the same phone. You may not know it but there are "mod" apps for WhatsApp. What are?
In short, they are apps identical to Whatsapp (like WhatsApp Plus o GBWhatsApp) but designed in a modified version compared to the original WhatsApp. These "mod" apps can help you create two WhatsApp accounts. However, you must have two phone numbers otherwise you won't be able.
Let's take WhatsApp Plus for example. Here's how it works to have two Whatsapp accounts:
First download the Mod WhatsApp app such as WhatsApp Plus or GBWhatsApp. This is not on the Google Play Store. and then it must be downloaded from the official website of the app, as an APK file and then it must be installed on the phone (if you don't know how to do it read here)
To install this APK file make sure that the "unknown sources" option is enabled in the settings of your mobile phone
Once the app is installed you can start it and configure it with your second phone number.
Verify the phone number and use two WhatsApp without problems on your mobile
How To Have Two Whatsapp Accounts On One Mobile Phone -