Do you have a problem with your iPhone speaker not working anymore? Are you unable to listen to music or hear the voice of the caller anymore, unless you connect the headphones to your iPhone?
This problem often happens even after restoring your iPhone to other iOS version. You may also encounter the "Speaker not working problem on iPhone"In other scenarios. Here are some possible solutions-
How to fix iPhone not working speakers problem
There is nothing more frustrating than not being able to use your iPhone to communicate. Audio is essential for a device like the iPhone and if the audio doesn't work at all for calls, apps, music, etc ... or the speaker only works on one side, or gets stuck in headphone mode, here are some tips to follow.
Option 1. Check the Ring / Silent switch
Check if the Ring / Silent switch on the outside of the iPhone is switched to silent mode. This is a common mistake that causes the problem of no sound from the speakers. Move the switch to see if anything changes.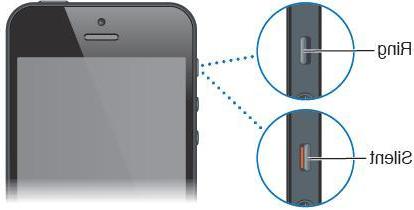 Option 2. Check your iPhone case
If you are using a non-genuine cover, you need to make sure that it does not cover the speaker and microphone. Try making a few calls without the cover to see if anything changes.
Option 3. Restart the iPhone
Restarting the iPhone may cause the external speaker to work again. Press both buttons (the power button and the Home button) at the same time for 10 seconds and the iPhone will restart.
Option 4. Clean the speaker, microphone and docking area
Dirt, dust, clogging of the speaker or docking area for your iPhone can sometimes create the speaker problem. Use a toothbrush carefully and gently to clean them.
Option 5. Test the earphones
Plug the headphones into the headphone jack to check if there is sound or not. Try this for several times because sometimes you can get stuck in headphone mode.
Option 6. Use a hair dryer to clean the Headphone Jack
Find a hair dryer, turn it on to low power and run it over the speaker output and headphone jack for several minutes. It sounds strange but many users claim that it actually works. Test if you have an iPhone with a non-working external speaker.
Option 7. Press the lower right corner of the iPhone
Another strange but useful method is to press down on the lower right corner of your device for about 20 seconds. This is especially achievable when the connector is loose and needs to be repositioned correctly.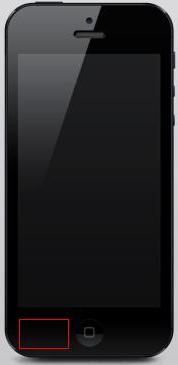 Option 8. Update your iPhone
Resetting the device is useful for getting the speaker to normal operation. Back up all important data before doing the reset and then go to Settings> General> Reset> Reset settings.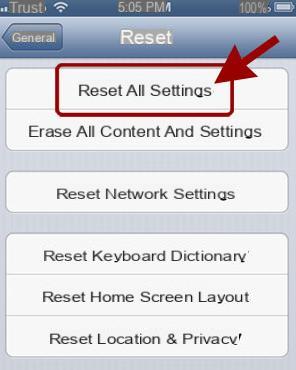 Note: If you forget to backup your iPhone and lose your data, try dr.fone for iOS to recover all your lost contacts, messages, calls, photos, notes, Safari bookmarks, etc ...
Option 9. Reset the iPhone to factory settings
If the speaker still doesn't work after the update then reset the iPhone to factory settings. You need to backup your iPhone in advance. Click on your iPhone icon when connected to iTunes and proceed to restore.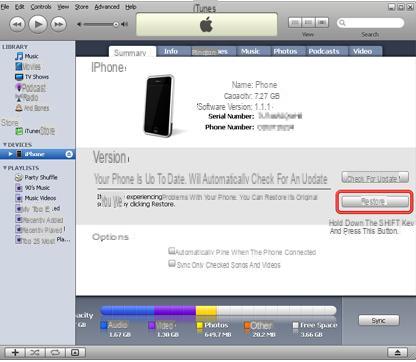 Note: You can backup with iTunes to avoid data loss. If you forget to backup, use dr.fone for iOS to try to recover deleted data.
Option 10. Ask Apple for support
If your iPhone's speaker is still not working after trying all the options above, there is probably a hardware problem. In this case, it is necessary to contact an Apple center to request the replacement or repair of the device.
Hello everyone, sorry ... With my iPhone 6 SE I cannot make calls with whatsapp because the audio does not work: I perfectly hear the voice of the other party who instead hears only a strong hum. It is not the loudspeaker because in normal calls the speakerphone works very well.
Can anyone help me?
good evening everyone
my problem is this ... I have an iphone 6s, suddenly nothing is heard with normal calls, with whatsapp, telegramm everything is ok, but with normal calls I do not hear ringing when I call even if the interlocutor rings (but still does not hear my voice and I don't hear his) practically dead mic,
not even with speakerphone and headphones.
I record messages from voice memos everything ok, I record short video from front and rear cameras, everything is perfect, sometimes siri does not hear me.
I just don't know what to do more. has it ever happened to you?
thank you all
Also happened to me with iPhone 7, to throw away. IOS 13 software burned my iPhone 7.




I, on the other hand, have an iPhone 6s and the external speaker the one for calls so to speak since there are three I think, after the latest update to iOS 14.4 I barely hear the interlocutor. While in hands-free and with the jak I hear very well. Can you give me some advice to follow?
I needed everyone's answers, especially the first ones, for a trivial problem of blocked audio .. I too solved it with the hairdryer, I don't know how to thank you also because I was already afraid of having to resort to the technician ... thanks thanks thanks, really Thank you!!
Hello everyone I have a different problem who knows someone can help me ... my resurrected iPhone 5 S has the following behaviors:
it makes me send and receive audio with applications such as watt'sup and it makes me hear music on iTunes but I don't hear anything on call nor hear me .... so I assume that there is some setting that is wrong ... but if you don't help me in 2026 I'm always here trying ... help please ... yes I know I'm tough
Bye! Even with my iPhone 7 I can't answer phone calls. Plus the audio doesn't work and whoever I call doesn't hear my voice or hear it but Metallica. What should I do?!
Hi I have dropped some water in the iPhone 6s Plus ... I no longer hear the audio I tried with the hair dryer but nothing .. there were 2 splashes but a mess..how can I solve
Help GUYS !!
On an iphone 5s, I have already replaced 3 proximity flats complete with upper loudspeaker audio circuit, and two upper telephone speakers, but I hear nothing of the call except on speakerphone!
What can I do?
I can say that with the hairdryer it worked for me too ... when I called I didn't hear anyone anymore now I feel magic again !!
Good evening, I have a problem with an iPhone 6: when I make videos with the rear camera there is no audio, what can I do?
Unbelievable but the hair dryer has solved it !!!! I turned it off, iphone7, I put the hairdryer connected to the headphone socket -current and after a few 1-2 minutes with cold and medium hot air I turned it back on and it worked. It was 2 days that I was going crazy between restores, reset and Apple center !!!!!
Belin guys, hair dryer !!!! It works!!!
I think I've solved it too
Hi, I solved it by holding down the screen at the bottom right, in correspondence with the speaker. Thank you so much for the advice!