Documents in PDF they are great for sharing files of all kinds, but they are not ideal for those looking for something easy to edit. Don't be surprised when you consider that a PDF is actually like an image, and therefore not a text file like a Word document can be. Unless the file has been generated in a way that allows editing (by which I mean adding text or a form), it is often not even possible to print it, fill it out by hand, then scan and fax it to someone. wishes.
Thankfully, there is a simple and free solution to all of this and below we will look at some tools capable of editing PDFs and in particular fill out a PDF form. We will focus our attention on 3 solutions: a software solution for Windows and Mac, and a solution that works directly online and an app for iOS devices. Are you curious to discover and try both of these solutions? Well, then you just have to keep reading the article!
Software to Fill in PDF Form on PC / Mac
Fill out a PDF form online with PDFescape
Fill out PDF form on iPhone / iPad
Fill out a PDF form manually
1) Fill out a PDF Form with PDFelement (Windows & Mac)
PDFelement is a professional program to be able to edit and manage any PDF document (even scanned). If you have PDF forms that you want to edit or simply fill out, with this program you will have all the tools to do it. The advantage of using this program (and not others) is that it allows you to automatically detect all the fields of a form and all you have to do is write in it what you want. Then you can save the form again in PDF and then send it by email or fax to whoever needs to be sent. This is how PDFelement works.
Download the free demo program for PC or Mac from the following links:


Here is the main screen of the program: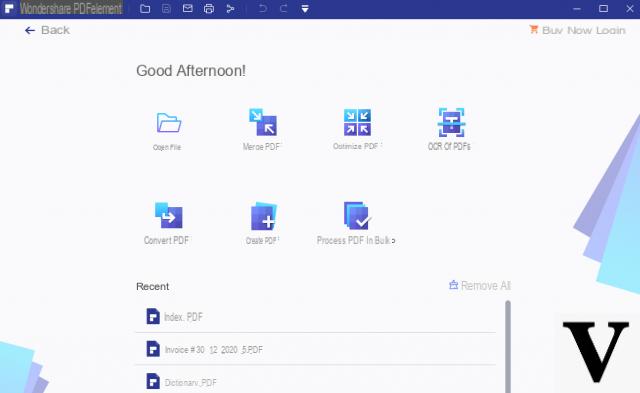 The first step obviously consists in uploading the PDF form you want to fill out. To do this, click on the button OPEN FILE and select the PDF file from your PC or Mac.
Once loaded, the software will automatically detect all interactive fields present in the form. At this point you can start writing what you in each text field. If by chance the program does not automatically detect the fillable fields of the form, you will have to click on "Form Field Recognition" and then on MODULES MODULES. At this point you can start writing in the various fields of the form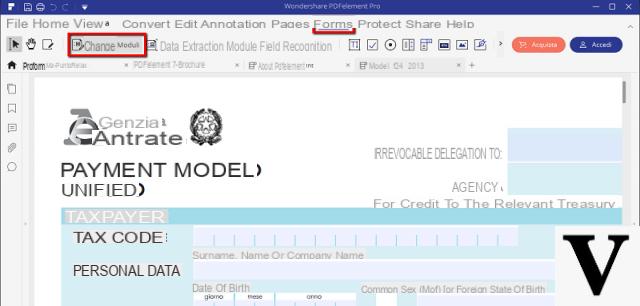 In addition to filling in the pre-existing fields in the PDF form, with PDFelement you can also modify the form itself by removing fields or boxes and adding others. In fact, always under the section FORMS you will have all the useful tools to create a PDF form from scratch.
2) Fill out a PDF Online Form with PDFescape
PDFescape is a web-based PDF reader, but at the same time also a PDF editor and a tool capable of fill out a PDF form directly online!
Because it is an online tool, it saves you from having to install any software locally, a benefit for business users who are often not allowed to do so and a benefit for everyone else because it eliminates the risk of spyware or spyware moving around. of free PDF utilities.
Although PDFescape only offers basic tools for free (a Premium account costs $ 20 per year), this basic account is enough for you to fill out a PDF form. Here's how it works:
Step 1: Go to the PDFescape site and on the home screen choose to use the ONLINE version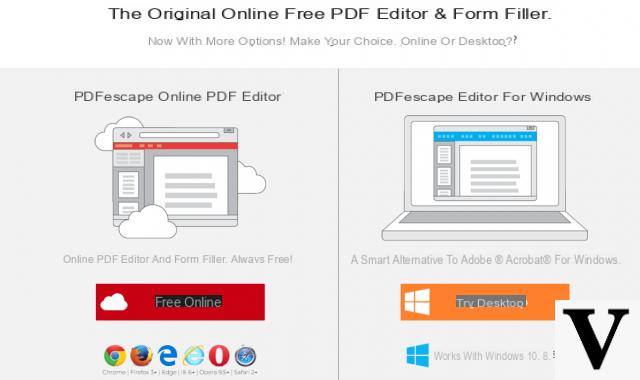 Step 2: Click UPLOAD PDF to PDFescape and navigate to the local folder containing the PDF, select it and then click Upload.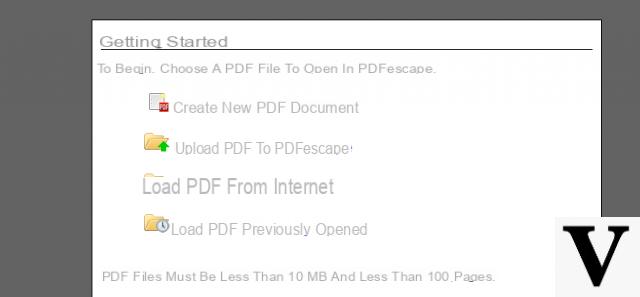 NB: The free version of PDFescape allows you to upload PDFs of up to 10 MB and up to 100 pages.
Once you have imported the PDF form you can start filling it out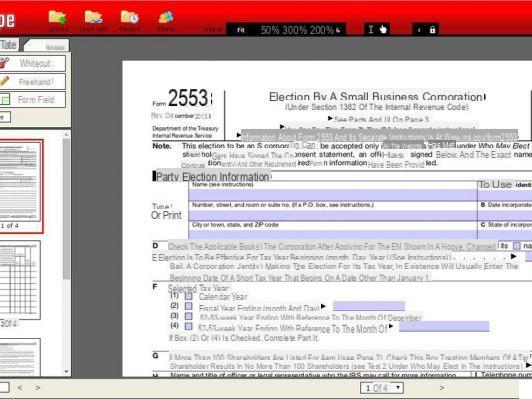 Step 3: Depending on the document loaded, it may have text fields already highlighted, and in that case you will simply have to click inside those fields you want to fill in. Alternatively, click the button Text, and then click anywhere on the page to place the cursor. Then start typing the desired text.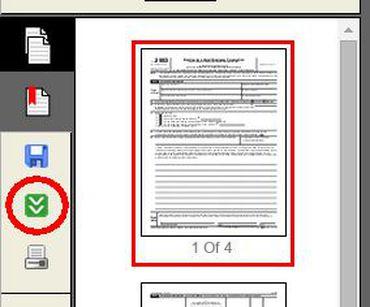 Step 4: When you're done editing, click the green button Save in the toolbar on the left side of the screen.
That's all! The whole process will take no more than a few minutes. Of course, if you've found a better way to complete PDF forms without software, report it in the comments below!
3) Fill out a PDF Form on iPhone and iPad
Millions of people print PDF contracts, invoices, tax forms, orders and registration forms to complete and return by fax or as scanned copies. If you own an iPhone or iPad you need to know that you can easily fill out any PDF form for free using an app called PDF Expert. No paper, no ink - only a single app can do it all.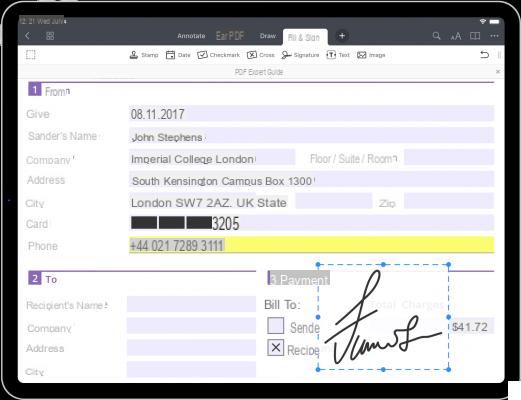 How to fill out a PDF form on your iPhone or iPad:
Download PDF Expert from the App Store from this page
Open the PDF form you want to fill out.
Tap a text field or checkbox to start filling out.
Use tools Text, Checkmark e Cross to fill out a non-interactive PDF form.
That's all. Let's now take a more detailed look at the tools you'll find in this app for filling out any PDF form.
Textual fields tap the active area of ​​the field to type text.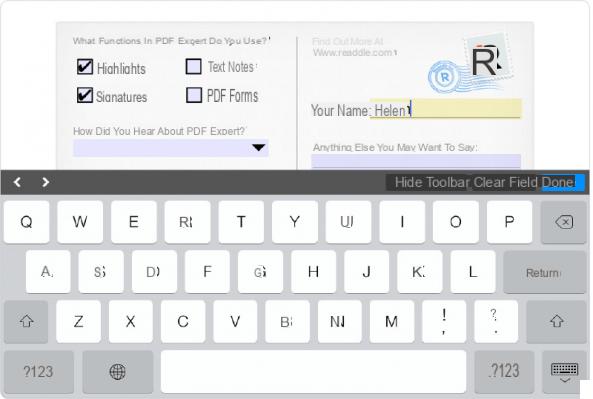 checkbox tap the appropriate box to make a selection.

Drop down menu Click on the relevant box to make your choice
Numeric fields and calculation type the numbers in the form fields and the calculations are done automatically.
Date field tap the field with the appropriate format and select the date from the keyboard below.
Field Time tap the field with the appropriate format and select the time from the keyboard below.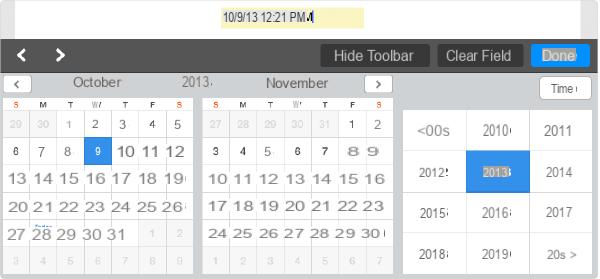 Company tap it and select a signature to use. The signature is your personal signature which is saved in PDF Expert and can be reused later. The customer signature is a one-time signature created by a person who signs the document.
4) Other methods (manuals) to compile a PDF
There are three manual ways to fill in the fields of a PDF form:
Google Chrome
Adobe Reader
Adobe Acrobat
Filling out PDF form with Google Chrome
apri il file PDF in Google Chrome
Edit the PDF form fields
Click on File-> Print to open the print dialog (Ctrl + P for a shortcut)
Select the target printer as "Save as PDF"
Provide the path to the destination folder in which to save the file
Filling out PDF form with Adobe Reader
apri the PDF file in Adobe Reader
Fill in the fields of the PDF form
File-> Print to open the print dialog (Ctrl + P for a shortcut)
Select the target printer as "Microsoft Print to PDF"
Select the destination folder path to save the file
Limits on the use of Adobe Reader and Google Chrome
Once the PDF form is saved, you cannot edit it.
You can't save the PDF form directly, you need the help of the print command
It does not allow you to refill the PDF form
You can only save blank copies of the form using the "save" option
Filling out PDF forms with Acrobat Pro DC (paid)
Open the PDF file in Adobe Acrobat
All fillable fields of the form will be highlighted.
Fill in the fields of the PDF form
File-> Share-> SendAsAttachment to e-mail the edited file
How to Fill in a PDF Form (with and without software) -