A while ago WhatsApp introduced STICKERS that is the STICKERS which are used by users to communicate with other people on that app. In general, stickers are known to be images designed in vector format to represent a wide range of emotions. WhatsApp stickers / stickers work like emoji and can be found in the stickers tab of WhatsApp. In addition to using existing WhatsApp stickers, users can create custom stickers which can then be used whenever you want. Or they can also create whatsapp stickers with their own face. In this article we will see how to use WhatsApp stickers and how export or save the Stickers from Whatsapp (from both Android and iPhone) so you can later use those same stickers on other devices.
Before seeing how to do this Whatsapp Stickers Backup, here are some things you need to know.
# 1. Where are the Whatsapp Stickers stored?
If you want to find the WhatsApp stickers on your mobile you need to access the folder /storage/emulated/0/WhatsApp/media/WhatsApp Stickers/. From this folder, you can backup all your WhatsApp stickers to export them later or even use them for your other needs.
#2. How to Export WhatsApp Stickers (from iPhone or Android)
If you are enjoying using your favorite WhatsApp stickers, you need to know that various things can happen to your device and in these bad luck scenarios you may lose all the stickers. But even if you want to reset your mobile you may lose your stickers. Or if your device has full memory you might consider backing up WhatsApp stickers and other media files so you can export them to other devices and free up memory on your smartphone.
Method 1. Export Whatsapp Stickers to computer with dr.Fone
One of the best ways to backup your WhatsApp stickers (from iPhone or Android device) is to export everything from your device to a computer. Among the various programs to make Whatsapp backups we recommend that you use dr.Fone Whatsapp Transfer, which is capable of backing up the stickers. In addition to helping you export WhatsApp stickers to Windows PC and Mac, this tool is also useful for backing up data on iPhone or Android devices, backing up WhatsApp chats and restoring social apps to your mobile.
Click on the function "BACKUP OF WHATSAPP MESSAGES"And then connect your mobile phone (Samsung, Huawei, LG, Xiaomi, HTC, iPhone, etc ..) to the computer via USB port.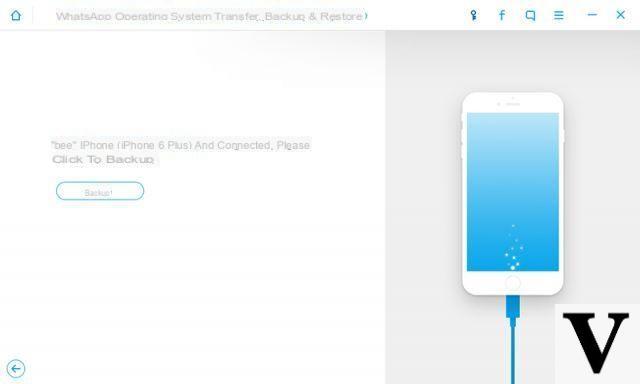 Once the device is detected click on BACKUP and the software will start scanning the data in Whatsapp. During the scan you will see all the Whatsapp data (messages, photos, videos and even stickers) appear on the screen.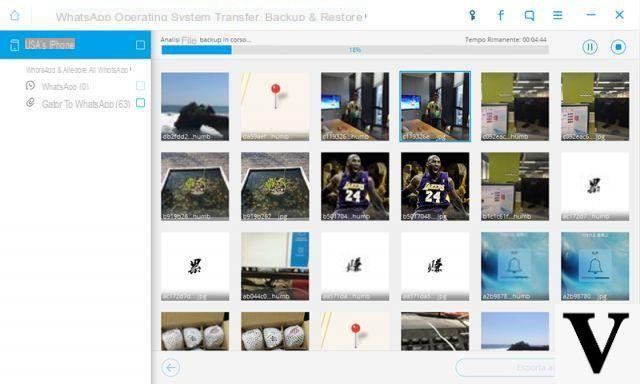 When the scan is complete, in order to export and save Stickers from Whatsapp, you will have to click on the left on "Whatsapp attachments"And here you can find the stickers.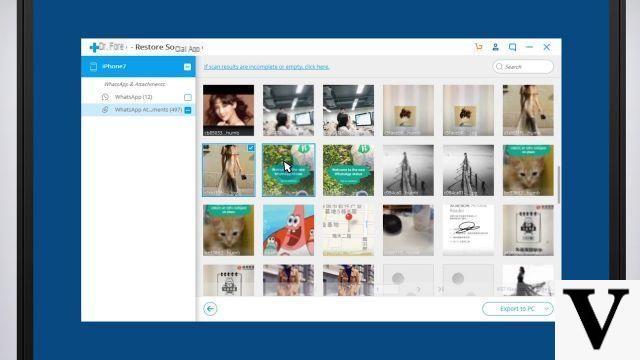 Select the desired stickers and finally click on at the bottom EXPORT TO PC.
Done!
Method 2. Export WhatsApp stickers with WhatsApp chat export function
Another solution for export WhatsApp stickers is the use of the WhatsApp chat export function. There is no need to download any third party tools as everything can be done easily on your phone. However, this option has some drawbacks.
The first drawback is that you have to export each multimedia file one by one. Hence, it will take a long time before the process can be completed. Also, it is not possible to export more than 10.000 media files. So, if you intend to export stickers and other file types, you may need to choose only the most important ones.
Anyway here are the steps to follow for export stickers from WhatsApp via the WhatsApp chat export function.
a) Send all WhatsApp stickers to one of your chats.
b) Open the chat you sent the stickers to
c) On your phone, click the name of the chat contact you opened, then scroll down. When you see "Export chats", Tap it to start the process.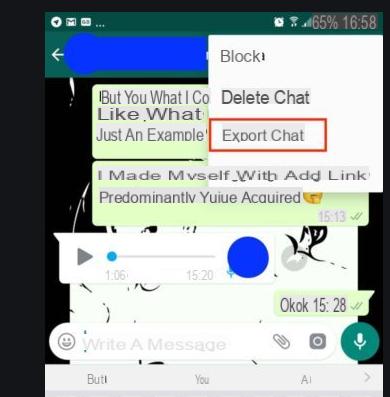 The stickers will be exported automatically. Once the process is complete, select the app you want to export the data to. It is advisable to choose email as you can easily recover WhatsApp stickers whenever you need them. Google Drive is another option. Everything will be exported as a zip file. You can also add a .txt file and folder.
How to create custom stickers / stickers
In addition to using the predefined WhatsApp stickers, you can also create your own "custom stickers". Like? Well, there are several apps designed for this particular purpose. You can go to the Google Play Store or the Apple App Store to find the best apps that can create custom stickers.
Among the various solutions is the app Sticker.ly to create your own stickers.
A) First, download the app on your phone. Next, launch it.
B) At the bottom center of the screen and click on the button "+". Write the "package name and creator name". At the top right of the display, click "Crea".
C) Click "Add Sticker" and select the image you want to turn into a sticker from your library.
D) Click on "Auto Option" and then use the adjustment and text functions to modify the image according to your taste. When you're done, click "Save".
E) Once the sticker is created, click on "Add to WhatsApp". This will take a few seconds. Click on "Save"To complete the process.
F) Now you have created custom stickers and added them to WhatsApp you can use them in your messages.
How to Export and Save Stickers from Whatsapp -