WhatsApp has the leadership among social media apps for its (free) messaging, group chat, document sharing, group video call, audio call, broadcast and "status" functionality that has gained immense popularity. Thanks to STATUS of Whatsapp you can communicate messages (through photos or videos) to all your contacts.
Or you can do other things such as if it's your friend's birthday you could wish him a favorite photo in your WhatsApp status to make him feel special. Or if you have essential news to reveal to everyone, just post them in your WhatsApp status… simple right?
This article was written not to describe how Whatsapp status works, but to understand if there is a way to save / download WhatsApp status photos and videos of your friends or loved ones (on your computer or on your phone). There is certainly a way, even more than one way. You just need the right tools and we'll point them out below!
Part 1: How to Download WhatsApp Status Photos / Videos to PC?
Part 2: How to Download WhatsApp Status on iPhone?
Part 3: How to Download WhatsApp Status on Android?
Part 1: How to Download WhatsApp Status Photos / Videos to PC?
Are you confused or don't know exactly how to download WhatsApp status videos on PC for example? With Web WhatsApp it is possible and, for your better understanding, here is a step by step guide.
Step 1: Through your web browser, for example Google Chrome, access the website https://web.whatsapp.com/ (for more info read also how to use WhatsApp Web)
Step 2: On your smartphone, open the WhatsApp app and from the settings, click on the option "Web WhatsApp". Scan the QR code that appears on your computer screen and your WhatsApp account will open on the sachermo.
Step 3: Now, click on the "State"Next to the new chat option that you can find at the top left of the screen.

Step 4: From the window that appears, choose a contact (from the left) to view the status (photo or video) you want to download.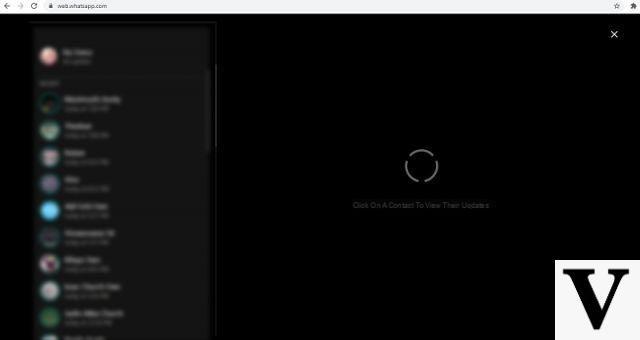 Right-click on the photo or video and click "Save image as" or "Save video as" respectively.
Step 5: Finally choose the folder or location on your PC where you want to save the photo or video. Finally, click on the button "Save".
That's all! You can download the WhatsApp status photo or video directly to your PC or Mac.
Part 2: How to Download WhatsApp Status on iPhone?
Unlike WhatsApp Web for PC or laptop, there is no "standalone" application for downloading WhatsApp status on iPhone (or iPad). However, the screen recording it could help you capture video with audio. In the case of photos you could instead fare screenshot su iPhone and then save the photo to your device. Let's see how video recording works, which is certainly more complex than the image capture operation.
Step 1: All you have to do is go to "Settings" and then enable "Screen recording".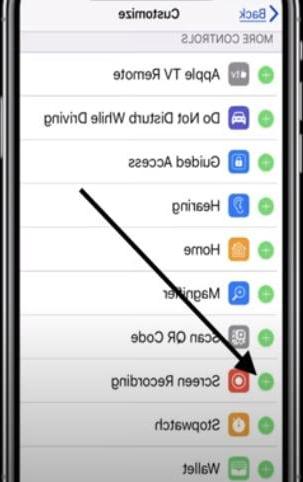 Step 2: Now, to save the video, click on the option "Start recording"And view the status video on WhatsApp. Registration will begin. You can save when the video ends and find it in the app "Gallery".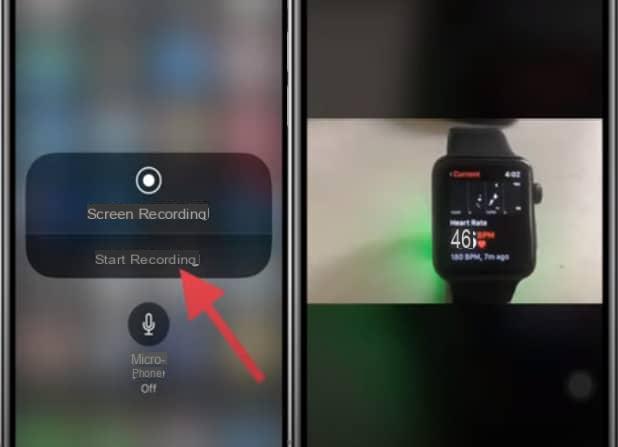 Although the above method is a simple and free manual method, you can also use a third party application such as WhatsApp ++. What needs to be done is described in the following steps:
1. Uninstall the WhatsApp application; register your iOS device on BuildStore by registering on the platform
2.Now, open Safari and start installing the application "WhatsApp ++".
3.With your phone number activate the application
4.Open WhatsApp ++, go to the status page, tap download and select the location to save the video from the top right corner.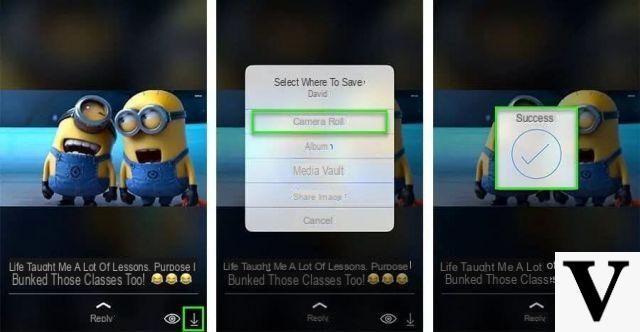 WhatsApp ++ is the best option for WhatsApp status video download and works well for iPhone / iPad. But remember that it is not an official app so we recommend that you only use it to download WhatsApp statuses. Then return to the official Whatsapp app to communicate with your friends and relatives.
Part 3: How to Download WhatsApp Status on Android?
Downloading WhatsApp status videos or photos to PC via iPhone is easy, but what about those who own an Android device? Without a doubt, it will be your next question where you already have the solution because it is described below. You can take advantage of the file manager which is a free and easy to use option for downloading the WhatsApp status and, if you are not aware of it, follow the manual below.
Note: Make sure you have already installed Google File Manager on your smartphone. If not, download it from the Google Play Store.
Step 1: Open the WhatsApp application and view the status that needs to be downloaded.
Step 2: Now, click on the "File Manager" app, then the three-pointed icon at the top right, followed by the option Settings.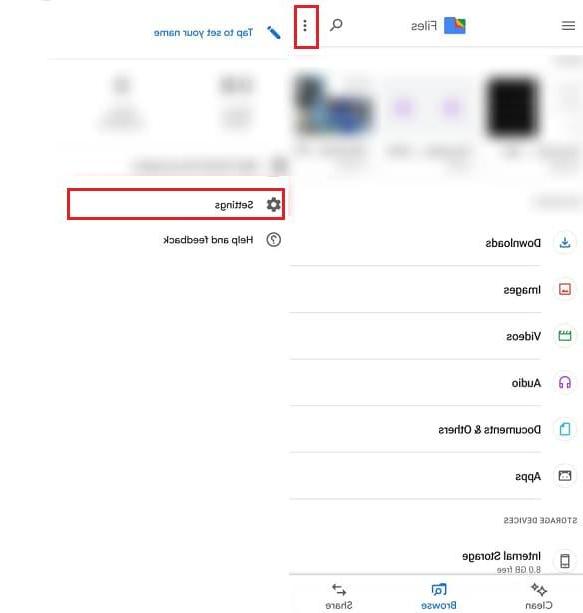 Step 3: Scroll to the "Show Hidden Files" option on the far right and go back and go to internal storage> WhatsApp> media> status.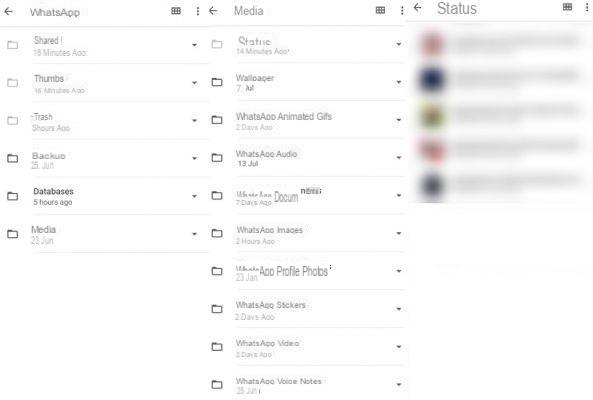 Now you will be able to access the entire WhatsApp status that you have viewed on WhatsApp, and you can of course download the WhatsApp status photo or video to your mobile phone.
How to Download Whatsapp Status Photos or Videos -