As can be seen from the following image, the devices Android which are the most popular in your city (in terms of "pieces" sold and present on the market) are Samsung (with 34% market share), Huawei (col 24%), Xiaomi e LG (with about 2,5-3%). All other brands such as Asus, Wiko, Motorola and Nokia are around 1% market share.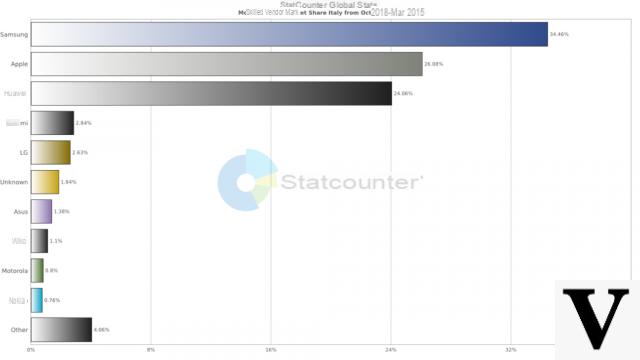 One of the main uses of these smartphones is certainly to take photos and record videos. And speaking of this type of content, in this article we want to understand how to do a download photos from Samsung, Huawei, LG and Xiaomi to PC and Mac, in order to have the digital photos on our computer and from there manage them better or proceed with their printing.
Having the photos only and exclusively on your mobile phone is definitely not recommended because, unfortunately, it can happen to lose the device or it suddenly breaks down. Having a backup on your computer (or any other storage device) is always recommended. Having said that, let's see what is the best solution to transfer e save photos from android to comptuer, without compressing the photos and therefore without compromising the quality.
We want to report two programs, one for Windows PC and one for MacOS users:
Download photos from Samsung / Huawei / LG / Xiaomi to PC with MobileGO
Download photos from Samsung / Huawei / LG / Xiaomi to MAC with TunesGO
Download photos to PC with MobileGO
MobileGO is a famous program among users of an Android device such as Samsung, LG, Huawei, Wiko, Xiaomi, etc. .. because it allows you to manage cell phone data directly from the computer. Obviously it also allows you to manage photos and transfer them from your mobile to your computer in a really trivial way. Let's see how it works!
First download the free version of MobileGO for Windows PC from the following button:

Install the program on your PC and at the end you will see a screen like this: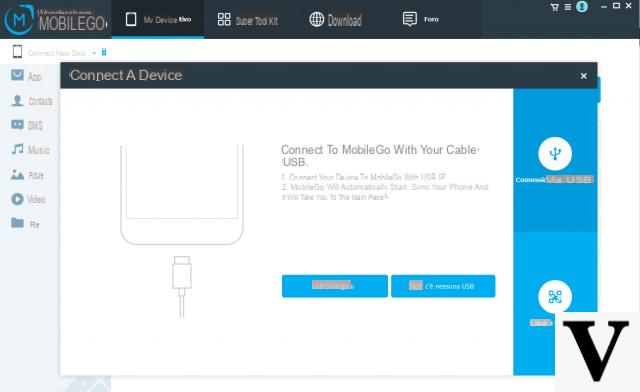 You can now connect your mobile phone to your computer via USB cable or use Wi-FI mode (without cable). In order for your Samsung / Huawei / LG / Xiaomi to be recognized by both the computer and the program, it is essential to activate the option on it Debug USB. This option can be activated as follows:
Go to Settings> Device Info (or PHONE INFO)> Software Info
Click 7 times on Build version (o SERIAL NUMBER) until developer mode is activated
Return to the Settings go up Developer Options and from here activate the USB DEBUG option
Below is the software screen immediately after the device is detected: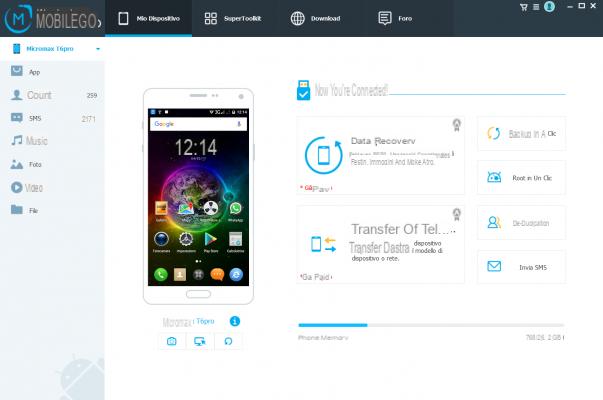 On the right of the program you will see several folders including PHOTOS which will allow you to access the screen with all the photos saved in the phone. From this screen you can easily select the photos and then export them to your PC by clicking on the top EXPORT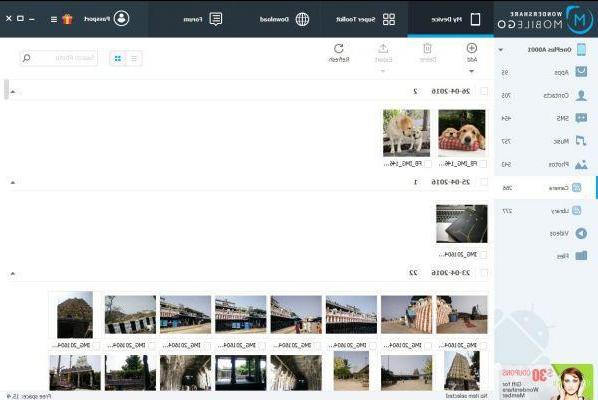 In the same way, you can access the other categories to manage videos, applications, contacts, messages, music files and other types of files.
Download photos to MAC with TunesGO
TunesGO (mac) is one of the best apps for those who want to manage data from their Samsung or Huawei or LG mobile phone via macOS. To transfer photos from Android to Mac here are the simple steps to follow:
Download the app on your Mac by clicking below:

After downloading, install and immediately connect your Android device to Mac via USB cable. TunesGO will ask you to activate USB Debugging on your mobile and will also give you instructions to do so. Once this is done, the device will be detected and you will see this screen (in our case we have connected a Xiaomi):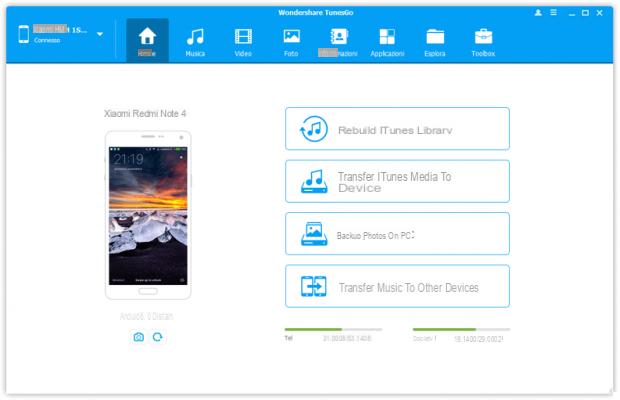 From the main TunesGO screen, click on the PHOTO menu at the top to access the screen with the preview of all the photos and images in the mobile phone.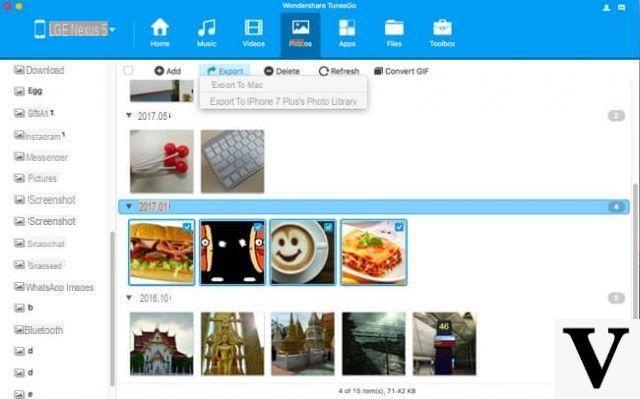 Finally, select the photos you want to transfer and copy to your macOS and click at the top on EXPORT -> EXPORT TO MAC.
NB: On the left you will also see all the folders and photo albums, for example the folder with the photos of Whatsapp, so that you can more easily and quickly find the photos you want to download to your computer.
How to Download Photos from Samsung, Huawei, LG and Xiaomi to PC and Mac -