Snapchat is a popular instant messaging service (as is also Whatsapp, WeChat, Viber, etc.) with the feature that text messages, photos and videos remain viewable only for 24 hours. This viewing "time limit" therefore makes it impossible to save Snapchat data on the phone (with Whatsapp, on the other hand, all the photos and videos received are automatically saved in the device's Gallery).
To save the photos that YOU RECEIVE from others on SnapChat, the easiest way to save them is to make one screenshot. In this regard, read how to take screenshots on Android or if you have an iOS device, just click the Home button and the Power button at the same time to take a picture of the screen and save the Snapchat photo. Or you can use third-party apps that can save photos / videos / stories received via SnapChat on iPhone and Android such as the app described in this interesting article.
To save photos and videos (or stories) that YOU SEND to your friends or relatives you can take advantage of the "MEMORIES" function present in the SnapChat app since 2016e which allows you to save Snapchat photos and videos on the phone in the form of Snap.
Whether you are using an iPhone or an Android device, the procedure for activating this function is the same. First open the app Snapchat and as soon as the camera starts, swipe your finger from bottom to top and choose the option Start using Memories. From this moment you can save Snapchat photos and the movies in Memories.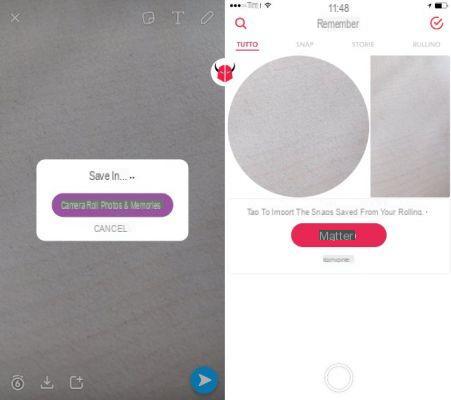 After taking a photo or after recording a video, all you have to do is click the button Save Photos & Memories to Camera Roll (lower left). To access the MEMORIES section, click on the button in the shape of a circle and here you will see all the saved SNAPs. For save Snapchat photos also in the Camera Roll / Photo Gallery of your iPhone or Android device, you will need to go to the path Ghost> Settings> Memories> Save Options from here select Save in and then Memories & Camera Roll.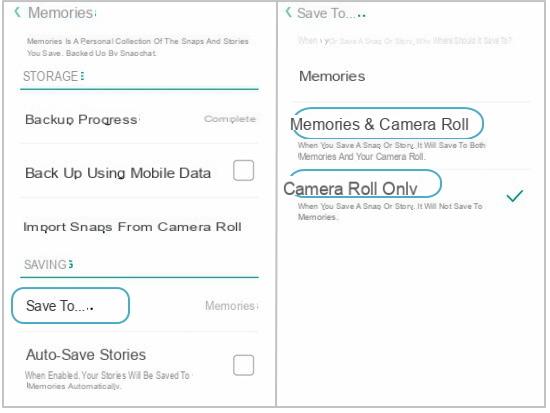 If I delete photos from the snapchat roll, do I also delete the photos I have in the gallery and on my mobile phone and also those downloaded on the sd card of my mobile phone at this point if I delete the application do I lose my photos in the gallery?
I can't log into my snap account
I will save SnapChat Photo and Video your iPhone and Android -