The data on your iPhone, iPad or iPod is precious. iOS 10 allows you to save them like the previous versions of the OS. There are several modi operandi for this.
The classic method
The historical backup consists in connecting the iPhone to a computer equipped with iTunes then to launch a synchronization by clicking on the button "Synchronize". Not only will your latest songs purchased from iTunes be copied to iPhone, the data from the phone will also be copied to the computer for later restore to the same iPhone or another iPhone.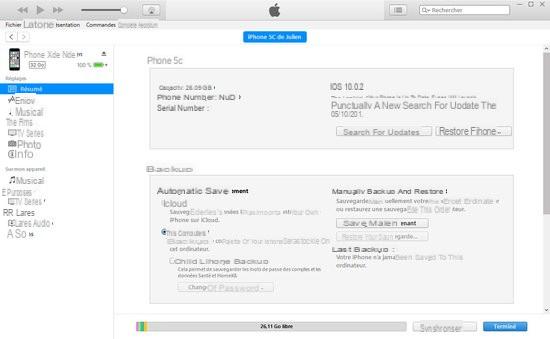 If in doubt, a click on your iPhone from iTunes then on "Backup now" allows you to start a manual backup. iTunes allows you to manage backups and devices: to do this, go to the Edit / Preferences menu under "Devices".

The synchronization of your data concerns all types of media on your computer. The backup is working well for your messages in particular. Note that for some time, synchronization can be done wirelessly: just click "Synchronize with this iPhone over Wi-Fi" in iTunes.


Video manipulation
ICloud backup
Your phone can be saved in the Cloud, on the iCloud home service. To do this :
Go to Settings, iCloud then select "Backup" and activate "iCloud Backup".
Pressing "Back up now" will start the backup.
ICloud backup involves several things. First, you will be limited by the size of your iCloud space: 5 GB free, beyond that you will have to pay. Your iPhone must be connected to a Wi-Fi network. Finally, the iPhone must be connected to the mains to be backed up to iCloud.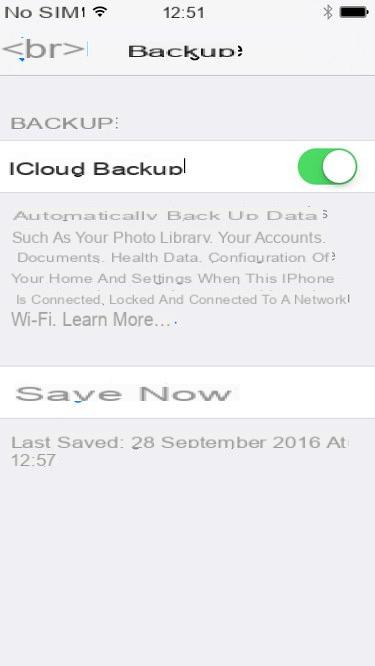 Find the rest of our tips for iPhone:

IPhone Update: Install iOS 10
iPhone: simply save your contacts
iPhone: save photos easily
iPhone: restart a blocked application
Reselling your iPhone: how to prepare it
Find a lost iPhone in a few clicks
iPhone: create a medical card for emergencies
iOS: uninstall Apple apps
Set up a VPN on an iPhone
iPhone: change store for applications
iPhone: turn off physical activity tracking
iPhone: configure the flash to signal calls and notifications
Restore iPhone easily