Do you have a construction or interior design project? Use a specialized 3D tool to view it on a computer. Free online software and services will help make your most ambitious ideas a reality.
To hell with the graph paper, the protractor and the pencil! If there is one thing that the development of digital technology has greatly facilitated, it is the conceptualization of 2D and 3D plans, both for the building and the interior fittings. Today dominated by a few large expensive licenses, the architecture and modeling software sector can however count on a few free, reliable, complete solutions within the reach of less experienced creative minds.
Although all the tools presented in this selection are freely accessible, some platforms such as HomeByMe and RoomSketcher offer paid plans including more functions. Nevertheless, the free and / or demonstration versions cited here are more than enough to meet the needs of planning and conceptualization without professional pretension.
HomeByMe: the turnkey solution for one-off projects
We have to HomeByMe at Dassault Systèmes, a publisher specializing in the development of design tools and 3D digital models. It is not strictly speaking a software, but a web platform. Great advantage: the ability to synchronize your projects online and find them on any device, landline or mobile, provided you are connected to the Internet and have created a user account.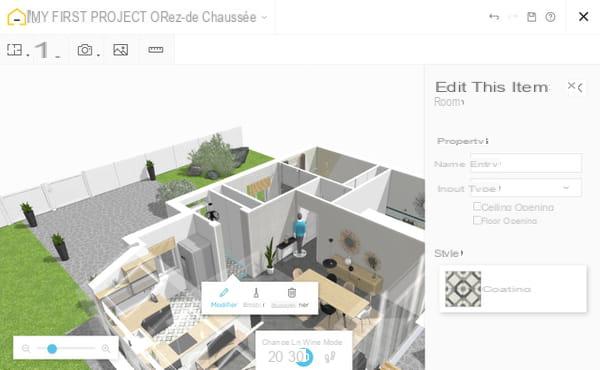 HomeByMe is not intended to meet the requirements of (semi) professional architects, but to deploy a 2D and 3D design solution that is sufficiently accessible to satisfy a public uncomfortable with computers. The interface is organized around a grid space to scale, a clearly identifiable menu bar and a module facilitating the switch between 2D / 3D renderings. In the event of difficulties related to the handling of the tool, the resources and instructions for use offered by the editor are superimposed on the workspace, allowing everyone to consult the help center without leaving the project. In progress.
Despite its apparent simplicity, HomeByMe does not skimp on the precision and efficiency of the functions offered. The library of preconfigured rooms with customizable surface areas speeds up the creation of plans made up of standard-shaped spaces. With a slide of the mouse, we erect a wall which we modify in two clicks the orientation, thickness, height and length. Comprehensive color charts promise a wide choice of paints and coatings for walls and floors. The joinery, technical equipment and furniture available, generic or branded, offer a final touch to the interior design. Once the project is finished, the 3D view, the virtual tour and the realistic images in high definition help to project oneself definitively.
HomeByMe has a free trial version that allows you to create three projects and three realistic images. A largely sufficient offer for those who simply wish to rearrange their home. Beyond that, you will have to opt for one of the paid formulas offered by the service.
Use HomeByMe online

Sweet Home 3D: the open source competitor worthy of large licenses
Free enthusiasts find their happiness with Sweet Home 3D. This actively developed, multiplatform and relatively lightweight software offers both an installation version and a portable version. Translation: It is possible to store it on an external device and use it on any operating system. A major asset that allows everyone to create their projects on Windows and edit them on Linux or macOS in the event of a change of computer.
Unlike HomeByMe, Sweet Home 3D is equipped with a more difficult interface to understand. However, beginner profiles can rest assured: this apparent complexity quickly gives way to surprising ease of use. It is nevertheless advisable to be curious, autonomous and resourceful to explore the various functions offered by the program. As a help in getting started, the software includes examples of editable plans that can be modified at will and thanks to which we identify the construction and layout options available (File> New with demo…).
In detail, Home Sweet 3D revolves around four main modules: a 2D millimeter plan accommodating the layouts of the shell (walls, dimensions, rooms), the placement of the frames and the arrangement of the decoration, a 3D view rotating 360 ° allowing correct evaluation of the final rendering, a furniture library supporting drag and drop of elements on the 2D plan, and an inventory recording all the furniture added to the home, along with their dimensions (width , depth, height).
In practice, all the operations managed by the software respond to intuitive mechanisms for those who work regularly on a computer. A right click in the area of ​​2D and 3D plans offers a considerable choice of types of plots, selections, manipulations, renderings of the project, while a double click on one of the elements listed in the inventory of the placed furniture returns to a window for customizing the selected piece of furniture (position, dimensions, colors, materials, orientation, etc.). Finally, the many keyboard shortcuts speed up the management of the most ambitious projects.
If it is perfect in terms of editing, Home Sweet 3D nevertheless encounters some snags concerning the final screening phase. Navigating in virtual tour mode is laborious, while the creation of photos offers a random, unrealistic and hardly usable rendering of the selected parts.
Download Sweet Home 3D for Windows

SketchUp: tailor-made for the most ambitious projects
Launched by @Last Software in 2000, sold to Google in 2006 and acquired by Trimble in 2012, SketchUp is today one of the essentials in the world of 2D and 3D architecture. Often presented as a tool dedicated to interior design and design professionals, the platform also offers a simplified version of its technology, accessible to individuals looking for flexibility and tailor-made.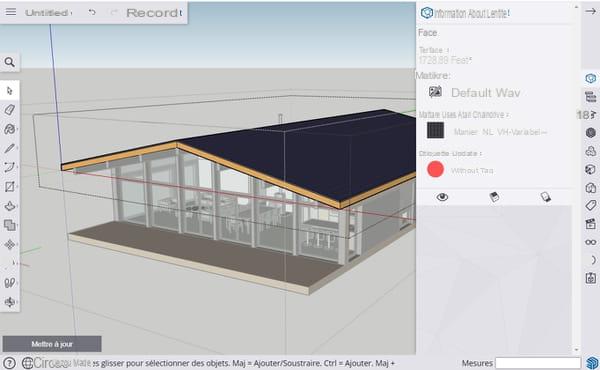 Unlike the other services featured here, the SketchUp environment can intimidate beginners. And for good reason, its clean interface, halfway between modeling software and drawing software, requires some adaptation time necessary for its understanding. Here, no partition models: widths, heights and thicknesses must be drawn by hand using the three red, green and blue axes which serve as benchmarks in space. So do not hesitate to click on all the available options, or even to start the welcome visit offered during the first use. In case of persistent difficulties, the help button offers valuable access to a very rich documentation (official and forums).
Once the principle is understood, SketchUp does not belittle its reputation. Extremely flexible, the platform accommodates the most ambitious projects. In addition to floor surfaces, walls, roofs and any other element of the shell, the tool offers the possibility of drawing frames and furniture yourself. A layer system (Outliner) allows you to separate elements such as floors, rooms or the roof, making it easier to select and edit specific groups. Finally, budding architects with limited design capabilities can count on the 3D Warehouse, an exhaustive library of free 3D models including examples of constructions and objects developed by the SketchUp community, but also furniture, decoration and decoration. household appliances modeled from items marketed by major brands.
In free version, SketchUp is only available as a web service and for 3D plans. Its good management of the browser cache allows it to automatically save current projects. To find your creations on any other device, you must create a user account and manually save your models within the limit of 10 GB of storage offered in the cloud.
Use SketchUp online

pCon.planner: the perfect balance between simplicity and completeness
Easier to learn than Sketchup, but just as complete, pCon.planner stands out with its familiar and very functional interface. In detail, a menu banner reminiscent of the organization of the software in the Office suite surmounts an intelligently arranged workspace. There is not a single drawing area, but four, all offering a different point of view. A bias allowing a better representation of perspectives and greatly simplifying the management of plots in 2D as in 3D.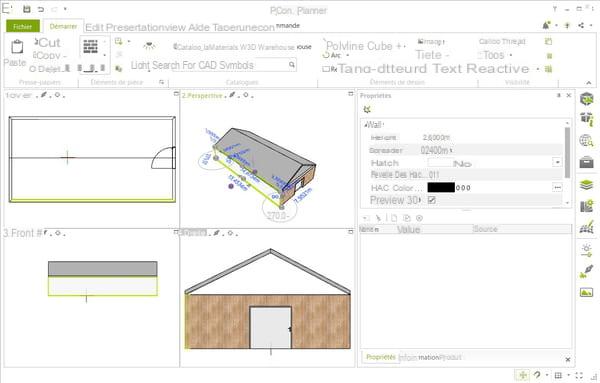 This effort of clarity desired by pCon.planner also shines through the very many tools and models it incorporates. Here, there is no question of drawing the volumes oneself nor of assigning them a function a posteriori. The element options allow you to sketch predefined components (walls, roofs, floors, ceilings, frames, stairs, etc.). A click on these elements unfolds the list of its properties in a dedicated block from which we adjust its dimensions. It is also possible to select a specific layer in order to group components by types, rooms, floors, as well as to embed a link to any site for purchasing materials and furniture.
Like SketchUp, pCon.planner is based on a community of committed graphic designers and designers whose free-to-use creations are recorded on 3D Warehouse. In addition to these original collections, the software includes boards of various materials as well as a catalog of objects sold by hundreds of brands and manufacturers. The opportunity to enhance your plans with existing products that you can then acquire in a few clicks.
Finally, we appreciate at pCon.planner the recurring backup suggestions, the possibility of creating vector images from your plans, the integrated sharing options and the augmented reality rendering module thanks to which you export your files to an AR compatible smartphone in order to to visualize his projects in a real environment. All for free, with no hidden in-app purchases.
Download pCon.planner for Windows

RoomSketcher: simplicity taken to the extreme
Of all the software and services presented here, RoomSketcher is certainly positioned as the most intuitive design and layout solution. Its interface is logically structured around a workspace, a quick access bar to important functions, a complete menu of options and a block of tools grouped by types (structural works, doorframes , materials, furniture).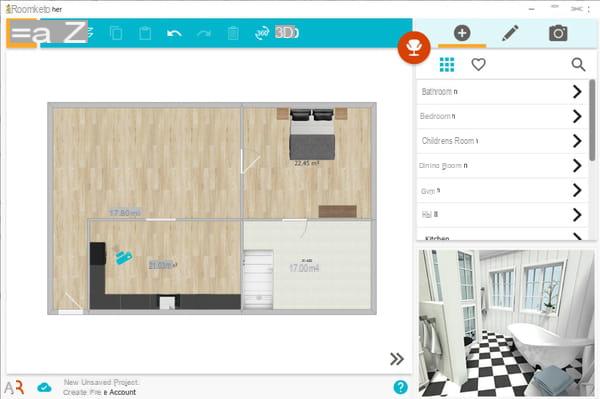 If it's so easy to learn, it's because RoomSketcher focuses on the essentials, from the creation of new projects to the final furnishings. It is thus possible to start a completely personalized plan or to select preformed speakers. In this way, it is quite possible to add new blank floors or entirely modeled on the ground floor model. Automatic magnetism helps both to create right angles between two walls and to position windows, doors and furniture correctly. Adjusting the measurements is done with a drag of the mouse, while the dimensions, to the nearest millimeter, are displayed on either side of the drawn partitions and fitted frames. In short, everything is done to simplify each action as much as possible and to allow plans to be drawn in just a few minutes.
Like its competitors, RoomSketcher has a well-stocked library of materials and objects. A click on any surface opens the advanced properties panel from which you can choose a coating from among the hundreds of paints, wallpapers, paneling, concrete, parquet or even tiles available. The same goes for the furniture and decoration elements, the orientation and proportions of which are modified directly on the plan or from the customization options pane.
Finally, it should be noted that it is necessary to create a user account to save your plans locally. Also, RoomSketcher is only available in English. However, the clarity of the software should allow everyone to get by without too much difficulty.
Download RoomSketcher for Windows
Home planning software: the best free tools