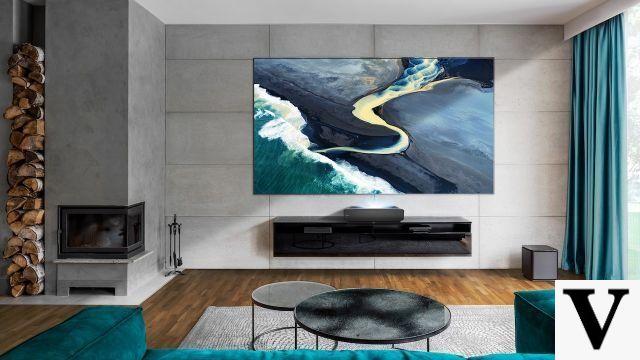 Advertising Hisense Laser TV range 2021: the small screen has never been so big Sponsored file Published on 08/05/21 at 09:00 a.m.
With its Laser TV technology, Hisense merges the XXL image of an ultra short throw 4K video projector and the convenience of a connected TV. An innovation that can be found on three 2021 references: the Laser TV 100L5F and 120L5F as well as the Laser TV 88L5VG equipped with an audio system that transforms the screen into a surround speaker. Models which benefit until June 22 from a reimbursement offer of up to 1 euros.
A few months ago, you discovered Hisense Laser TV technology, which combines the comfort of a giant screen and the ease of use of a television. Large format cinema at home without the installation constraints and limitations of a video projector. This year, Hisense is offering three Laser TV models in Spain from 120 to 88 inches (305 to 224 cm diagonals), the latter having the particularity of generating surround sound via the surface of its screen for a completely enveloping audiovisual experience.
You may not yet know Hisense, which has only been present in France for six years. This Chinese brand, which has just celebrated its 50th anniversary, is the world's fourth largest manufacturer of televisions. Positioned at the top of the range, Hisense has made innovation its leitmotif and currently holds 1 patents which protect its know-how. In China, the brand has been the TV market leader for 159 years.
What is a Laser TV
A Laser TV is made up of two elements: the ultra-short throw laser projector which comes in the form of a design box with rather discreet dimensions. This is positioned on a low cabinet at the foot of an anti-reflective projection screen on which the image is broadcast. This screen is designed to cancel stray external light and reflect only that of the laser, so that you can use your Laser TV day and night. On the Laser TV 100L5F and 120L5F, 28,7 cm of distance between the housing and the screen is sufficient to project an image of 254 and 305 cm. On the Laser TV 88L5VG, it only takes 22,2 cm to animate the 88 inches (224 cm). Since the passive screen does not require power, there is no wiring to manage. The installation is super simple and fits easily into any interior.

The Laser TV projection screen cancels out stray outside light for optimal use day and night.

To produce a 4K HDR image, the Hisense blue laser employs wobulation. It is an optical illusion process that relies on a Full HD display matrix moving at high speed so as to artificially increase the number of pixels and thus create a 4K image. The laser has a lifespan of 25 hours, which is equivalent to viewing 000 12-hour films.
3 Hisense Laser TV references available in Spain
Hisense offers three flagships of its Laser TV technology in Spain: the 120L5F, the 100L5F and the 88L5VG. The first two use a 2 lumen laser associated with a passive screen of 700 and 120 inches (100 and 3 meters diagonal) while the second uses a 2,5 lumen laser on an 2 inch screen (150 meters diagonal). They are all 88K HDR compatible and have a game mode which lowers the input lag and allows a display at 2,2 images per second in 4K Ultra HD (definition of 60 dots by 4). The smartTV Vidaa U 3 interface allows you to watch television (satellite and TNT tuner) and access the most popular streaming applications (Netflix, YouTube, Prime Video, RMC Sport, Molotov, etc.).
And of course, these three Laser TVs have a complete connection: four HDMI 2.0 ports including an ARC compatible, audio input and output, an optical audio output s / pdif, a VGA input, two USB ports, two antenna sockets, one Ethernet network port. The size difference between the three models may seem small, but there is one major difference. The Laser TV 100L5F and 120L5F integrate a 30-watt Dolby Atmos soundbar directly into the housing. As for the Laser TV 88L5VG, it is the projection screen itself that produces surround sound!
Hisense Laser TV 88L5VG: image AND cinema sound
If the Laser TV 88L5VG shares most of its technical data with its big brother, it has quite a bluffing innovation for it. This is its Sonic screen, the entire surface of which is capable of emitting surround sound with a maximum power of 90 dB. The system is based on DML (Distributed Mode Loudspeaker) technology, which causes more than 100 electroacoustic exciters to vibrate, placed just behind the antireflection filter in a honeycomb structure.

The Laser TV 88L5VG emits surround sound with a maximum power of 90 dB.

Thus, the sound is distributed evenly and perfectly associated with the image for maximum immersion. In addition, the minimum frequency of 50 Hz guarantees deep and intense bass. The very fine structure of the screen guarantees ultra-fast audio conversion, delivering a high-fidelity audio value of 97%. A real plunge into the heart of image and sound.
Until June 22, Hisense offers an exceptional 1 euros refund offer on the Laser TV 000L88VG usually sold for € 4 (available from Boulanger, Cobra, Darty and Fnac) and 500 euros on the 100L5F and 120L5F models respectively displayed at the list price of 3 and 990 euros (available from Boulanger, Cobra, Darty and Fnac). The entry ticket to the ultimate home theater experience with crystal clear images day and night.
LEARN MORE