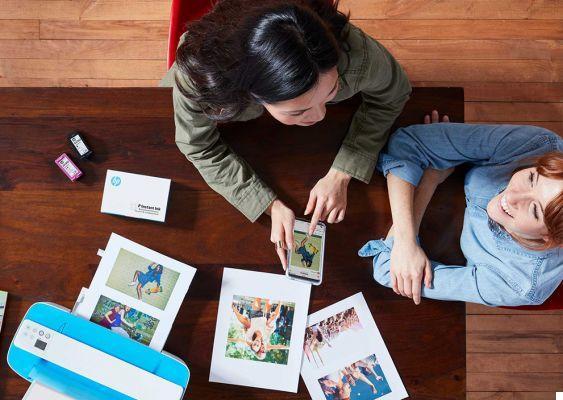 © HP
HP Instant Ink, do you know? This subscription service offered by the printing giant provides you with as many ink cartridges as you want. At least as long as the subscription is in progress.


Updated on 21/01 at 15:40 p.m.
The HP press department contacted us by e-mail to provide some clarification on the philosophy of its service. "The ink belongs to the customer as soon as he pays for his subscription (...) If the customer decides to end his subscription, HP confirms that he again becomes the owner of the ink cartridge concerned". Information which, in addition to being explained in the FAQ of the service, is also present in the terms and conditions of the subscription, further specifies HP in its email.
A customer of the service tells on Twitter his surprise when, by unsubscribing from HP Instant Ink, the cartridge inserted in his printer became unusable.
Last month I canceled a random charge for $4.99 per month from HP called "InstantInk". Wasn't sure what it was for. I've had it for over a year but had no idea what it did.

I just found out what it did pic.twitter.com/lsFLDR5grv
— Ryan Sullivan (@ryandonsullivan) 17 janvier 2020
Consumption monitored remotely
It is by being interested in the commercial arguments of the American company that one understands the maneuver. On its site, HP boasts of getting new cartridges to its customers "before they even need them." And for good reason: your printer will request it directly from HP.
In the Frequently Asked Questions, it actually says "your printer will tell us when its ink levels are low and we will automatically send you new cartridges before you need them". Needless to say, to benefit from the service, you will need a compatible HP printer - that is, permanently connected to the Internet.
Read also:
AZERTY + standard: test of the first keyboard available
So we cannot blame HP for a lack of transparency. In this same Frequently Asked Questions, the section reserved for questions about the termination of the service is clear: "If you cancel the Service, even if the Instant Ink cartridges provided with your subscription are not empty, they will stop working in your printer. and you will have to replace them all with standard cartridges ". This is precisely what happened with the hapless Ryan, whose tweet we quoted above.

Extract from the prices of the HP Instant Ink © HP subscription

Objective: promote the circular economy
As reported by BFM TV in its article, HP necessarily provides with its Instant Ink cartridges a prepaid envelope allowing the return of empty cartridges. Or, if applicable, still containing ink but no longer usable.
Besides the economic aspect, it is therefore also on the ecological fiber that the American company plays with Instant Ink. Empty cartridges are sent to recycling centers that are members of HP Planet Partners, sorted, crushed, and the resulting particles mixed with other recycled plastics to make new ink cartridges.
Read also:
Unusual | The Cooler Master thermal paste changes its packaging which made you think of "drugs"

The HP Instant Ink cartridge recycling path. © HP
According to the HP site dedicated to environmental issues, 75% of ink cartridges and 24% of HP toner cartridges are made from recycled plastic (10 to 70%, specifies a footnote. ..) from the company's own recycling circuit.
Via: BFM TV