As you have surely noticed, in recent years the use of file video to immortalize unforgettable moments. Thanks to the videos and photos it is possible to go and summarize everything that happened and make moments that we had almost forgotten to light up in our memory.
We should therefore not be surprised if more and more we will see "memorial" videos on important occasions such as the 18th birthday (or videos for the early eighteenth), anniversaries, weddings and even simple birthdays (from 1 to 100 years!).
If you are the birthday boy yourself or a relative / friend of someone who has a birthday and you want to do something unique and original, the creating a happy birthday video it can be a really good idea. To create this video you essentially need 3 things:
A collection of digital photos that are representative for the description of what you want to represent
A program "slideshow maker"Ie able to create videos from photos.
As for the second point, we can recommend two programs:
1. Filmora (software per PC/Mac)
Filmora is one of the best programs out there for creating videos from photos. Its operation is very simple and below we briefly describe the steps to follow to create happy birthday videos with photos and background music.
First download the demo version of the program on your PC or Mac from the following buttons:


After installing and starting the program you will see this window: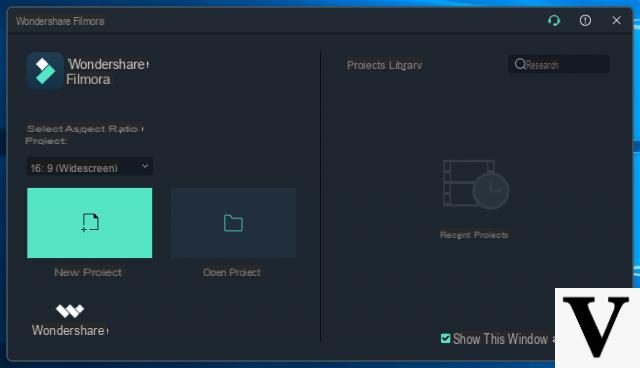 Select the resolution 16: 9 (recommended) and click on "Full Mode"To open the main window of the program and start importing the photos from which you want to create the happy birthday video!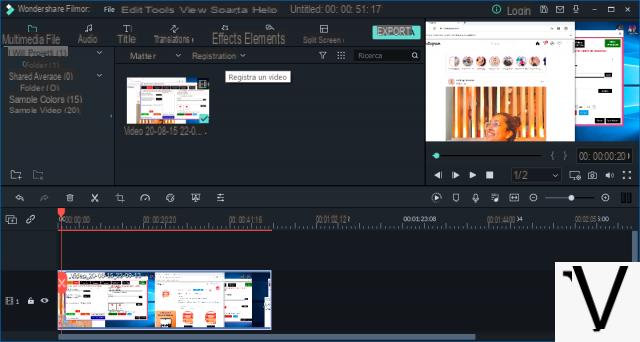 By dragging the photos at the bottom, in the "video" track, these photos will be automatically merged together and the video will be practically "already done". What you will need to do to optimize the result is:
a) add some transition effects between one photo and the next (click on "Transitions" and choose the ones you prefer)
b) add written on the photos and then also on the video (click on "Text" and choose the font and color of the writing)
c) add background songs that you can place in different points of the video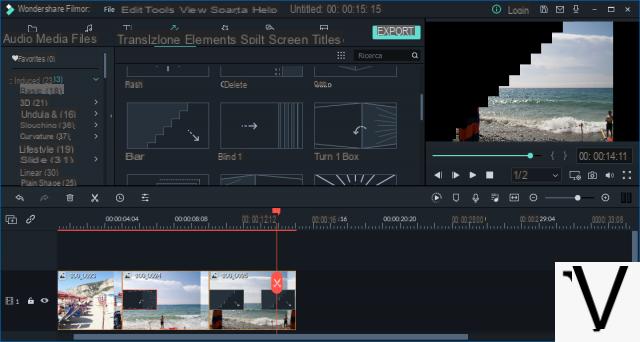 Thanks to the preview window on the right you will be able to see the video as it is created. In addition to the things described above you can also add special effects, objects, apply filters, etc….
If you want to further customize the video and create something really PROFESSIONAL, we also recommend that you download the FREE FILMORE effects package that you find on this page: FILM EFFECTS
The package you will download will also contain a file called Birthday-pack.exe, which, once installed, allows you to have new objects and special effects related to the birthday theme within Filmora. In the following video you can better understand what effects you will be able to enjoy once this package is installed:
When everything is OK you simply have to click on "Video export"And choose whether to save the video on your computer (and in what format) or upload it to Facebook or Youtube.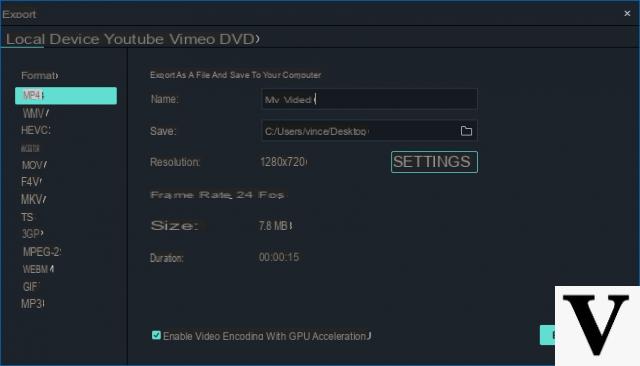 The final result will be so professional that no one will believe that this is a video made by you !! What are you waiting for? Download now Filmora Video Editor and create the happy birthday video for you or your loved ones!
2. Slideshow Maker by FreeVideoTool.net
It is an online and free service that allows you to transform your photos into videos in a few minutes and with many special effects. You will not have to register or even download programs on your computer. Just log into FreeVideoTool.net and follow these simple steps:
Step 1. Go to the FreeVideoTool.net site. Click on the top right on "English"To view the version of the site in English.
Step 2. Import the photos to use for creating the video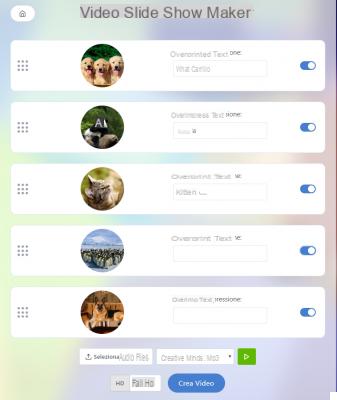 For each photo, set display duration, overlay text and transition effect.
Step 3. Create the video
Add background music and finally click on CREATE VIDEO.
After a few minutes your video will be ready and you can preview it and download it to your computer.
Here is a short video tutorial of this extraordinary service.
The free version is no longer found
The free version of the program applies a watermark on the video. It is necessary to purchase the license in order to create birthday videos without watermarks and with all the available effects.
it was simple I have little time
Thanks!! I made a movie for a friend's birthday. It was a hit !!! 🙂
Happy Birthday Video Maker with Photos -