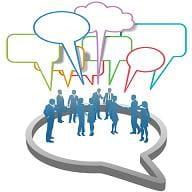 The creation of sites or social networks is not reserved for specialists in computer programming. Several "turnkey" online services now allow the simple creation of online communities, social networks, and collaborative work groups. They are inspired by the functionalities offered by Facebook or Twitter for example. And this to meet various objectives: from marketing (bringing together a community of fans), productivity gains, through the exchange of knowledge and expertise. Here is an overview of the features of four tools that allow you to easily create your own online community: Ning, Grou.ps, SocialGO and Groupsite.
Ning

For who ?
Features, management and administration tools
Pricing

Groupsite

For who ?
Features, management and administration tools
Prices

SocialGO

For who ?
Functionalities
Prices
Loading your video "FAQ: Create a social network site"
Ning
Ning allows you to create a tailor-made social site, to promote interactions between members of a community. This web platform offers various tools and functions inspired by general social networks:
Public member profiles
Community spaces: blog, discussion forums, chats
Activity feed to let community members share statuses and other content (photos, videos)
Social features: likes, comments.
Integration with Facebook, Twitter and Youtube
For who ?
Associations, communities of interest, or even brands and companies (eg fan communities, "club" -type communities)
Features, management and administration tools
An administration panel to manage the access permissions of members, the visibility of the site (activation, in a private mode)
A graphic style configuration interface: to customize the themes, the layout of the website, the tabs, menus, etc.
SEO optimization tools
Monetization options: online sales, insertion of advertisements, creation of Premium spaces
An Analytics tool to follow the most active members, and improve the interactivity of its site
An e-mail marketing module
Pricing
Ning offers three paid plans:
"Basic" (1000 users, 2 admin) at $ 25 per month
"Performance" (10000 users, 5 admin) at $ 49 per month
"Ultimate" (100000 users, 10 admins) at $ 99 per month
Groupsite
For who ?
Groupsite is more specifically intended for the creation of private work communities and corporate social networks, to facilitate collaborative work.
Features, management and administration tools
Management of access rights to advanced users (access restricted to certain areas by user group)
Creation of blogs, discussion forums and shared calendars with restricted access.
Sharing files, media and widgets.
Prices
Three paid formulas:
Small Team ($ 30 / month, 50 users)
Large team ($ 50 / month, 150 users)
Collaboration Community ($ 75 / month, 300 users and more)
SocialGO
For who ?
SocialGO is a social site creation platform, which offers extensive integration with Facebook and Twitter. It is suitable for the creation of community of interests as well as of work communities (eg: groupware in companies).
The gateways with Facebook and Twitter (the content is shared on the site and on the Facebook wall / users' Twitter feed) help to amplify the visibility of its site, and facilitate member recommendations. This platform is therefore particularly recommended for users who wish to create virality around their content.
Functionalities
It offers community tools and functionalities similar to Ning and Grou.ps. It also offers tools for simplified customization of the graphic styles and interface of its site, thanks to an intuitive drag-and-drop functionality.
Prices
SocialGO offers three paid plans, including one as a service:
"Starter" (5 pages, 1GB storage) at $ 9,99 per month
"Premium" (unlimited pages, 10GB of storage) at $ 29,99 per month
"Ultimate" (unlimited pages + unlimited GB) at $ 79,99 per month