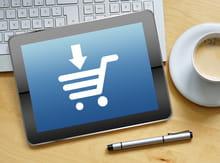 Consider getting started in Internet sales through an online store requires reflection and the precise study of your project.
What are the advantages of an online store, and what approach to follow to successfully create your e-shop?
Our video
Benefits of an online store
Constraints of an online store
Creating an online store, step by step

Market research
Supplier search
Creation of the sales site
Order processing

Inventory management
Secure payment without distance selling contract (VAD)
Secure payment with distance selling contract
Delivery

Advertising

Legal obligations

For your e-shop
With regard to your e-customers
Our video
Loading your "FAQ: Create an online store" video
Benefits of an online store
Opening an online store means going beyond physical borders, your clientele becomes international and your store is open 24 hours a day.
With an online store, there is no charge for setting up business assets, no need for market research on the site's location.
You also reduce your information and communication costs, as online advertising is often less expensive.
Constraints of an online store
On the internet, competition is fierce. Internet buyers have the opportunity to compare prices very easily and obviously go to the most interesting offer.
To stay competitive, several solutions:
specialize in a field or offer a new product
display very competitive selling prices by reducing margins or operating costs
You will also need to gain the trust of customers:
ensure flawless logistics in order processing, inventory management, package tracking, after-sales service.
make a commitment in terms of guarantee, delivery, deadlines, reimbursement
guarantee payment security
Creating an online store, step by step
Market research
Before embarking on the creation of an online store, it is essential to carry out a provisional balance sheet to assess the costs, the margins, in short the profitability of your future online store.
Supplier search
Search engines exist to find a supplier:
and therefore
destockpro
destockplus
Choose the section (s) that interest you (for example: footwear, IT, furniture, food, medical, cosmetics, building, etc.), select your batches of products, then send an email directly to the seller using the form .
Creation of the sales site
Several solutions exist to facilitate the opening of an online store:
An auction support, such as Ebay, where it is possible to open a professional account,
A marketplace, which offers its own sales supports to e-merchants, professionals and individuals,
A "ready-to-run" e-commerce solution, which requires little technical knowledge,
The use of an Open Source CMS (content management system) dedicated to e-commerce, which requires some knowledge but is accessible to the greatest number,
Development via a web agency or an independent developer.
To choose the most suitable support for your project, some questions to ask yourself: what are the costs of each solution in terms of development, maintenance and commissions? What technical resources does the company have to update and maintain its site?
The choice of one solution does not exclude another: the company can also choose to be present on several platforms in order to promote multi-channel.
Marketplaces:
Learn more about marketplaces
Ebay :
To start your online business, you can choose auction sites, such as eBay. On eBay it is possible https://espacevendeurs.ebay.com/
Advantage:
- Registration is free, quick and easy,
- You have little or no need to advertise,
- You don't have to create a site, your eBay space is easy to manage, and the interface is very intuitive.
Create your own online store:
There are many "ready-to-run" e-commerce solutions with no technical knowledge required:
Planet Ecommerce: From 19.90 € / month for an e-Boutique, and 34.90 € / month for an e-Boutique + e-Boutique on Smart Phone (iPhone & Android). Without engagement.
Powerboutique: From € 780 per year.
Oxatis: From 35 € HT / month, without commitment.
ID Commerce: 2440 € HT + 56 € / month subscription.
Clicboutic: € 20 / month with a one-year commitment.
SiteW: 23.99 € TTC / month for a 2-year commitment.
To know which elements must absolutely appear in an online store, consult the article "E-business - Introduction to electronic commerce"
Contact a professional:
You can also contact a web agency or an independent developer for the realization of your online store.
Learn more about creating a website and choosing a web agency.
Choosing an Open Source CMS
If you don't want to hire a professional, there are also Open Source CMSs to create an online store. RBS Change 3.0 and Webagoo are among them.
This version 3.0 of RBS Change has advanced features:

possibility of creating a blog, advice pages, a Frequently Asked Questions page, to enrich the e-shop,
access to advanced statistics, which in particular make it possible to analyze the link between the number of visits to the pages and the products ordered,
management of several product catalogs,
customer loyalty tools and promotional actions,
bank connectors: to ensure payments and analyze them with Google Analytics E-commerce,
possibility of testing the software without going through the installation phase. The RBS site provides users with a very complete tutorial for getting started with the software.

As for the Webagoo CMS, it offers:

to create an e-commerce site, thanks to the catalog, payment, etc. functionalities.
distribute the content of its site to search engines, portals and to social networks Twitter and Facebook to increase the visibility of your e-store
The administration of this CMS does not require any particular technical skills.
The Webagoo site offers you to try this online tool for free.
Order processing
To build customer loyalty, the processing of their orders must be flawless, from payment to delivery and possible product return / exchange.
Inventory management
Many solutions :
Wait to receive the customer's order before placing the order with the supplier; some wholesalers accept to deliver directly to your customers without going through your stock.
Check your supplier's inventory and be sure they'll deliver on time.
Establish stock at home and replenish it regularly based on ordering trends. The upfront investment is important, but you can guarantee your customers a short and fixed delivery time.
Secure payment without distance selling contract (VAD)
Offer your customers several types of payments: online payment, bank transfer, check.
In the case of an online payment, it is essential to secure the transactions. Online store building solutions generally include this option in their offering.
To start your activity, you can go through service providers who do not require the signing of a distance selling contract. These online payment solutions are easy to install and are particularly suitable for e-merchants whose sales volume is not very important:
Payline
Citelis
Cashtronics
ePAY
h2e Payment
To know :
All merchant sites offer a secure transaction system. They use the SSL (Secure Sockets Layer) protocol which encrypts the transmitted messages.
When an online store has a secure payment method, an icon is displayed at the bottom right of the window, usually a key or a padlock.
Learn more about online payment
Secure payment with distance selling contract
The VAD electronic payment contract (distance selling) allows you to set up payment by bank card on your site. It is an additional guarantee of the seriousness of your activity. As part of a VAD, you delegate to your bank the right to collect the amount of purchases made by your customers on your merchant site.
Your bank usually charges a percentage of the transaction amount, as well as a fixed commission per sale. It then returns the difference to you in the bank account dedicated to your activity.
Conditions for obtaining a VAD
The VAD is quite difficult to obtain, especially if you are new to your business. The bank examines your file taking into account several criteria:
- The age of your merchant account
- Your solvency
- The type of product you sell online
- Your turnover
- The alternative sales methods you offer (ex: direct sales)
If the VAD contract is refused to you, you can renew your request later by asserting the sustainability of your activity.
Advantages of WHAT
- With a VAD contract, you can use the online electronic payment terminal provided by the bank.
- Your bank ensures the smooth running of online payment. The customer is redirected to the bank's server, the confidential data exchanged is encrypted.
- Thanks to VAD, you will be able to install additional solutions to ensure the reliability of transactions. Like the labeling services against bank embezzlement of the Fia-Net type.
- The logos of these labels are a pledge of credibility for your e-store.
Delivery
To begin with, and if the orders are neither too numerous nor too cumbersome, mail the packages yourself. When your store gains notoriety, use a carrier (Collissimo, TNT, FedEx, DHL, etc.) and set up parcel tracking on your site, so that the Internet user knows the status of their order.
Also estimate the amount of shipping costs according to:
the weight of the items
the number of items ordered
the delivery area
the type of delivery: express, normal
Advertising
To promote your online store and quickly increase your turnover, make yourself known:
Subscribe to store directories

http://www.boutique-ligne.net/
https://www.depensez.com/
http://www.e-komerco.com/
http://www.todooshopping.com/
http://annuaire.binioo.com/boutiques/

Make connections.
Link your online store's address to other sites or stores
Talk about your store on specialized forums, blogs
Run a sponsored links campaign: buy keywords to appear in search engine commercial links
Distribute banner ads on the net
Read to find out more: "Online advertising"
Legal obligations
For your e-shop
Register a domain name
You must submit your request to the Association Française pour le Nommage Internet en Coopération or the Internic. Check with the INPI that the domain name is not already in use. You can also register your trademark and domain name with the INPI.
Declare your site to the CNIL
If you are the owner of an online store, you will have to process personal data. It is for this reason that you must declare your online store to the CNIL.
View legal information
Here is the information that should appear on your site:
- name of the editorial manager
- name and contact details of the host
- name of the webmaster
- note on copyright / intellectual property (image and text)
- note on the management of personal data (in accordance with the Data Protection Act)
Bring your content into compliance with the law, respect:
- the law on freedom of the press, which prohibits any defamatory, racist or revisionist content
- article 227-24 of the Penal Code, which prohibits the posting online of violent pornographic content or offending human dignity
- the intellectual property code, which prohibits the reproduction of content without the consent of the author
With regard to your e-customers
Since June 1, date of application of the Chatel law:
- you have the obligation to announce a delivery deadline to your customers
- the customer must have a non-surcharged telephone number to reach you
- you must inform the customer of the existence of his right of withdrawal within seven days from the date of delivery
- your online store must include an email address or a contact form
Read to find out more: Law for Confidence in the Digital Economy (LCEN) of June 21, 2004, in particular article 14.