Just take a quick look at the statistics and sales data to understand how in the top 5 devices sold (in the city) there are devices Apple iPhone (in second place immediately after Samsung) and devices XIAOMI (ranked fourth after Huawei). The growth trend of Xiaomi sales is impressive and is expected to soon enter the top 3. Xiaomi's success derives from the high quality of the smartphones produced, at a price that is actually lower than the Samsung and the iPhone.
However, the iPhone still remains one of the best smartphones on the market even if it has lost a bit of its way in recent years. This is also due to the competition that is becoming more and more ruthless and the Android system that is becoming faster and more efficient.
If you are also an iPhone user who is thinking of switching to a Xiaomi Redmi or Xiaomi Mi, or vice versa you are leaving a Xiaomi to take an iPhone, in this article you will find useful tips for copying data between iPhone and Xiaomi. We have already seen how to transfer data between Samsung and Xiaomi. Now we will try to understand how to carry out data passing da iPhone a Xiaomi or vice versa without having to jump through hoops, manual steps and risk deleting important data from your phone.
To transfer all the contents from your old iPhone to the new Xiaomi or vice versa, we point out two powerful programs and other more manual methods.
#1. Mobiletrans
Mobiletrans is a comprehensive data transfer tool that can help you transfer files to your new phone. You can connect your iPhone and Xiaomi at the same time and then choose and transfer data with a single click. Just download and install it on your Windows PC or Mac, then follow the steps below to transfer all data between iPhone and Xiaomi.
Step 1. Collega iPhone e Xiaomi al computer via USB
Download and install the compatible version of Mobiletrans for your computer from the buttons below
Connect both devices (iPhone and Xiaomi) to the computer via USB cables and launch Mobiletrans
Click on the blue box to access the data transfer window
Activate the mode USB debug on Xiaomi as indicated in this article.
Here are the links from which you can download the free trial version of Mobiletrans for PC or Mac:


After installing MobileTrans you will see this initial interface: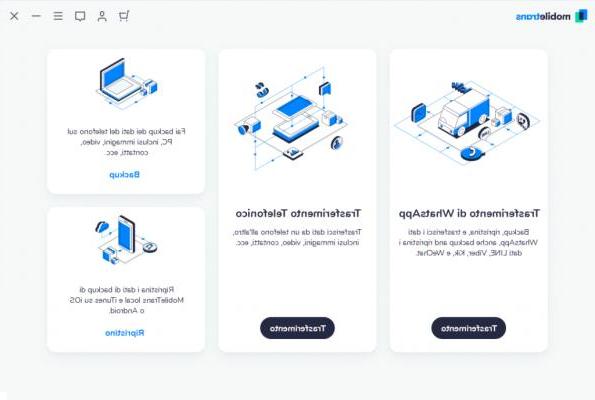 Step 2. Transfer data between iPhone and Xiaomi
Make sure the iPhone is listed on the left (if it is the source phone) while Xiaomi is on the right; you can click Flip button to reverse position.
Select the content you want to copy to the new mobile.
Press the blue button Start Transfer after selecting all the data to be copied. After a while, all the data will be transferred to your new Xiaomi.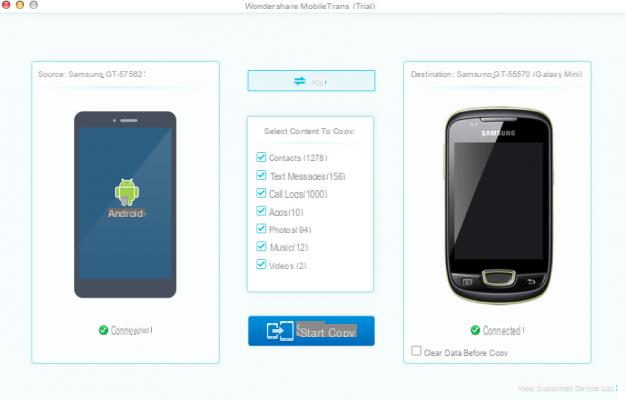 Note: Make sure both phones have been properly connected to the computer and are connected until the data transfer is complete.
#2. dr.Fone Switch
With dr.Fone Switch it is simple, indeed perhaps even trivial, to transfer data from one mobile phone to another, even from iphone to xiaomi or vice versa from xiaomi to iphone. Here is what needs to be done.
The first thing to do is to download and install the dr.Fone program on your computer. Here are the download links (for Windows or Mac):
Click on the box 'Go'to activate the function we need to copy data between iPhone and Xiaomi. This new screen will open: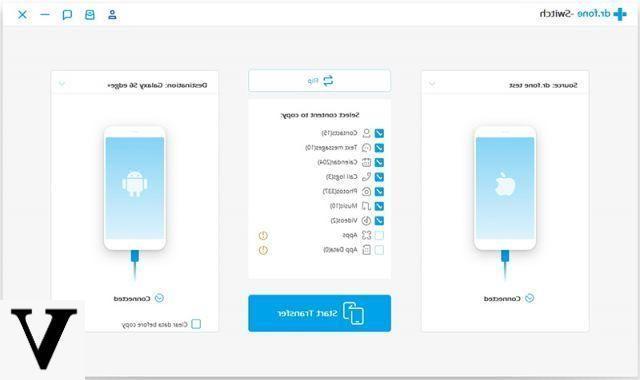 Now take the iPhone and connect it to the computer via its USB cable.
For the XiaomiInstead, before connecting it to your computer you will need to activate the option DEBUG USB from the phone settings. If you don't know how to do it, don't worry because we have written an ad hoc guide for this operation. You can read the guide at the following url: this article
Activated the USB debugging (and also the other options indicated in the article linked above) you can connect the Xiaomi to the PC via USB cable.
Wait for dr.fone to detect both phones and make the source phone appear on the left and the target phone on the right. Use the button "flip"At the top to reverse the positions. Once the two devices are recognized by dr Fone you can select the data to transfer (contacts, sms, calendar, notes, call log, photos, music, videos, voice memos, apps, etc.) and finally start copying .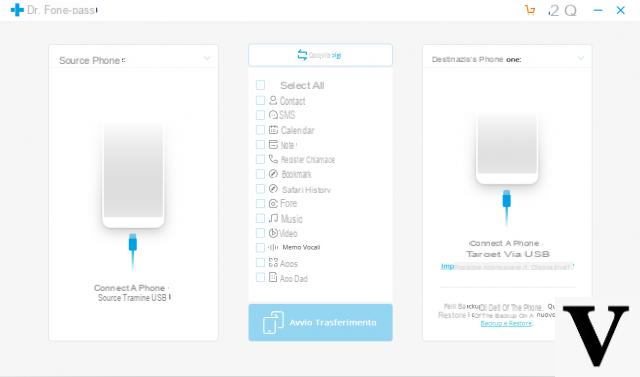 That's it!
3. Copy data from iPhone to Xiaomi Mi via Google Account
If you don't want to install any apps, you can also transfer iPhone data to Xiaomi via your Google Account. It only provides 15GB of free storage, and you have to pay for more storage after using it. Anyway here are the steps to follow:
1. Connect both devices to the Wi-Fi network and go to Settings your iPhone.
2. Select Account and password (or Mail, contacts, calendar in the previous version of iOS)> Add account> Google> Sign in to Google with your Gmail account. Then manually enable the file types you want to transfer and choose Synchronize Now or wait for the data to automatically sync with your Gmail account.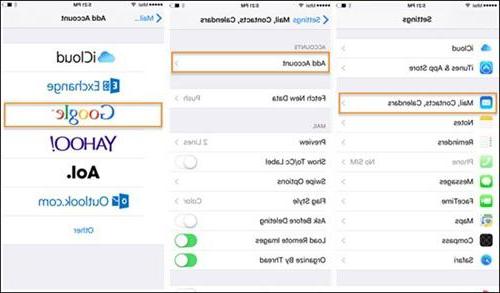 3. Go to Settings on your Xiaomi phone, log in to Google and log in with the same Gmail account. Then activate Contacts, Calendar or other types of files that you have synced to transfer them to the Xiaomi.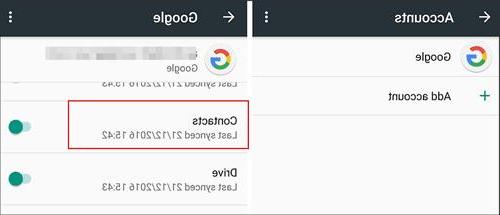 4. Using the Mi Mover app
Mi Mover is an official data transfer app developed by Xiaomi Inc., which can transfer videos, songs, documents, files and other items from old Android / iOS devices to new Mi phones. Here are the steps to follow.
1. Install Mi Mover on both your iPhone and Xiaomi.
2. Launch the app on both devices and connect two phones to the WIFI network. Next, select I am a recipient on the Xiaomi phone and tap I am a sender on the iPhone. Then use the iPhone camera to scan the QR code that appears on the Xiaomi phone to establish a connection.
3. Choose the data you want to transfer to the iPhone Mi Mover screen and tap Send to start iPhone to Xiaomi transfer.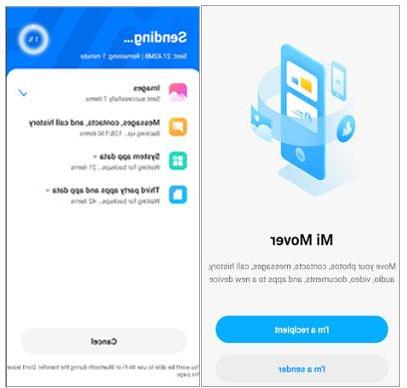 5. Data transfer from iPhone to Xiaomi via iCloud
Another way to transfer iPhone data to Xiaomi is to use iCloud. But this method is a bit tricky, because you need to export iPhone data from iCloud to computer first and then later transfer iPhone data from computer to Xiaomi phone. Also, you can't transfer all data from iPhone to Xiaomi using this way. For example, here's how to transfer contacts.
1. Connect your iPhone to Wi-Fi and power, then go to Settings on iPhone> tap yours Apple ID > press iCloud > Activate Contacts > click on ICloud Backup > Select Back up now.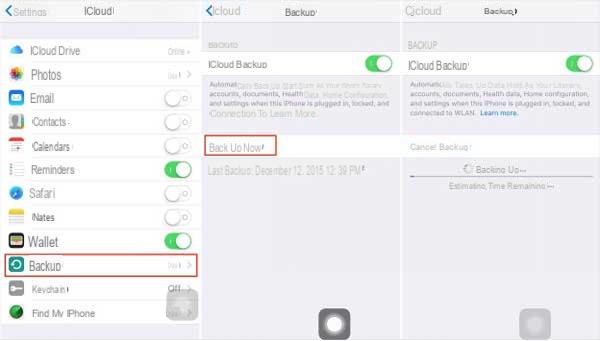 2. Open the iCloud official website page from a browser on your computer and log in with the same Apple ID and password. Then select Contacts on this page> Choose the contacts you want to export> Click the gear icon in the lower left corner of the page> Tap Export vCard....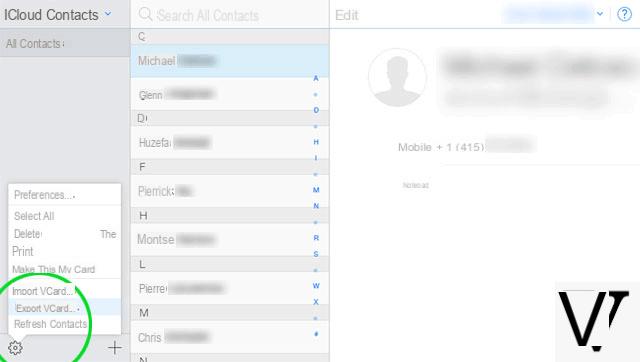 3. Open the Google website page on your computer, log in with your Gmail account, select Contacts> More> Click on Import vCard file to sync iPhone contacts from computer to Google.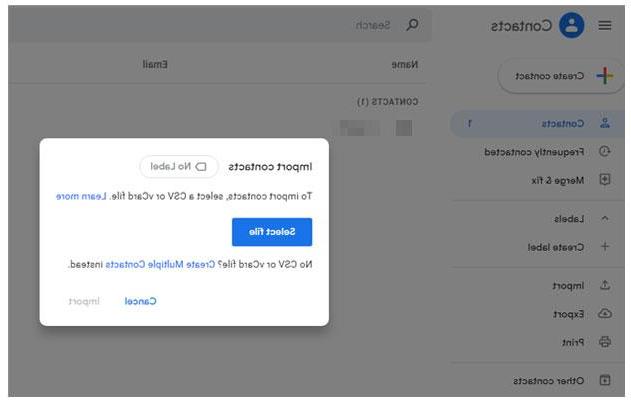 Successively, I will Settings on Xiaomi phone> Google > Sign in with the same Gmail account you use to import contacts> Activate Contacts > Awards Synchronize prays to sync iPhone contacts from Google to Xiaomi phone.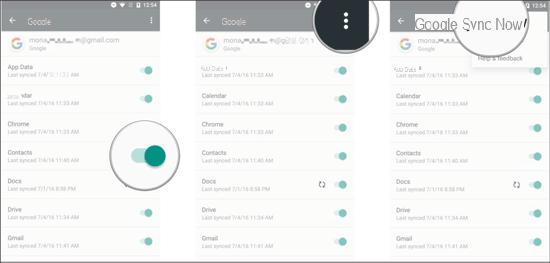 But with this system also whatsapp and all messages are transferred ??
I transferred data (address book and whatsapp) from an iPhone to a Xiaomi phone without knowing how and why (it was not voluntary) and I don't know how to remove them from the redmi .. can someone help me?
I have done the whole procedure but no start transfer is not active
It means that one of the two devices was not detected by the program ... Try to disconnect and reconnect them

I no longer have the possibility to turn on my iphon and I bought a backpack, now I would like to transfer the data from the iphon which can be joined to the new phone which is a xaiomi.
How can I do?