Managing documents with many embedded images is simplified through the use of the PDF format. In this article we focus on how to convert colored PDF documents to black and white or greyscale. This conversion from PDF to grayscale or PDF to Black and White may be necessary if you want to save colors when printing a large PDF file. Another thing that often leads users to convert a PDF from Black and White to grayscale is the fact that this reduces the weight of the PDF a lot and thus saves disk space on the computer.
1. Convert PDF to Black and White on Mac OS X
On Mac OSX computers, converting a PDF file to grayscale can be done without the use of other applications to install. Before printing a PDF document, you can choose the color scheme in black and white or grayscale by using the "Preview" application. Preview allows you to save the PDF file as a black and white document without necessarily having to print the document.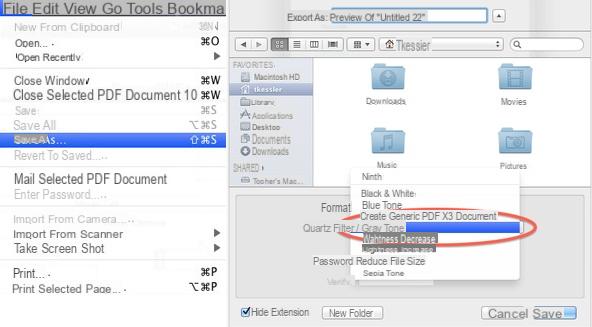 How to do? Just open the PDF file in the app by clicking on "File" and then, to make the necessary changes on the color scheme, click on "Save with name"From the File menu. Before saving the file select "grayscale" under the "Quartz Filter" field. You can also specify the location where the converted file will be saved.
If you are doing this conversion operation to reduce the weight of the PDF also read the guide how to compress PDF on Mac, it could be very useful.
2. Convert PDF to Black and White on Windows
For those who own Adobe Acrobat PRO it is possible with it to convert PDF to black and white thanks to the special functionality. Once you have opened the PDF file in Acrobat you need to go to the "Advanced" up. From here click on "Print Production" and then click on "Preflight". Now click on the triangle pointer next to "PDF Fixups" and choose the "Convert to Grayscale" option. Finally click on "Run"To complete the process.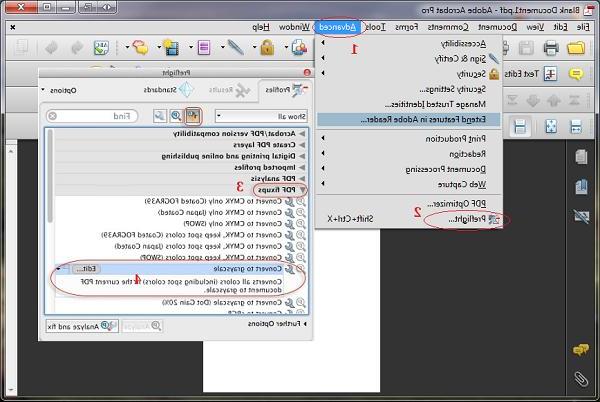 If you don't have Adobe Acrobat PRO, there is another way to convert PDF to black and white, quickly and completely for free! Just access the site https://online2pdf.com/it/ and click on the SELECT FILE button to upload the PDF to be transformed into black and white.
Then click below, on Preferences -> Compression: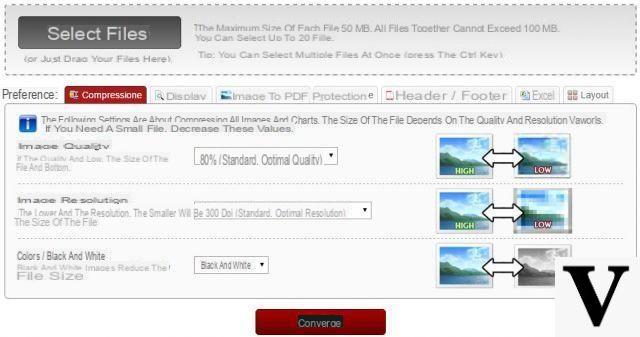 Below select the option BLACK AND WHITE and finally click on CONVERTED.
If you are looking for a professional tool to compress PDF, read also how to reduce PDF weight on Windows PC.
That's it!
I followed the procedure on MAC and it does NOT work, the PDF remained in color.
Luca
Convert PDF to Black and White -