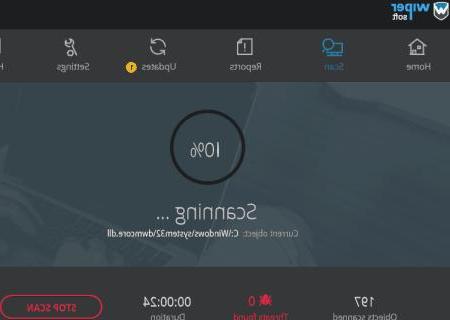 combofix is a famous antimalware program free that has helped countless Windows users clean up and track down malware and viruses on their computers. This free antimalware tool was created by sUbs quite a few years ago and was precisely designed to thoroughly scan the system and automatically detect / clean infected files in Windows.
Combofix is ​​a program used by both experts and non-computer experts, as well as systems engineers who offer technical support. Too bad, however, that Combofix works with Windows XP, Windows 7, Windows Vista and Windows 8 versions. Combofix does NOT work with Windows 10!!
So if you have a Windows 10 PC on which you notice strange slowdowns or the appearance of advertising popup windows of various kinds and without warning, the only solution is to look for a valid Combofix alternative for Windows 10.
Since Combofix is ​​mainly an antimalware, what you need to look for is a program of this type that is able to scan your PC and remove all dangerous files: malware, adware, spyware, ransomware, viruses, Trojans, etc….
If, on the other hand, the only problem you are experiencing is an increased slowness of your computer, we recommend that you use a simple PC cleaning program, such as Wise Cleaner, which is able to speed up the PC
We have already seen the ones that are the best antimalware programs, below we want to propose them again to give you the possibility to choose the one that suits your case.
Best Alternatives to Combofix for Windows 10
The first Combofix alternative for Windows 10 which we recommend using is Panda Dome Antivirus. It is an excellent antivirus that uses intelligent technology, based on Big Data and AI, and which checks every application running on the system and classifies absolutely EVERYTHING. Unlike traditional antivirus and antimalware solutions, which only act if a process is malicious, Panda Antivirus is also capable of detect attacks before they happen.
Here is the main screen of Pada Dome:
Immediately after installing it on your Windows 10 PC you will have to start the scan and wait for the end to understand which malicious files have been detected and blocked. What makes this program the "top" in this area is his execution speed and the fact that it does not affect the performance of the PC in the least (Combofix from this point of view was not the best because it also required hours of time in which he had to analyze the computer and nothing could be done in that period of time).
The second Combofix alternative for Windows 10 which we recommend is Malwarebytes AntiMalware, a program that specializes in detecting and permanently removing dangerous files and programs.
As you know, not all "malware" is the same. There are those who just make windows open or change your homepage, and the more dangerous ones who try to steal personal data from your PC. With Malwarebytes you can fight these dangers and protect your Windows 10 PC and your privacy.
Combofix alternative for Windows 10 -