With the price war that operators are currently waging, it is very interesting to change Internet provider. How to go about it ? In fact, it is quite simple. To change ISP, follow the guide.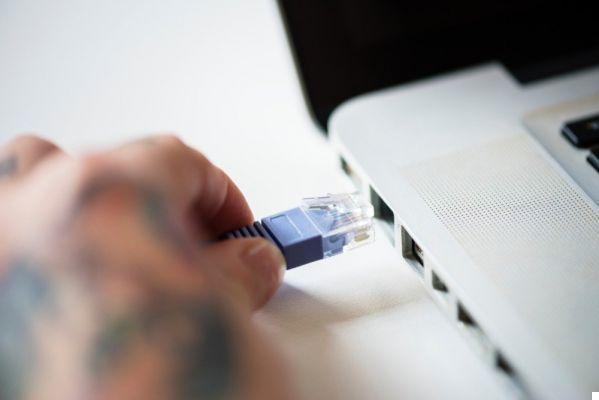 If today it is extremely easy to change mobile operator, many customers still consider that changing fixed Internet provider is long, restrictive and expensive. It might still have been true a year or two ago, but it's not really the case anymore. Changing your ISP or Internet provider can be done in minutes. Here are some tips and information that you better know to make your job easier before taking action.
To change Internet operator, let your new ISP take care of it!
A few years ago, you had to write a termination letter to your operator to end your Internet subscription. From now on it is much easier to change internet operator, at least if you want to keep your landline number by switching from your old to your new operator. In this case, it is the new operator who takes care of everything. He will take care of the subscription to the new contract, keep the landline number on the new Internet subscription and above all terminate the Internet subscription of the old operator.
Discover the RED fiber offer at 23 euros per month without commitment
As the ARCEP site (the Spanish telecoms gendarme) indicates: " The subscriber must not terminate the contract which binds him to the operator he wishes to leave ; it is the new operator of his choice who takes this step for him as part of the implementation of his portability request. "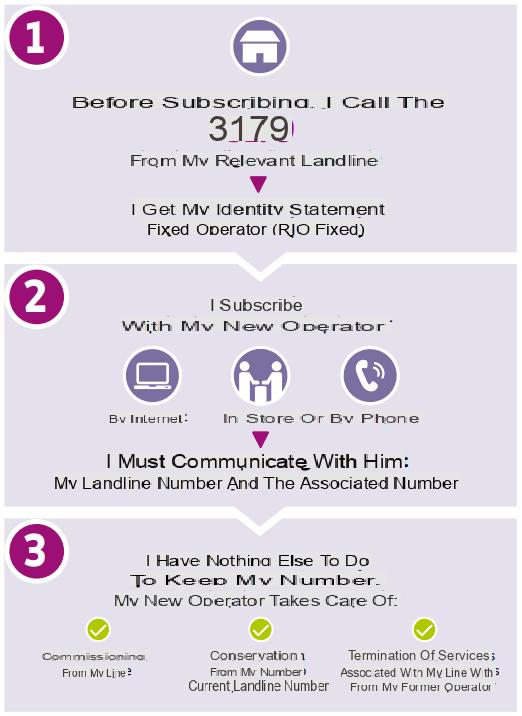 To change Internet operator, you must first call 3179.
In other words, to change internet operator you just need to warn your new internet provider that you want to take an offer from him to terminate his old contract. A simple phone call or an online registration is enough to change ISP. The latter will then ask you for your RIO number, in order to be able to keep your landline number. To access your RIO number, nothing could be simpler, just call 3179 from your landline. If this number does not work to change Internet operator, here is the full list of free 08 numbers to dial to get your RIO number.
| Internet provider | Free number to dial to get your RIO |
| --- | --- |
| Akeo Telecom | 0800 71 3179 |
| Budget Telecom | 0800 71 3179 |
| Bouygues Telecom | 0800 943 943 |
| Coriolis | 0800 71 3179 |
| Darty Telecom | 0801 010 102 |
| Free | 0805 92 3179 |
| Numericable | 0805 85 89 85 |
| Orange | 0800 00 3179 |
| OVH | 0805 69 3179 |
| Prixtel | 0800 71 3179 |
| SFR | 0800 97 3179 |
| UKtelecom | 0800 71 3179 |
| Virgin | 0800 71 3179 |
| Spain Telephony | 0800 71 3179 |
How much does it cost to change Internet operator?
Here there are no obvious answers: it depends on the context. Depending on the type of contract you took out with your previous operator, the reasons why you are changing operator (are you moving? Have you lost your job?), Your remaining commitment, or even if you are switching from ADSL to fiber, all at a potential cost. But there are points in common to all of these situations to be aware of.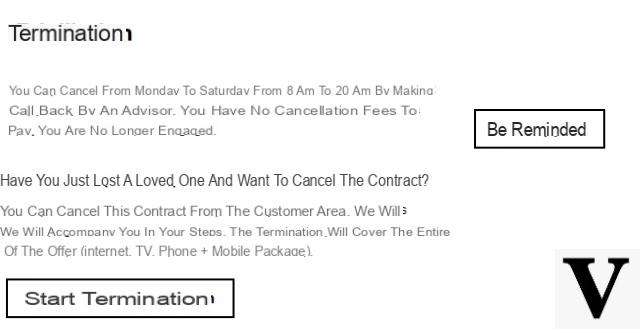 Depending on whether you are engaged or not, or whether your personal situation is specific, the termination fees can vary greatly.
Almost systematic cancellation fees for all operators, but ...
Unlike mobile offers, all ISPs, whether Orange, Sosh, SFR, RED, Bouygues Telecom or Free, ask their customers to pay an Internet subscription termination fee if they want to go to one of their competitor. These costs vary from one operator to another, but are generally included in a range from 50 to 70 euros.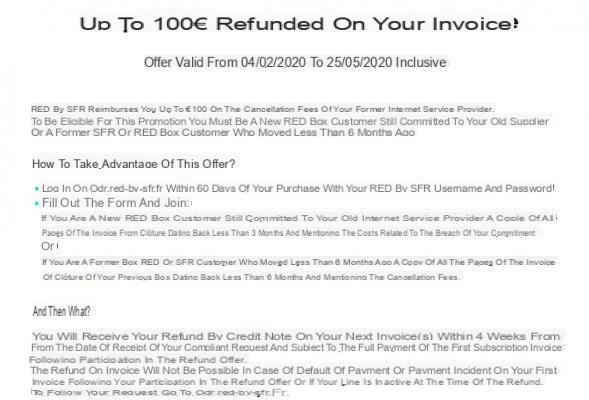 The good news is that these same operators almost systematically all offer reimbursement offers for the termination costs of the former operator's Internet subscription. Refunds that can go up to 100 euros depending on the ISP offers and which are generally made directly on the invoices (and not in direct payment).
Discover the RED fiber offer at 23 euros per month without commitment
What are the best prices and the best Internet subscriptions offered by ISPs?
Here again it all depends on your needs. First of all, you need to know if you want a fiber or ADSL Internet subscription. Concretely if you want to have a very high speed (fiber) or "fast" (ADSL) connection. To do this, you have to run an eligibility test. All ISPs offer one on their site. Then you have to estimate your needs. Do you only need the internet? Do you want to associate television with it? A mobile Internet subscription? Do you need an Internet offer for students? Do you plan to improve the speed of your Internet connection? For each addition, count one or several tens of euros in addition to the basic Internet subscription to fixed Internet.
What should be remembered is that today the cheapest package on the market is at RED by SFR, whether in ADSL (16 euros per month) or in fiber (23 euros per month). The Red Box package includes the essentials and just the essentials. On the one hand, it is without engagement. On the other hand, it offers a connection that can go up to 1 Gb / s for downloading and 200 Mb / s for sending with the "Debit Plus" option.
Discover the RED fiber offer at 23 euros per month without commitment
There is also the landline telephone with unlimited calls to landlines in Spain and to more than 100 other destinations abroad, but also to mobiles in Spain with the "Unlimited calls to mobiles" option. You will also benefit from caller ID, voicemail and email messaging services. Finally, many options at 2 or 4 euros per month allow access to television channels via the RED SFR decoder. To take advantage of SFR's offer at 16 or 23 euros per month, nothing could be simpler, just go to this page, with your RIO number. Now you know how to do it.
Finally, do you want to pay less for your Internet subscription? Try our fixed plan price comparator to estimate your possible savings.
Find the RED fiber offer at 23 euros per month without commitment
This article was produced in collaboration with RED by SFR This is content created by independent writers within the Humanoid Content entity, the Idroid editorial team did not participate in its creation. We set ourselves the same criteria to offer you unique and quality content.